A few notes from Mark Stoops' Thursday press conference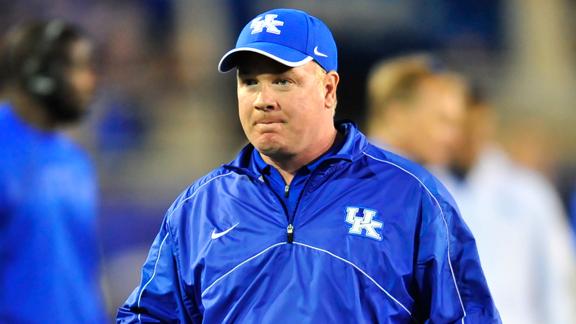 -The team is getting everything wrapped up for game day and putting in the finishing touches in preparation for the Skyhawks at home on Saturday. The offensive unit had to kick the press out of the UK football team room for a meeting that looked pretty important.
– Stoops is going to be using a different routine to get the Cats ready for game day this year. He's switching up the Thursday-Friday practice schedule on game weeks to where Thursday will be the light walk-through day, and Friday will be a fast game-paced practice. Stoops said he had heard of many coaches doing it previously, but pointed out Chip Kelly at Oregon as a coach who had great success with it in the past.
-Mike Edwards, the freshman safety who found out he doesn't have to have shoulder surgery, has reported to campus and was spotted walking around inside the UK Nutter Training Facility today. Stoops confirmed, though, he is not currently practicing with the team and isn't ready to do so anytime soon.
-Stoops feels very anxious about playing against the Skyhawks. He didn't downplay the importance of the game and said he really feels his team is ready to go to battle on Saturday. "I feel good about where we are right now going into this game, I know the players are all ready to get out on the field and finally play." Said coach Stoops.
–Coach Stoops wants to show the fans on Saturday that Kentucky has something to prove. He mentioned that it's important for UK to put up a good performance against UT-Martin to get the fans behind this team. Stoops made a big point about how it's the team's job to go out and impress the fans, and give them what they deserve in this season's opener.
-Lastly, Stoops will be kicking back and watching the Ol' Ball Coach play the Aggies tonight. He said it's an important night to relax and enjoy some good early-season football, and he shall be joining in on the festivities.