8 Suggestions for UK if the Stadium isn't 100% done by September 5th
Yesterday, the media toured Commonwealth Stadium, and to the layman's eye, it looked like there is still a lot of work left to do. With 43 days left until the season opener against Louisiana Lafayette, the clock is ticking and, even though construction crews are working 22 out of 24 hours each day, we need to accept that on September 5, the stadium may not be completely finished. And that's okay.
In fact, since it looks like that's going to be the case, here are some suggestions for UK to make the best out of the situation:
Draw your name in the concrete at Fan Day!
The pictures show that most of the concourses still don't have concrete flooring. According to my very minimal Googling, concrete takes 28 days to properly cure to achieve full strength and hardness. By a rough timeline, that means they should pour around the time of Fan Day, which is on August 8. Fan Day will be held in Nutter Field House, but why not give fans a chance to leave their own stamp on the stadium and draw their initials in the wet concrete? With supervision, of course.
Pregame mud wrestling along Alumni Drive
It's not just the stadium that's under construction; the entire area around the stadium is undergoing a major transformation, including Alumni Drive, which has a new roundabout that's sure to cause some headaches. The major roadwork appears to be close to finished, but the land around it will probably still be a mess. Since the game's at night and traffic is expected to be terrible, tailgating will be going on all day long. You know what goes great with lots of really drunk people? Mud wrestling.
Maybe Ryan Lemond can find this guy during the Pregame Show and finally get some revenge: Free hard hat giveaway to the first 61,000 fans
Fun, practical, and a great head start for your Halloween costume!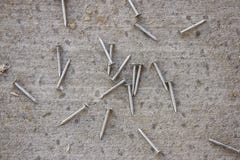 Find a nail, get a free ticket
My house was renovated two years ago and we're still finding spare nails around the back porch. Although I'm sure the cleanup crews will do their best to sweep up every last nail, staple, and screw, there will inevitably be a few left over. Make cleanup fun by asking fans to collect all the nails they find, and offer the fan with the most a prize, like a free ticket. Just be sure to wear closed-toe shoes and put gloves on the kiddos if they want to get in on the action.
Whiny Media Tweets Bingo
One of the major changes won't affect fans, but they'll definitely hear about it: the press box moved from above the lower bowl to above the upper deck. When the media got to check out their new digs yesterday, most of the tweets and pictures were of the press box even though fans couldn't care less about it. It'll probably be even worse on game day. Cell service in the stadium is supposed to be better, so pull up Twitter and use this bingo card to play along during timeouts! We'll definitely use it on the live blog.
Free dust masks with your first drink (Club and Suite levels only)
Pardon the dust, but enjoy that beer! Isn't it nice not to have to sneak it in?
Dim the lights on all the parts that aren't 100%
The first game's at night, so nature will provide some coverage for the exterior parts that aren't totally done or strategically lit. The majority of the work seems to be on the inside, so use mood lighting to mask areas of concern. Once people get a few drinks in them, they won't notice anyways.
Let people just deal with it
Like the product on the field, the stadium isn't 100% yet, but it sure is better than what we had before. Sit back, relax, and enjoy the game.