8 Perfectly Acceptable Reasons to Make Fun of Florida
Tomorrow, the Cats will attempt to snap their 30-year losing streak to the Gators, and while some jokes about Florida are out of bounds, there are plenty of others to make about Jim McElwain and the fighting Albertas. Here are eight.
1. That picture, even if it's not him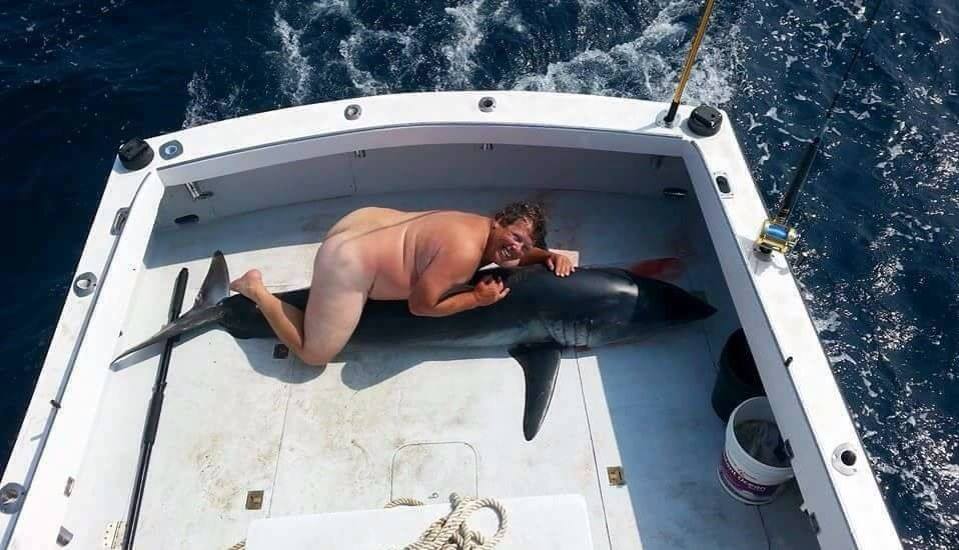 By now, you've surely seen the picture of a man that looks a lot like Jim McElwain laying naked on top of a dead shark. McElwain denies that it's him, but the resemblance is uncanny.
2. His response to that picture
So, say the guy isn't McElwain. Fine. At least have some fun with it, right? When Kyle Tucker asked McElwain about the picture at SEC Media Days in July, McElwain could not have sounded more like a stick in the mud:
Found him 😂😂 pic.twitter.com/Nwv6NGXQZe

– Bryce Dixon (@dixonbryce) July 20, 2017
Have a laugh, Jim. It's good for your heart.
3. How they made their mascot a total wuss
An alligator is a great mascot. It's big, ugly, prehistoric-looking predator that can mess some fools up; that's why it's such a shame that Florida's is a total wuss. My dog is more intimidating than Albert the Gator. Fake Barney and I went into this in-depth on my podcast last month, but could they have made Albert any lamer? He's got a chunky sweater, a pot belly, and a ball cap on his head. Even his teeth aren't that scary looking.
And don't get me started on Alberta. Worst mascot in college football, and that's saying something when Cal has this creeper:
4. The Two Bits cheer
I get that the Two Bits cheer is a big thing at Florida because it honors Mr. Two Bits, George Edmondson, Jr., a retired insurance salesman who became the team's unofficial cheerleader. I'm all for traditions, especially those that celebrate a team's most passionate fans. And I have no doubt that when Mr. Two Bits was in his prime, that cheer was a highlight of most games at Ben Griffin Stadium.
…But the Two Bits cheer is lame now. How do I know it's lame? Even Kentucky stopped doing it. Not even Steve Spurrier could make it cool last year:
5. That Jim McElwain Belk commercial
6. Tim Tebow
You know what? I actually like Tebow now. Hating on him in 2017 is like hating on a puppy; I just can't do it.
7. All the weird stuff that happens in Florida
I'm not talking about hurricanes or natural disasters or anything like that. I'm talking about the number of truly bizarre news stories that come out of the Sunshine State. Florida is by far first in the country in "SMHeadlines," to the point that on Twitter, people just use the hashtag #Florida when sharing them and "weird Florida news" is one of the most common searches on Google.
A sampling of the most ridiculous headlines out of Florida over the past year:
That's only scratching the surface.
8. Jim McElwain not understanding how to use sunscreen
I'm sure I'm leaving some out. Leave more in the comments.