7 Questions and Predictions Heading Into Fall Camp Fall camp starts on Thursday, which means we'll finally get some practice updates and actual news to discuss instead of the endless projections and hypotheticals that make up "talking season." Before we get too far ahead of ourselves, here are few questions I hope will be answered in the next four weeks before the season opener.
1. How long will the "Quarterback Race" continue?
Patrick Towles asserted himself as the starting quarterback early on last season, and at times, looked better than any of us could have imagined; however, he struggled at times as well, particularly in the final game of the season vs. Louisville. Even though most of us assumed Patrick would be the starter heading into this season, Mark Stoops opened the position up to competition in the spring. Ever since, Towles and Drew Barker have been "battling" for the spot, which the staff and players continue to insist is legitimately up for grabs.
Prediction: Is the competition a coaching tactic to keep both players on their toes or does Barker have a real shot at overtaking Towles? I think the former, and even though the staff will probably keep the decision private until the week of the game, I think the "race" will wrap up pretty quickly in order to give Patrick a chance to further establish himself as the team's leader.
2. Who will step up and be the leader of the defense?
The Cats lost two huge anchors on defense in Bud Dupree and Za'Darius Smith, who were drafted in the first and fourth rounds of the NFL Draft, respectively. Replacing that talent will be difficult, but replacing that leadership may be even tougher. In fact, for the past several years, UK has had a go-to leader on defense: Wesley Woodyard, Danny Trevathan, Winston Guy, Avery Williamson, Bud and Big Z. Who's next?
Prediction: Stoops said at Media Days he expects linebackers Josh Forrest and Ryan Flannigan to step up to take over the leadership role, but I think defensive tackle Melvin Lewis is already doing it. Lewis has taken Matt Elam and several of the younger guys under his wing, and although he may not be as vocal as Bud or Z or garner the same attention, he could be the guy that makes the difference this season.
3. What will Cory Johnson say this year?
Last year, Cory Johnson made a splash on the first day of practice when he went into detail about how much his weight fluctuates due to his frequent bowel movements.
"I try to poop like five times a day, three times a day; it's hard to keep weight when you have so much going out."
Can Cory top that comment this year?
Prediction: Yes. Of course he can.
4. How many practices until we get an Angry Stoops?
Last year, it only took half a practice until the team saw "Angry Stoops." Stoops berated his squad for an "average" first outing. Stoops told the media he expected more energy on the first day of camp, and instead, saw a lackluster effort and a lot of whining about getting up so early. By the end of the practice, he had the whole team doing up-downs.
Prediction: Hopefully more than one, but no more than three.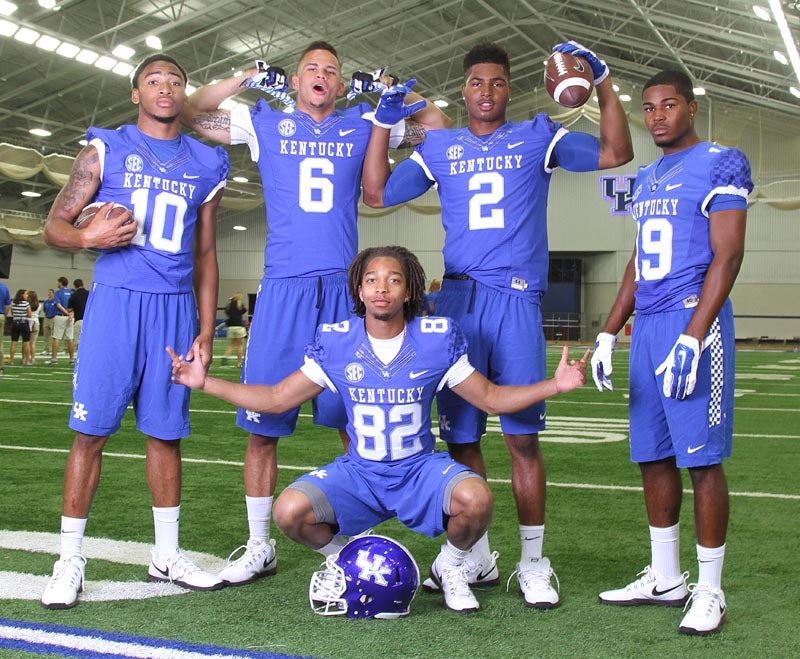 5. Which wide receiver will stand out the most?
UK finally has some depth at wide receiver, but there are still so many question marks. While Ryan Timmons led the team in catches with 45 for 536 yards and two touchdowns, he had several major drops that cost the Cats, including one that became an interception on what could have been a game-winning drive at Florida. Timmons had shoulder and ankle surgeries during the offseason and didn't play in the spring, along with Dorian Baker and Charles Walker, so it will be interesting to see how he rebounds this fall. The stable is loaded, with Timmons, Jeff Badet, Garrett Johnson, Baker, Alexander Montgomery, Blake Bone, Thaddeus Snodgrass, TV Williams, and others just itching for a chance to make the starting rotation. Who will step up and impress first?
Prediction: Garrett Johnson. While many of his fellow wideouts had to sit out most or all of the spring with injuries, Johnson took advantage of the additional reps. You'll remember him most from his breakout game against Florida (six catches for 154 yards and two touchdowns), and although he faded as the season went on, we're hearing really good things about him heading into camp.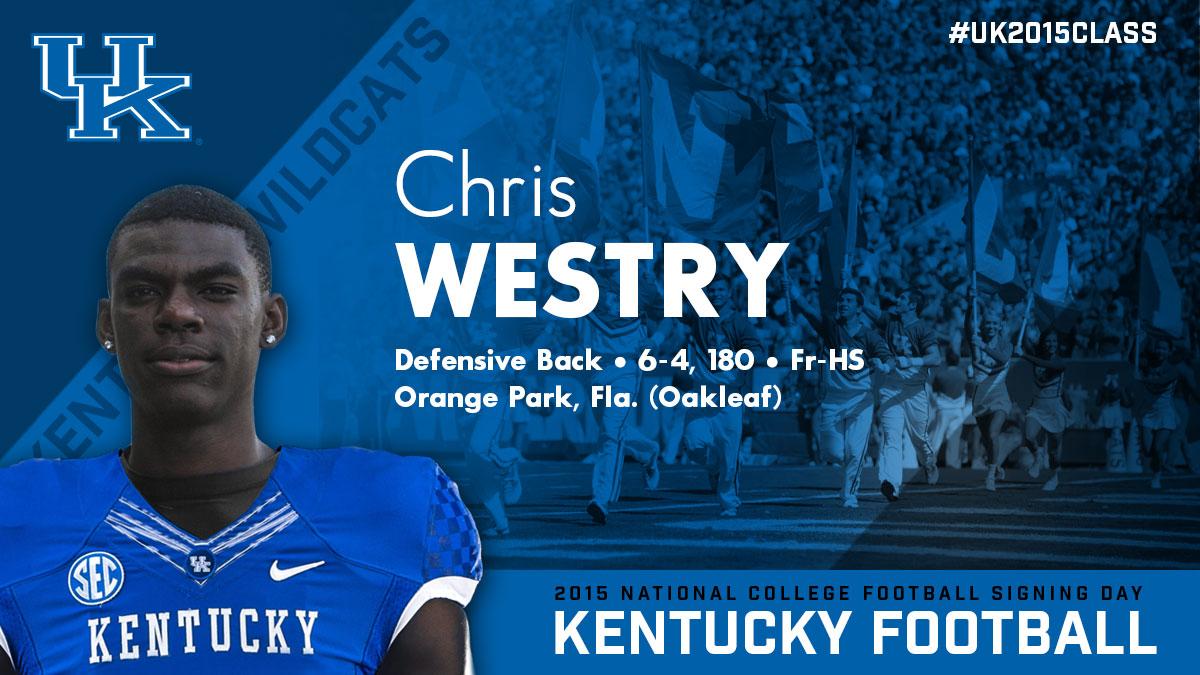 6. Will the new guys take over at corner or will the veterans stand up?
The cornerback position could be one of the most interesting to watch in camp because of the young talent coming in. The position has haunted Kentucky in recent years, and Stoops has made it his mission to stock it with SEC-caliber players. Seniors Fred Tiller and Cody Quinn are atop the post-spring depth chart, although Tiller missed the spring because of shoulder surgery. Both held off the competition from younger guys last season. Will they this year?
Prediction: Sophomore Kendall Randolph made an impression last season at the nickel and dime positions and earned more praise from the staff in the spring. Stoops seems very, very open to playing a freshman at corner if he has to, and at Media Days, he singled out 6'4″ freshman Chris Westry as a player that's standing out during summer workouts because of his size and speed. Will Jackson and Derrick Baity, both 6'3″ freshmen, are also young, hungry, and talented. I doubt those guys will usurp Tiller and Quinn by the first game, but as the season goes on, I'd be shocked if at least one freshman wasn't getting significant minutes.
7. Will Patrick Towles cut his hair?
I'm all about the #lakehairdontcare, but Patrick's hair is getting pretty long, to the point he got it braided into cornrows while in St. Lucia this summer. Will he keep the hair flowing or crop it short for Picture Day on Friday?
Prediction: He'll cut it, or Freddie Maggard will do it for him.