5 Things UK needs to do to get a Win Against the Gators
It's a huge day for the program to say the least. The opportunity to snap the 28-year streak is on the line, making it the biggest game in the Mark Stoops era. The boys in blue have to bring it today against the Gators, no excuses. Today is the day. The day we finally end this embarrassing streak. Here's 5 things the Cats have to do today to get out of Commonwealth with a victory against Florida.
1. Distinguished Offensive Line Play
One of the most experienced units on our team, the vets up front on the O-line have to step up and lead UK today. The play of Jordan Swindle, Zach West, Jon Toth, Ramsey Meyers, George Asafo-Adjei, Nick Haynes, and Cole Mosier will determine whether we go to 3-0 or 2-1. Make no mistake, this is the most important match-up on the field against the Gators. Without a strong performance from these fellas, a replay of the ugly second half that UK's offense had against South Carolina is likely. Stupid penalties are simply unacceptable.
Florida has no problems with defensive line talent, but youth and inexperience is prevalent. Jonathon Bullard is Florida's stud lineman to watch out for, he made an O-lineman look like a child last week against ECU. The Gators will get after it on D this week. They struggled heavily without Hargreaves last week, but with him back in the line up their improved pass defense will keep UK's offense a little more honest.
2. Pat Towles – Consistent and Accurate
We all know what Patty possesses as the Cats' QB, but he hasn't shown us a full game this season. Towles played a good first half in both of the games so far (minus opening drive vs. USC), but UK became stagnant on the offensive side of the ball and almost blew big leads in the second half in both games. But, we didn't. Now sitting at 2-0, Towles has the opportunity to start the season at 3-0 and could have the Cats as the leaders in the SEC East race by 11:00 pm.
He has the charisma, leadership and ability to take this team as far as it wants to go, but it starts with him. Towles has to find ways exploit experienced Gator defensive backs, which is a lot easier said than done. The Gators haven't played exceptional talent this season and their pass defense statistics aren't all that impressive. For a team that prides themselves on proficient secondary play, they haven't been all that. Yes, Neal and Hargreaves were out Saturday, but 333 yards and three touchdowns through the air is pretty ridiculous to give up to ECU.  Towles can catapult his name into the list of best SEC quarterbacks with a solid performance and win over the Gators this week. He torched them last year through the air with a less experienced group of receivers, and I feel comfortable saying that this is Patty Towles coming out game for the 2015 Cats.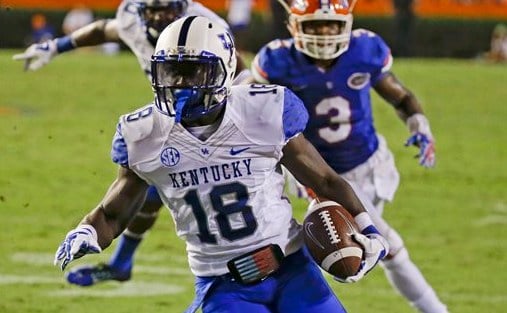 3. Ground game has to be Good
Florida's defensive line has practically shut down the opposing RB's they've played so far, allowing only 25 yards on the ground per game. That's a stout statistic. Led by Boom Williams, the Cats will need to make some things happen in the run game to alleviate the pressure of Towles. But how do we have an effective ground game with a team that only allows 25 yards on the ground? Good blocks and moves in open space will keep the defense honest. In the second half last week, I could have told you what play UK was going to run on offense before they even did it. There were approximately three straight three-and-outs to start the second half, each consisting of a run on first and second, and throw on 3rd and long.  That can't happen this week if we plan on having any chance to beat the Gators at home. Boom, Kemp, and Horton are going to be looked upon to step up by committee this week and continue to do what they've done to opposing defenses so far this season.
4. Let's get tricky
East Carolina got a little fancy here and there last week against the Gators, and it's about time we do the same. If you remember correctly, two years ago at home UK ran a perfectly executed fake field goal for a touchdown with placekicker, Joe Mansour. It may have been the only 7 points we scored that game, but I dare you to tell me that it didn't work to perfection.
With a new head coach, and some unusually shaky players on the field for Florida at times, it's time we dig deep into our bag of tricks and pull something funky out for the Gators at an opportune moment. We haven't had one yet this season, and Stoops ain't scared to run no trick play. I mean after all, Florida deserves it, don't they?
5. Money MacKickins
The All-SEC selection at place kicker for the Cats is going to be counted on for some valuable points against the Gators. MacGinnis is 3-4 on the season, with his only missed field goal coming on a 40+ yard field goal, and a PAT against UL-Lafayette. He has played well so far, and surely will continue as one of the bright spots in our special teams game. He had a big game last year against the Gators and I can easily see him playing an integral role over the course of this game. In MacKickins we trust.