28 Reasons Why This Is The Year Kentucky Breaks Florida's 28-Game Winning Streak
I don't need to tell you that Florida's beaten Kentucky 28 straight years in football; it's the longest active winning streak by one FBS opponent over another. It's the trivia question from hell, the "fun fact" commentators trot out during broadcasts to torment Kentucky fans. The streak became particularly cruel last year when Kentucky came painfully close to breaking it. Heading into Saturday's game at a sold-out Commonwealth Stadium, the team isn't hiding from the streak; in fact, if you listen to Patrick Towles, they're using it as motivation.
With Florida down and Kentucky surging, I firmly believe this is the year the Cats will snap the streak. I'll give you some reasons why. Actually, I'll give you 28 of them.
1. It should have happened last year
Of the 28 straight losses to the Gators, few sting more than last year's. The Cats took the Gators to triple overtime in The Swamp and should. have. won. Just look at the play clock:
Sadly, the refs did not throw the flag and Florida scored. If they hadn't, Kentucky would have won the game. For this, the football gods owe us.
2. Florida ranks 89th in passing defense
The Gators have allowed 482 passing yards in two games, which ranks 89th in the country. Add in the fact that they've only played New Mexico State (FPI ranking #121) and East Carolina (FPI ranking #82) and Patrick Towles should be licking his chops.
3. The Cats are snapping streaks left and right
Last week, UK got its first road win since 2011, first SEC road win since 2009. Last season, they got their first SEC win since 2011. One might say they're on a streak-snapping streak. A win Saturday would obviously snap "the streak" AND give the program its first 3-0 start since 2010, first 2-0 start to SEC play since 1977.
4. UK is undefeated when Boom Williams Sr. wears this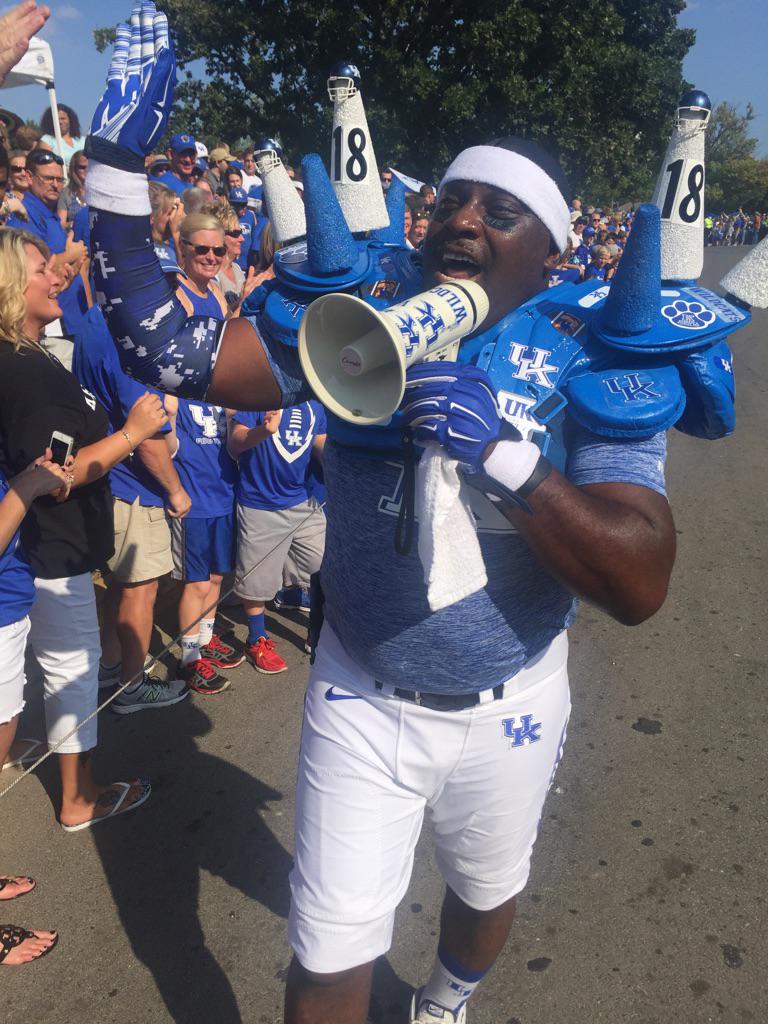 Boom's dad starting sporting this ensemble this season, and so far, the Cats are 2-0. Coincidence? I think not.
5. UK is undefeated in the New Commonwealth Stadium
Let's keep it that way.
6. They're also undefeated under Patrick's long locks
Only winners have hair like this:
You're welcome.
7. Boom Williams is on a roll
Boom has rushed for over 100 yards in the past three games, the first Wildcat to do so since Derrick Locke in 2010. Florida contained him last year, but have they seen this spin move?
Who remembers this crazy spin move from @boom_that_guy?! Saturday can't come soon enough. #BBN pic.twitter.com/8yxCbkwpFg

– KYwildcatsTV (@KYwildcatsTV) September 14, 2015
8. The Cats have their most balanced offensive attack in years
Throughout most of Kentucky football's history, the Cats have either been really good at passing, decent at running, or neither. Very few times have the Cats had as balanced an attack offensively as they do now. UK is averaging 192.5 rushing yards per game and 224.5 passing yards per game. That's pretty even. For once, Kentucky has depth at wide receiver and running back, and not only that, many of those guys are playmakers.
9. Kentucky has had more "explosive plays" in tougher games
An "explosive play" is defined as a run over 10 yards or a reception over 20 yards. Kentucky's had 21 of those this season (14 rushing and 7 receiving) to Florida's 15 (6 rushing, 9 receiving). Keep in mind UK has already faced an SEC opponent and a feisty Louisiana Lafayette team, while Florida has faced New Mexico State, which Freddie Maggard says may be the worst team in football, and East Carolina, a formidable foe, but not SEC worthy by any means.
10. Nothing associated with this awful rap video should ever win anything
What is that?! I'm embarrassed for this person. Florida fans should be too. If that's considered music, Terrence Jones should win a Grammy for "Teach Me 'Bout Kentucky."
11. This ain't your daddy's Florida
Hell, it ain't your older brother's Florida. Sorry, Gators, Tim Tebow ain't coming through that door. Under first-year head coach Jim McElwain, the Gators are firmly in rebuilding mode, making this Kentucky's best chance to beat them in…well, maybe 28 years. It has to happen.
12. This will be the first road test for a lot of young Gators
Freddie Maggard brought up an excellent point on this week's KSR Football Podcast: collectively, the 11 starters on Florida's offense have only 44 starts between them. Wide receiver Antonio Callaway and running backs Jordan Scarlett and Jordan Cronkite are all true freshmen. Quarterback Will Grier and tight end C'yontai Lewis are redshirt freshmen. This will be their first road test. Rattle them.
13. The Gators aren't disciplined
By now, you've seen the video of McElwain ripping into junior running back Kelvin Taylor for his throat-slashing gesture after a touchdown. McElwain's outburst was the result of mounting frustrations with all of his players. McElwain told reporters his team is entitled and lacks discipline. The Monday before the ECU game, more than 30 players showed up to the first meeting of the week without their ankles taped, a big no-no, and several players have skipped team meetings/dinners, resulting in depth chart demotions. Was McElwain's tirade and a close win over ECU a wake-up call or will those bad habits linger? For UK's sake, I hope it's the latter.
14. Their offensive line is young and vulnerable
The Gators' offensive line lost four starters to the NFL and Rod Johnson to a career-ending spinal injury. The new line is young, with the majority of lineman having two starts or less. Redshirt senior Trip Thurman is the only returning offensive lineman with starting experience. The unit gave up only three sacks in the first two games, but they'll face a totally different animal in Lexington. Expect the Cats to throw some different looks their way to catch them off guard.
15. Jason Hatcher will be back
Defensive end/linebacker Jason Hatcher returns from a two-game suspension this Saturday. UK will need him. Running back Matt Jones may be off to the NFL (thank god), but Scarlett, Conkrite, and Taylor are a formidable trio in the backfield. Having Hatcher back is HUGE for Kentucky's run defense, which currently ranks 110th in the country.
16. Ryan Flannigan may be back
Stoops didn't sound too hopeful about the star linebacker's return on the SEC teleconference today, but having him back in the rotation could be a game changer for all the reasons above.
17. Linebacker Alex Anzalone is "doubtful to out"
On today's SEC teleconference, McElwain said starting linebacker Alex Anzalone is "doubtful to out" for the Kentucky game with a shoulder injury. Junior Jeremi Powell will take his place.
18. There are some other lingering injuries
Additionally, McElwain said that TE C'yontai Lewis injured his hand and they're unsure if he'll play Saturday. As expected, star cornerback Vernon Hargreaves III was updgraded from "questionable" to "probable." (He'll play.)
19. This was so fun it has to happen again
Do those guys look like losers to you?
20. One quarterback is better than two quarterbacks
Patrick Towles had one of the best games of his career against Florida last year, throwing for 369 yards and three touchdowns. After a slightly shaky start against Louisiana Lafayette, Towles rebounded against South Carolina, completing 72% of his passes for 192 yards and running in a touchdown. On the flip side, Florida plays two quarterbacks: Will Grier and Treon Harris. So far, the dual-system has worked okay for the Gators, but on the road in a rowdy environment, let's hope they have trouble getting into a rhythm.
21. Kentucky has a 7-3 record all-time on September 19
According to the fine folks at UK, Kentucky is 7-3 when it plays on September 19. They last played on September 19 back in 2009, when they beat Louisville in Commonwealth Stadium. Gotta be a good omen, right?
22. The Cats are resilient
There's a distinct pattern forming after two games for Kentucky: fast start, crappy third quarter, gritty finish. While many of us focus on the crappy third quarter, the Cats' gritty finishes give me faith that they'll be able to hold on if the game is close at the end.
23. Jim McElwain once coached for Louisville
McElwain was the wide receivers and special teams coach at Louisville from 2000-2002 and losing to a former Card is unacceptable.
24. …So is losing to someone who doesn't know how to apply sunscreen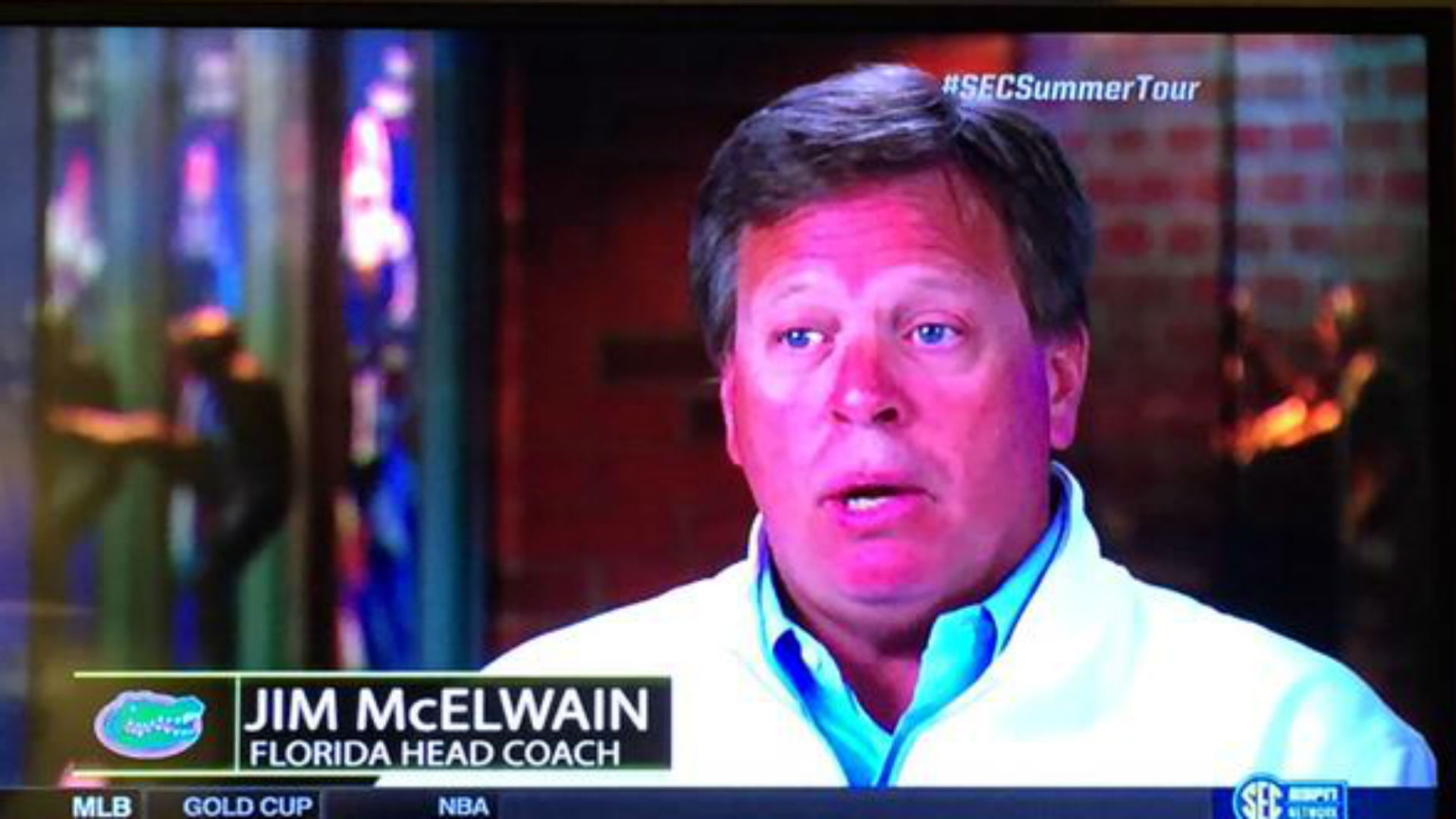 Come on, man.
25. Kentucky's playing with a chip on their shoulder
The Cats don't just think they can beat SEC opponents, they know they can. Last year's loss put a chip on Kentucky's shoulder, and both Stoops and Towles have said some players are using the streak as motivation. Wouldn't you? With momentum on their side, I think the Cats want it more.
26. If UK loses, it will ruin my vacation
On Friday, I head to San Francisco/wine country for a week, and for the first time in over three years, I'll be watching the game as a fan from a bar. I'll hate not being in Commonwealth, but I plan on embracing the chance to scream and cheer at the television with my Wildcat friends at Zeke's, so it would probably ruin my vacation if Kentucky lost. Don't do that to me, guys.
27. Commonwealth will be insane
After the Cats beat the Gamecocks, Mark Stoops told a rowdy locker room how loud Commonwealth Stadium will be for Florida. Combine the hype from the South Carolina game, the streak, last year's heartbreaker, the chrome helmets, a sold-out crowd, and a 7:30 p.m. kickoff and you've got a recipe for an epic night in Commonwealth Stadium. I get chills just thinking of it.
28. It's time
28 years is too damn long to lose to one team. It ends Saturday night.