2014 Commit T.V. Williams "This Class Will Stay Together"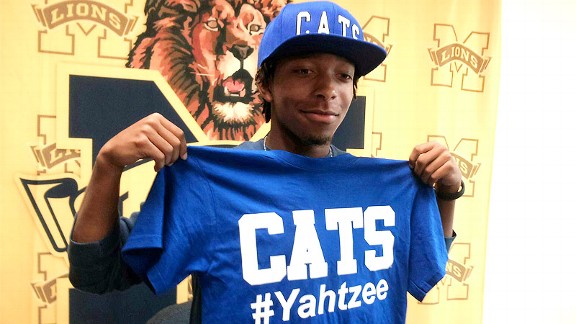 With a 1-6 record on the field, the Kentucky football team has limped through (figuratively and literally) one of the toughest schedules in college football in the first half of the year. Despite the poor W-L record, Kentucky fans are still upbeat regarding the future of the program, in most part because Coach Mark Stoops and staff have assembled what will almost certainly end up as the best recruiting class in the school's history. With a little over 4 months til National Signing Day the Wildcats have the 8th ranked recruiting class in the entire nation according to Rivals.com with an astounding 8 players ranked as 4 star recruits, by far the most talent that the school has brought in in a single recruiting haul.
Now the big question becomes, as the losses pile up will Kentucky be able to hold it's class intact as bigger and more successful programs come calling? According to T.V Williams, a 3-Star WR commit out of McKinney, Texas, that won't be a problem for this 2014 class which has grown closer and closer over the course of the last few months.
"The class will stay together because we believe in Coach Stoops and we believe in each other," Williams told Saturday Down South. "We all have a chip on our shoulders. We recruits have been together many times. I am probably one of the farthest away and I have been there five times this year. Each time the recruits always hang together. We like being around each other and we have a common purpose, to be a part of a changing program. We say 'come be a hero'."
There's certainly no lack of confidence with this 2014 class as they have all bought in to the idea that they are on a mission to revive the Kentucky football program. Williams even used one of Kentucky's recruiting pitches "Come Be A Hero", which has to make the coaching staff smile. It seems to be a popular opinion that this class will stick with the struggling Wildcats as even Rivals' Midwest Recruiting expert Josh Helmholdt has said previously that he expects little to no defections from the Wildcats' highly ranked class:
"This group of commitments is close," Helmholdt said. "They're already kind of developing that family atmosphere. … As much as any class in the country, I think they have a chance to beat the odds in terms of how many de-commitments (they have)."
The future is on it's way 'Cats fans.