AJ Stamps and Austin MacGinnis named Preseason Third-Team All-SEC by the league media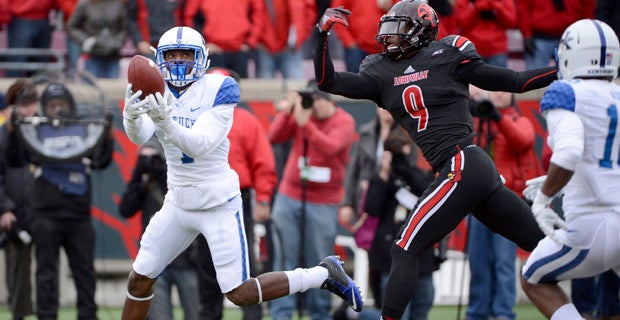 Congrats to defensive back AJ Stamps and placekicker Austin MacGinnis, who were voted preseason Third Team All-SEC this week by the media at SEC Media Days.
Stamps came in as a JuCo player and had an immediate impact, starting all 12 games with 56 tackles, four interceptions returned 103 yards, five pass breakups and one tackle for loss. MacGinnis set six school records in his freshman season, totaling 21 field goals, the most in Kentucky history. He had the most field goals in the SEC last fall, also leading all NCAA freshmen. MacGinnis finished with a school-record 104 points — equaling the SEC lead — and was one of only five kickers in the nation with three field goals of 50+ yards.
Here's the complete ballot:
(Total points earned in parenthesis)
OFFENSE
First-Team
QB       Dak Prescott, Mississippi State (170)                
RB       Nick Chubb, Georgia (189)    
RB       Leonard Fournette, LSU (180)             
WR      Laquon Treadwell, Ole Miss (169)           
WR      D'haquille Williams, Auburn (154)                       
TE        Evan Engram, Ole Miss (128)                    
OL        Cam Robinson, Alabama (167)                  
OL        Laremy Tunsil, Ole Miss (159)            
OL        Vadal Alexander, LSU (131)              
OL        John Theus, Georgia (129)        
C           Ryan Kelly, Alabama (144)                 
Second-Team
QB       Jeremy Johnson, Auburn (89)                       
RB       Derrick Henry, Alabama (151)         
RB       Jonathan Williams, Arkansas (82)      
WR      Pharoh Cooper, South Carolina (147)              
WR      De'Runnya Wilson, Mississippi State (59)           
TE        Hunter Henry, Arkansas (97)             
OL        Germain Ifedi, Texas A&M (124)               
OL        Dan Skipper, Arkansas (95)          
OL        Denver Kirkland, Arkansas (85)    
OL        Greg Pyke, Georgia (83)            
C           Mike Matthews, Texas A&M (108)                        
Third-Team
QB       Joshua Dobbs, Tennessee (62)                                   
RB       Alex Collins, Arkansas (80)            
RB       Kenyan Drake, Alabama (34)      
WR      Malcolm Mitchell, Georgia (50)            
WR      Josh Reynolds, Texas A&M (39)         
TE        O.J. Howard, Alabama (87)               
OL        Sebastian Tretola, Arkansas (72)       
OL        Alex Kozan, Auburn (69)    
OL        Avery Young, Auburn (57)      
OL        Brandon Shell, South Carolina (50)          
C           Evan Boehm, Missouri (81)             
DEFENSE
First-Team
DL        Robert Nkemdiche, Ole Miss (173)               
DL        A'Shawn Robinson, Alabama (160)            
DL        Myles Garrett, Texas A&M (155)             
DL        Carl Lawson, Auburn (131)          
LB         Reggie Ragland, Alabama (181)            
LB         Jordan Jenkins, Georgia (121)              
LB         Curt Maggitt, Tennessee (102)            
DB        Vernon Hargreaves, Florida (186)            
DB        Cyrus Jones, Alabama (126)          
DB        Jonathan Jones, Auburn (122)              
DB        Jalen Mills, LSU (118)   
Second-Team
DL        Jonathan Bullard, Florida (115)                     
DL        Derek Barnett, Tennessee (105)            
DL        Jonathan Allen, Alabama (99)          
DL        Chris Jones, Mississippi State (93)     
LB        Kendell Beckwith, LSU (93)          
LB        Leonard Floyd, Georgia (92)           
LB        Cassanova McKinzy, Auburn (80)             
DB       Tony Conner, Ole Miss (117)              
DB       Cameron Sutton, Tennessee (115)               
DB       Will Redmond, Mississippi State (79)               
DB       Tre'Davious White, LSU (61)      
Third-Team
DL        Montravius Adams, Auburn (90)                        
DL        Jarran Reed, Alabama (60)             
DL        Davon Godchaux, LSU (40)           
DL        Marquis Haynes, Ole Miss (34)          
LB        Kris Frost, Auburn (77)               
LB        Antonio Morrison, Florida (66)           
LB        Kentrell Brothers, Missouri (61)          
DB      A.J. Stamps, Kentucky (59)       
DB       Eddie Jackson, Alabama (58)            
DB       Jamal Adams, LSU (56)       
DB       Johnathan Ford, Auburn (52)         
SPECIALISTS
First-Team
P          JK Scott, Alabama (161)          
PK       Marshall Morgan, Georgia (100)                     
RS       Speedy Noil, Texas A&M (117)                  
AP       Pharoh Cooper, South Carolina (112)                     
Second-Team
P          Drew Kaser, Texas A&M (92)              
PK       Elliott Fry, South Carolina (87)                         
RS       Pharoh Cooper, South Carolina (75)             
AP       Leonard Fournette, LSU (85)            
Third-Team
P           Jamie Keehn, LSU (52)               
PK       Austin MacGinnis, Kentucky (59)                         
RS        Leonard Fournette, LSU (66)          
AP        Speedy Noil, Texas A&M (84)