10 Questions Heading Into The Auburn game
The Thursday night showdown against Auburn is less than 48 hours away, and with all that's going on this week, you probably have some questions. I know I did, so I spent the afternoon doing some research to answer them.
Which Auburn QB will start?
Last night, Malzahn said he would probably name a starter today after practice, but the media still hasn't heard. The smart money is on Jeremy Johnson, the preseason Heisman hopeful who crumbled under pressure and was benched after the first three games. In those games, he completed 43 of 72 passes for 473 yards, five touchdowns and six interceptions. Malzahn switched it up for the Mississippi State and San Jose State games and played redshirt freshman Sean White, who completed 26 of 38 passes for 296 yards with no touchdowns and an interception. Neither quarterback played in the games he didn't start. JuCo quarterback/wide receiver Jason Smith is also in the mix as a dual threat, but who will start and whether or not they'll play the whole game remains to be seen.
If you need a reason to hate Sean White, the presumed backup, he retweeted Daxter Miles' trash talk from the West Virginia game back in March:
And yes, I'm ashamed of going back that far on his Twitter feed to find that.
How awful will traffic be?
With Lexington rush hour colliding with gameday traffic, probably pretty awful; however, UK and the Lexington Police Department are doing their best to make things go as smoothly as possible. Here's what you need to know about parking, courtesy of UK:
If at all possible, save yourself the stress and just get there early. For more information, including maps, check out UK's special web page devoted to Thursday night gameday procedures: ukathleticsgameday.com/thursday.
But wait, I park my car at Commonwealth Stadium during the week. What do I do?
Move it by 7 a.m. on Thursday. UK is partnering with Go Ground transportation to shuttle those who normally park at CWS during the week to and from assigned remote, off-campus parking lots on game day. Still freaking out? Click here.
What about the weather?
Ahh, weather and traffic, the two things my parents love to talk about the most. According to our friends at WKYT, the weather looks "Mostly Sunny" for Thursday, with a high of 64 and low of 36. With kickoff set for 7 p.m., that means layer with long sleeves and bring a blue sweatshirt/jacket. Of course, there will still be girls in blue dresses and cowboy boots because this is Kentucky.
I don't think we need to venture into long johns/gloves/earmuffs territory just yet, but I'd be lying if I said I wasn't looking forward to imbibing some hot chocolate in the press box.
What's the pregame concert this week?
Kentucky country music duo Montgomery Gentry, who will take the stage in the Green Lot adjacent to Gate 1 at 4 p.m. They'll break for the Cat Walk at 4:45 p.m. and do an encore afterwards. I hear Larry Vaught may crowd surf, which is reason alone to show up early and enjoy the pregame festivities.
Our old pal Dee Jay Silver will supply the music during the Cat Walk, and before the game, our favorite, Marlana VanHoose will bring the house down with the national anthem. I've got the tissues packed, Drew.
What's the radio schedule that day?
I hope you like us because we're taking over the airwaves on Thursday. Get ready for the game with a day-long marathon of KSR coverage. Here's the schedule as we know it:
9-10 a.m.: The Leach Report
10-12 p.m.: Kentucky Sports Radio
12-1 p.m.: The KSR Football Podcast Crew — Nick Roush, Jared Lorenzen, Freddie Maggard and I — in studio to take your calls and talk football
1-3 p.m.: Matt, Ryan, and Drew travel around Lexington on the Gator to talk to fans while the Podcast crew takes calls in studio
3-5 p.m.: The KSR Pregame Show
5-5:30 p.m.: Cat Talk to the Cat Walk with Freddie Maggard and Christi Thomas
5:30-7 p.m.: Texas Roadhouse Countdown to Kickoff with Tom Leach, Jeff Piecoro, and Neil Price
7 p.m.: Kickoff on the UK Radio Network and ESPN
What uniforms will Kentucky wear?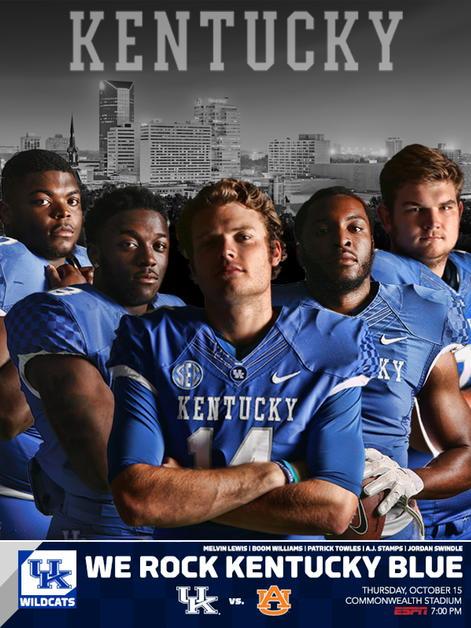 Last week, UK announced a Blue Out for the game, so they will wear blue. As you can see in the picture above, that suggests blue tops and pants. If I were a betting woman, I'd wager we'll see the blue chrome helmets as well.
If you own a pink/green/yellow UK sweatshirt, first, why? Second, leave it at home. We rock Kentucky blue.
How are Auburn fans feeling about this game?
I ventured into the murky internet waters to see how Auburn fans are feeling about Thursday night's game. It's been a trying season for the Tigers so far and if they have any hope of saving face, they have to beat Kentucky Thursday night. Therefore, there should be plenty of discussion about the game? Right?
Ehhhh…not really. Here are some of the most popular topics on the boards I visited:
There is a thread entitled "So if we lose to Kentucky next week" that discusses the doomsday scenarios for the Tigers if they lose to UK, Arkansas, and Ole Miss, so I guess there is some concern, although the thread is basically an excuse for Auburn fans to talk about whether or not they should fire Gus Malzahn and hire Bobby Petrino. A smattering of their views on Bobby P:
"Hire one of the few coaches we have managed to beat this year? No thanks."
"Nope. Didn't want Petrino then, don't want him now."
"Would rather have Rick Pitino." (Ha!)
"I want Spurrier!"
At least we can all agree on Petrino.
Will Mustache Guy be there?
Aha! I bet you didn't even have this question, but during my research, I discovered that Auburn fans have a new cult hero: Mustache Guy, who soared to fame after being shown on the jumbotron a game this season. Why? Well, it hasn't exactly been the most cheerful year so far for the Tigers, so when Auburn student Lucas Trimble popped up on the jumbotron during Auburn's loss to Mississippi State, he somberly raised his index finger and stared at the camera. Apparently the crowd loved it, and now it's a thing:
No word on whether or not he'll be at the game Thursday night. If so, CWS camera operators, you know what to do.
If Kentucky wins, is it appropriate to rush the field?
At the beginning of this season, I would have said yes. Now? Nah. Auburn's 3-2 and not even ranked. Save your energy and dance to "Grove Street Party" in the stands.