Cats in the NBA
Former Kentucky Players in the NBA
Six years ago Anthony Davis became the second Kentucky Wildcat ever drafted as the No. 1 overall pick in the NBA Draft.  Today he's a five time All-Star and perennial MVP candidate.
The Unibrow isn't leaving behind the new guys.  To help the rookies reach their ultimate goals, he shared six tips, a piece of advice for each year he's spent in the league, in the following video.
It's been 6 years since I heard my name called in the NBA Draft. So here's 6 tips for all the rookies who just got drafted. Time to work! ?? pic.twitter.com/vebhZlsyO9

— Anthony Davis (@AntDavis23) June 23, 2018
I do disagree with Davis on one point.  If LeBron can wear suit-shorts, you can wear sweatpants. DeMarcus Cousins is a little less than seven months removed from a traumatic left Achilles' tendon injury.  He's also only one week from entering NBA free agency.
As the former Kentucky Wildcat nears a critical moment in his career, he shared views from a critical moment in his rehabilitation process.  He's now using aquatic workouts to regain strength and stability, and he's is back to shooting basketballs.  It's great to see Boogie back on the court.
Help is on the way ?? #TheResurgence #0Doubt pic.twitter.com/cfTyxXY6Q8

— DeMarcus Cousins (@boogiecousins) June 23, 2018
Boogie plans on being able to play at the start of next season.  If you compare the previous video to where he was a few weeks ago, he appears to be improving by leaps and bounds each week.
The Resurgence #0doubt pic.twitter.com/UPiqUQ3f5A

— DeMarcus Cousins (@boogiecousins) June 15, 2018
" I been grinding since a youngin in the trenches this ain't nothing new to me "#TheResurgence #0Doubt pic.twitter.com/uAKNYXvSDi

— DeMarcus Cousins (@boogiecousins) June 6, 2018
Even if it's not in time for the season to begin, you better believe that he'll be back in time to raise plenty of hell during the 2018-19 NBA season.
In less than two days, Kevin Knox has taken New York City by storm.
After the Kentucky wing was drafted ninth overall by the New York Knicks, he chose to wear the No. 20, the same number worn by Allan Houston.  Knox's decision to embrace the Houston-esque hype has many believing he could be the final piece the Knicks needed to turn around the struggling franchise.
One of those who is buying into the Knox hype is Sports Illustrated's Kenny Ducey.  It's not just Knox's style of play, or his age that has the Knicks' excited, it's his tenacity.  He battled in workouts and showed new head coach David Fizdale that he's willing to fight to be successful.
If that's the way he grew in just a few short months, it's tantalizing to consider where he could be after just a year of working with Fizdale, who's known for turning players into warriors on the floor. It's also important to consider how young Knox is; over the offseason, after hitting the gym, he'd hop right on his gaming console at night for a few hours of Fortnite. He's just a kid, and his mental makeup is still very much taking shape.
With Fizdale and a host of promising assistants committed to player development in the fold, the Knicks could be looking forward to a future with a 20-point scorer on their hands, and perhaps even one who can feed off chippiness and sink teams like Durant, who Knox looks forward to facing soon.
Knox has a long way to go, but if he gets there with the Knicks the Kentucky Wildcat can become a New York Legend.
Earlier today, former Kentucky forward Wenyen Gabriel announced on Twitter he was "Coming to SAC!" with an image of him in front of a Sacramento Kings backdrop.
Coming to SAC!? @SacramentoKings pic.twitter.com/5Zrek22f2k

— UPM?N™ (@WenyenGabriel) June 22, 2018
Most assumed it meant he would play with the Kings for summer league, but no one knew for certain or the extent of the signing.
Now, Sacramento reporter Sean Cunningham is reporting Gabriel has officially joined the summer league roster, but whether he will stay with the team or not afterward has yet to be determined.
Kentucky's Wenyen Gabriel will be part of the Sacramento Kings summer league roster, according to sources. Beyond that remains to be seen.

— Sean Cunningham (@SeanCunningham) June 22, 2018
Gabriel worked out for the Kings back on May 21.
We saw Derek Willis do the same with the Detroit Pistons last offseason, and he eventually played with the team's G-League affiliate throughout the entire year. Today it was announced he has joined the New Orleans Pelicans for the Summer League.
Now, Gabriel will have to carve out his role in the summer league and hopefully earn a spot at training camp.
Best of luck, Wenyen.
Jarred Vanderbilt arrived in Denver…on a scooter. After being drafted 41st by the Magic and traded to the Nuggets, Vanderbilt showed up to today's introductory press conference riding a scooter and wearing a boot, confirming the buzz we've heard about his injury leading up to the draft:
Jarred Vanderbilt has some nice wheels pic.twitter.com/B0xS3P82A7

— Kyle Fredrickson (@kylefredrickson) June 22, 2018
Here he is with fellow Nuggets rookies Michael Porter Jr. and Feathers Thomas Welsh:
All three of the #Nuggets draft picks — Michael Porter Jr., Jarred Vanderbilt, and Thomas Walsh — are talking and meeting one another. pic.twitter.com/7H5wjrwT7p

— T.J. McBride (@TJMcBrideNBA) June 22, 2018
I say the name "Feathers" the same way Jerry Seinfeld says "Newman," but look at what a good teammate he is by bringing Jarred's scooter around the table for him:
Thomas Welsh is already showcasing the skills of a good teammate, providing Jarred Vanderbilt with his scooter pic.twitter.com/aloncsrXyj

— Brandon Ewing (@B_Skip17) June 22, 2018
Unfortunately, no one seemed to ask about Jarred's timeline to return from that injury, but I think it's safe to say he won't participate in the summer league, which tips off in a few weeks.
Get well soon, Vando, and good luck.
By the time the ninth pick rolled around, it seemed like a foregone conclusion the New York Knicks were going to draft Kevin Knox. In Knox's introductory press conference today, Knicks president Steve Mills confirmed that Knox's competitiveness in workouts sealed the deal to bring him to New York.
"We wanted Kevin at the ninth pick," Mills said. "We spent a lot of time with him, we spoke with the coaches down at Kentucky and watched him throughout the course of his career. We knew there was something special, not just about his basketball abilities — the length, the athleticism, his ability to play the game the way Coach [David] Fizdale wants to coach and the way the current NBA is going — but there's also a competitiveness inside this kid that doesn't show up all the time in his demeanor. We sat and talked to him and listened to how he interacted with five other players through dinner and different conversations and there's a competitive sense that we knew was the right fit here in New York. That's how we decided he was the right guy to go with."
Unlike most top prospects, Knox was fine doing group workouts, which allowed the Knicks to put him head-to-head vs. Michigan State's Miles Bridges, whom New York was also considering. According to those inside the workout facility, Knox "kicked [Bridges] around" in the workout, quelling any concerns the Knicks had about his toughness.
"I think it helped me out a lot," Knox said. "You see a lot of top guys in the top ten, lottery do solo workouts, but I decided I wanted to do group workouts. I wanted to compete. I wanted to go at people. I wanted to show what I've really been working on…I think that helped my stock."
"While we don't place a tremendous amount of our decision making on what happens in a workout, we do look at it from a competitive standpoint," Mills said. "The fact that he chose to come and do a 3-on-3, a six-person workout said something about what he was willing to do in terms of competing and being a competitor. I give him credit and that's something that stood out to us."
That competitive fire was on display even today. When asked if he wants to start this season, Knox started his answer before the reporter even finished the question.
"Yes. That should be a goal for every rookie, but it's not going to be easy. I'm going to work my way all the way up. There's nothing guaranteed in this league. There's going to be guys fighting every day to get the same spot I'm going for. I know it's not going to be easy and I'm going to have to work really hard every day in practice. I'm going to compete for that starting role."
In a quote that will surely find its way to a wall at the Joe Craft Center soon, Mills said that Knox's experience at Kentucky uniquely prepared him for the pressure he'll face as a member of the New York Knicks.
"That actually is going to be up to Kevin," Mills said of the learning curve Knox will face in his rookie season. "What the learning curve is and how long the adjustment takes, but what I will say is that while all college basketball programs prepare guys to play in the NBA, the pressure and the limelight and the spotlight you're under when make the decision to play at Kentucky does prepare you in a different way to play in a place like New York. I think some of the things that are tougher for rookies to adjust to are some things he's already been through."
As for those boos from Knicks fans last night? Knox reiterated that they didn't get to him.
"It was cool. I'm not going to be upset. I'm not going to cry about it. The only thing that was going through my head was I was drafted by the New York Knicks and how happy I am for myself and my family. I wasn't really paying attention to the boos or anything like that. It's fun to see all that. Like I said, it motivates me. Adds fuel to the fire."
In fact, he joked about it with Knicks star Kristaps Porzingis, was also booed when the Knicks drafted him in 2015.
"Actually, we did talk about it. He asked me how the fans reacted and I told him I got the same amount of boos he got. It was fun, he just laughed and said it's all motivation, just fuel to the fire. And he said, 'Good work. Sooner or later they'll be cheering for you.'"
New York newspaper editors certainly are: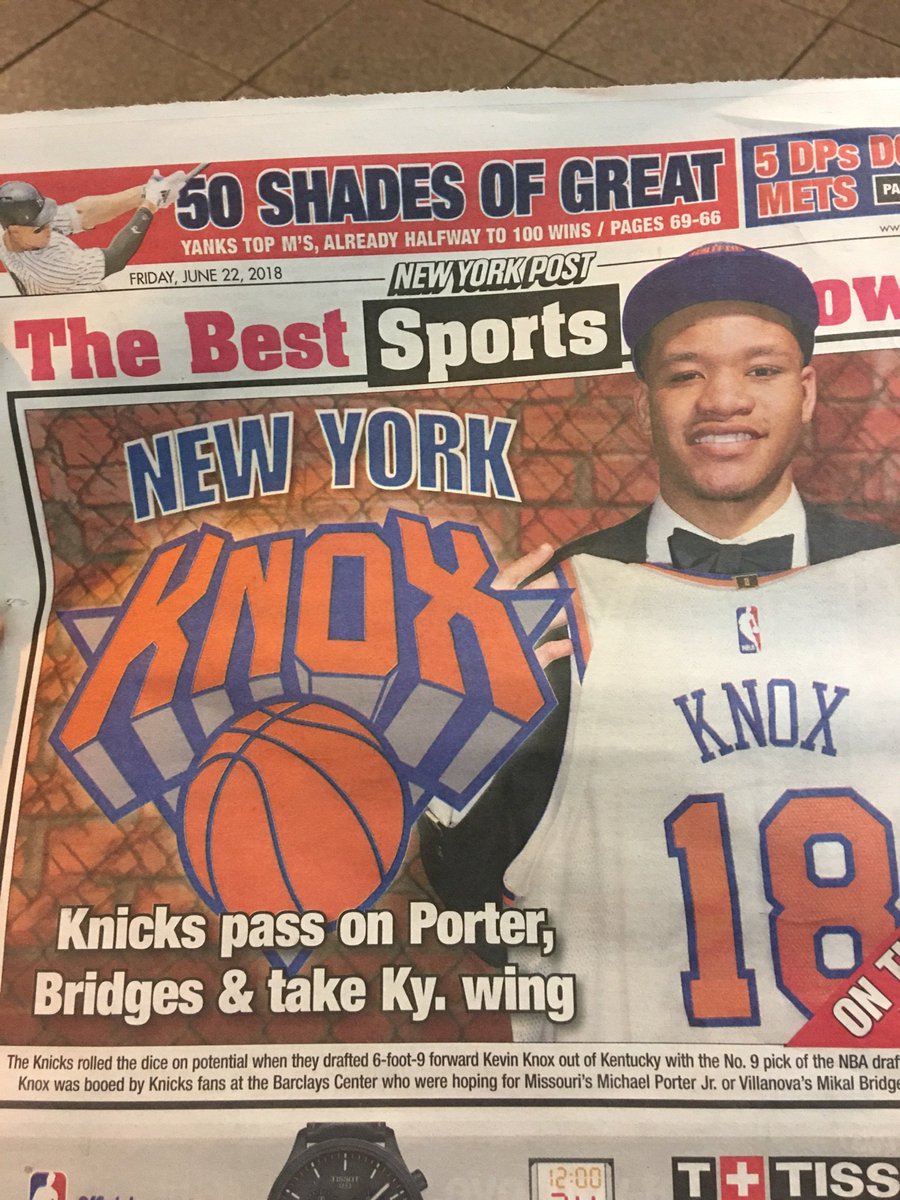 Now that the NBA draft is over, we finally know where our five (well, four. Wenyen Gabriel went undrafted) former Kentucky Wildcats will be playing at the next level. Let's take a look at how they project on their new teams.
Kevin Knox – No. 9 New York Knicks
It's a bit of a shock, but it's official, Kevin Knox is going to be a member of the New York Knicks.
While he went higher in the draft than I expected (I had him falling off a cliff all the way to No. 17 despite most mock drafts slotting him in the 9-11 range), New York may actually be one of the best possible scenarios for him.
Instead of going in the middle of the first round to teams such as the Denver Nuggets, Washington Wizards, or Milwaukee Bucks – all teams with solidified shooting guards – the Knicks saw the gaping hole in their backcourt and went for the 6-foot-10 guard who can shoot from anywhere on the court.
Minutes after being drafted and realizing a lifelong dream, @KevKnox received a special phone call #NewYorkForever pic.twitter.com/Amyb9QkUOl

— NEW YORK KNICKS (@nyknicks) June 22, 2018
So how does Knox fit in with the Knicks? Quite favorably, actually.
The Knicks backcourt consists of Emmanuel Mudiay and Frank Ntilikina at the point with Courtney Lee and Tim Hardaway Jr. at shooting guard. Knox is better suited to play the two, especially early in his NBA career, but will still earn plenty of minutes at the three on a young Knicks team still looking to build. Odds are he'll see a lot of playing time at the small forward position as they try to work out a proper spot for him in the rotation. The Knicks have invested a large sum of money into Hardaway Jr. and he's showed promise as their two-guard of the future, so Knox will have to play next to him or soak up minutes when he heads to the bench.
Knox is a good fit for New York because he brings another threat from the perimeter and can help make open shots as defenses will turn most of their focus on Kristaps Porzingis.
Knox still needs to work on becoming more consistent when attacking the rim and playing focused defense, but his shooting stroke is undeniable. He shot 36.9 percent from NBA three-point range in his lone season at Kentucky, per The Stepien, which is around the league average and would be a great number for him to aim for in his first season.
Something that is key here is that he's going to have opportunities to make mistakes and learn from them, something he wouldn't have nearly as much leeway with if he were selected by a low-seed playoff team trying to win sooner rather than later.
Knox worked well next to a prolific floor general in Shai Gilgeous-Alexander, something he won't have in New York with Mudiay (who may be the most inconsistent player in the entire NBA) or Ntilikina just yet (who is entering his second year after a solid rookie year but primarily succeeded as a defensive stalwart). Knox will have to rely on working off Porzingis to generate shots until he can become more consistent getting to the rim, which is a blessing more than anything else. He'll be able to hang along the perimeter and hunt for open looks. He could be an incredibly difficult cover with his height and shooting ability if he dedicates himself to consistent off-ball movement on offense.
Another reason this fit works so well is because of Knicks new head coach, David Fizdale. Fiz is a great players coach who has always been able to make connections and get the most out of guys who specialize in one area. Fizdale was overly impressed with Knox in workouts and the consensus appears to be that Fiz was the one who really wanted to take a gamble on Knox.
It's hard to tell right now if Knox will be a starter – that'll become more clear after free agency gets rolling – but he has a clear role on this team without playing one minute. The Knicks needed more outside shooting to complement the backcourt and Knox provides that immediately.
Shai Gilgeous-Alexander – No. 11 Los Angeles Clippers (via Hornets)
After originally being selected by the Charlotte Hornets, Shai Gilgeous-Alexander was immediately traded to the Los Angeles Clippers.
The Clippers were desperate for a starting point guard and they finally got their man, one that fits perfectly into their scheme.
SGA immediately brings a floor general playstyle that the Clippers were obviously missing with the departure of Chris Paul. Patrick Beverley played only 11 games last season due to injury, so they missed his production at point guard, but he can't run and direct an offense like SGA can. If the Clippers do manage to hang onto DeAndre Jordan before next season begins, he and SGA will form a dangerous pick-and-roll that can beat the defense from every area of the court and – more importantly – create open looks for shooters. SGA is great at attacking the rim, he has a solid outside jumper and reads defenses better than any guard prospect in this draft.
With Lou Williams and Tobias Harris taking on most of the scoring responsibility, SGA won't be asked to do as much as he was at Kentucky and can focus on setting up his teammates and attacking with perfect precision. He's a brilliant basketball mind and it will be put on display even more so than it was in college.
Jarred Vanderbilt – No. 41 Denver Nuggets (via Magic)
Of the four drafted, this is without a doubt my favorite fit. Jarred Vanderbilt is a humongous work in progress but with so much unique potential. He plays stellar defense, rebounds at an already elite level, can slip passes through the tiniest windows, and handle the ball like a guard. Going to Denver couldn't have worked out any better for him, especially since Orlando – one of the two NBA graveyards (sorry, Sacramento) – was the team that drafted him before trading him to the Nuggets (I understand that Denver had Orlando make the pick for them, I'm just happy he didn't get stuck there regardless).
Nuggets head coach Mike Malone led one of the league's most dangerous offenses last season with a focus on pushing the tempo and scoring as many points in as little time as possible. Vando is a one-man fastbreak and gives the Nuggets another option to keep a fast pace and constant pressure on opposing defenses at all times.
Vanderbilt is going to desperately need to develop a consistent touch around the rim before he does anything else, but even without it, he can be plugged into a small-ball lineup surrounded by the Nuggets many shooters and thrive.
Vanderbilt joins two other former Wildcats, Jamal Murray and Trey Lyles, who both had the best seasons of their still young careers. The Nuggets slightly missed the playoffs, in large part to a putrid defense and streaky offense, something they'll bring Vanderbilt in to try and correct. If fully healthy, Vando can make an impact on day one and could end up being one of the steals of this draft.
I think his connection with Nikola Jokic is going to be dangerous (when Paul Millsap is on the bench, at least) and their combined basketball IQ could wreak havoc on underprepared defenses. Off the bench, Vanderbilt could play the point forward role alongside Mason Plumlee, another great passing big. Noticing a trend here? Vando, Plumlee, Millsap, and Jokic are all great passing bigs. The Nuggets clearly value that and it's worked in their favor thus far. With Murray, Harris, and Jokic all scheduled to have huge seasons, Vando could slide in and quietly make an impact for a playoff team.
Great pickup for Denver. Better fit for Vanderbilt.
Hamidou Diallo – No. 45 Oklahoma City Thunder (via Nets, Hornets)
After being drafted by the Brooklyn Nets (the team most expected him to ultimately end up on) and quickly traded to the Charlotte Hornets, Hamidou Diallo was once again traded, this time to the Oklahoma City Thunder. He was on three teams in less than three hours, but Diallo finally found his home in OKC.
On a night where his dreams became a reality, @hamidoudiallo had the perfect perspective. #NBADraft #DreamBig #WhoWantsToBeNext #NBACats pic.twitter.com/jHSqid3CBQ

— Kentucky Basketball (@KentuckyMBB) June 22, 2018
Unfortunately, I don't have the same enthusiasm about Diallo's fit in OKC as I do with Vando in Denver. The Thunder need shooting more than anything, in my opinion, and all they did was add another version of Terrence Ferguson to their plethora of over-the-top athletic guards/wings. With Russell Westbrook, Jerami Grant, Josh Huestis, Andre Roberson, and Ferguson, the Thunder already have way too many players who aren't reliable outside shooting threats. If Paul George (and hopefully Carmelo Anthony) find their way to new teams, that only exacerbates the situation.
Playing time will be hard to find for Diallo and I don't see how he fits next to Westbrook in any way that benefits him more than it hurts him. Then there's also the history of Victor Oladipo, who was held back like a fourth-year sixth grader until he graduated to Indianapolis where he is now an All-Star. Westbrook is an incredible player, but not one that regularly makes the players that surround him better. The team is in win-now mode more than ever as Westbrook continues to age, and I just don't see how Diallo is going to fit into their scheme that doesn't include having him float around the perimeter begging for an opportunity.
Had Charlotte or especially Brooklyn drafted him, I'd feel a lot better about his potential in his rookie season, but I don't believe in the Thunder all-of-the-sudden going through an entire shift in their offensive gameplan. I think Diallo will get some chances early in the season, but this doesn't look to be an ideal fit for him at the moment.
Follow me on Twitter: @ZackGeoghegan As the Kentucky's 2018 Draft Class is making headlines, Derek Willis is making a move of his own.
The Big Blue Nation's second-favorite Bullitt County native (behind Shannon the Dude, of course) will play in the NBA Summer League with the New Orleans Pelicans, according to Sportando.  The news comes just a day after Willis celebrated a birthday.
Undrafted in the 2017 NBA Draft, Willis played his first year of professional basketball for the Grand Rapids Drive, the Detroit Pistons' G-League affiliate.  The former Kentucky forward averaged 11.8 points, 6.8 rebounds and made 47 percent of his shots (37.6% 3FG) last year.
The Pelicans have transformed into the PeliCats over the last year.  Anthony Davis was joined by DeMarcus Cousins, Rajon Rondo, DeAndre Liggins and Darius Miller before the start of the 2018 NBA season.  If Rondo and Cousins re-sign, and if Willis earns a roster spot, that's six Wildcats on one NBA team.  Time to move to New Orleans.
Less than 12 hours after the conclusion of the 2018 NBA Draft, Bovada has updated odds for the 2019 NBA Rookie of the Year award.  You can get some action on Kentucky's two lottery picks.
Kevin Knox is tied with Michael Porter Jr., the player Knicks' fans clamored for at the Barclays Center, as the seventh choice with 15-1 odds.  Shai Gilgeous-Alexander is much farther down the list with 40-1 odds.  A look at
DeAndre Ayton, 13/5
Luke Doncic, 3/1
Marvin Bagley, 9/2
Trae Young, 7/1
Jaren Jackson Jr., 9/1
Mo Bamba, 11/1
Kevin Knox, 15/1
Michael Porter Jr., 15/1
Mikel Bridges, 22/1
Collin Sexton, 22/1
Miles Bridges, 28/1
Wendell Carter Jr., 28/1
Donte DiVincenzo, 40/1
Shai Gilgeous-Alexander, 40/1
Zaire Smith, 45/1
Lonnie Walker, 50/1
Robert Williams, 50/1
If I were a gambling man, Lonnie Walker at 50-1 is awfully enticing.  As always, wager responsibly friends.
It was a late night, so let's get right into the meat and potatoes, shall we?
So. Many. Trades.
Kentucky fans have been goose-necked in a few NBA Drafts, most memorably with Nerlens Noel in 2013, but last night's trades were unprecedented for the Big Blue Nation.  There were as many Kentucky Wildcats traded as there were Kentucky draft picks.
Kevin Knox was the only player to stay on the team that originally drafted, remaining with the New York Knicks.  Shai was shipped from Charlotte to the Clippers, Jarred Vanderbilt flipped from Orlando to Denver and Hamidou Diallo went from his hometown of Brooklyn, to Charlotte than Oklahoma City.
Knick Fans are Idiots
When Knox's name was called, the stands were filled with boos.
#Knicks fans booing the pick. Same happened to KP. pic.twitter.com/VCSrFWWgU4

— Adam Zagoria (@AdamZagoria) June 22, 2018
He didn't let the world's worst fans get to him.  "They booed Porzingis [on draft night] and look where he is now. That's the same mindset I'm going to have," Knox said. "They can chant Michael Porter all they want. But they got Kevin Knox, and I'm willing to work and I'm willing to get better."
Waiting on Wenyen
Kentucky's "three and D" specialist did not hear his name called during last night's draft.  Gabriel will sign with an NBA team as a free agent, it's just a matter of who and when.  We'll let you know as soon as the news breaks.
Coach Cal Extends a Record-Setting Streak
Kevin Knox's selection at ninth overall gave John Calipari another Top Ten pick.  He's coached at least one Top Ten picking each of the last 11 years.  It's an unprecedented streak, the longest of common draft era (1966) according to ESPN.
Caption THIS:
The Greatest Fall Fail
Michael Porter Jr. was arguably the No. 1 overall pick when he signed with Missouri.  One year later he almost fell out of the lottery.  Health concerns scared away every team until Denver made the move with the 14th overall selection.
Porter Jr. wasn't the Draft's biggest loser.  That title belongs to the Philadelphia 76ers.  The Process Trusting heroes of yesteryear left the Barclays Center looking like a bunch of jerks.  With the tenth selection, they picked Mikal Bridges, the "3 and D" wing who grew up in Philly, won a National Championship at Villanova and is the son of a Sixers' staffer.  It was the feel-good story of the night, until they traded Bridges about an hour later to the Suns.
Not only were the Sixers' jerks, the move makes absolutely no sense.  Philly desperately needs shooters, a role Bridges could easily fill.  Instead they got Zhaire Smith, another athlete who doesn't have outside range.  They must trust LeBron will ultimately call Philly his new home.
Woj Wins Draft Night
Rules is Rules, but Adrian Wojnarowski found a loophole.  The NBA's scoop-machine was specifically forbidden by ESPN from tipping picks before they were made on stage.  Instead of breaking the news, he used his thesaurus as a way around the rule.  The best synonyms from last night:
"Zeroed in on"
"Fixated on"
"Unlikely to resist"
"Enamored with"
"No plans to pass on"
"Tantalized"
"Has a laser on"
Grayson Allen to the Jazz
"Grayson Allen to Utah" is the least surprising selection of the draft.  It just makes sense.  It also gives us the opportunity to relive that time Donovan Mitchell smacked him in the face.
Click here to see where every single player was picked in the 2018 NBA Draft.
Draft Night Podcast
Aaron Torres and Nick Coffey burned the midnight oil to bring you an NBA Draft Night Special of the Aaron Torres Sports Podcast.  They break down the best of the best from the first round, but timing wasn't on their side.  As Aaron uploaded the podcast for me to edit, Jarred Vanderbilt was selected.  You can't hear about every single Wildcat, but you can start your day with analysis of the best of the best from the 2018 NBA Draft.
Don't Get Mad
Because plenty of people did when they read this Tweet from Yahoo's Dan Wetzel:
John Calipari has coached 26 first round picks at Kentucky since arriving in 2009. Same number as Nick Saban at Alabama since 2007. (National Titles: Saban 5-1)

— Dan Wetzel (@DanWetzel) June 22, 2018
Thanks, Lonnie
For all of those men who have to wear hats to cover up their bad hair, Lonnie Walker shamed us by having hair so great, it couldn't be contained by a hat.  Jerk.
Were the Nuggets the team that secretly promised Vanderbilt a pick? I'm sure Jarred will be asked soon enough (we'll update this story), but Vanderbilt will be traded from Orlando to the Denver Nuggets and that's where he'll start his NBA career.
"Jarred Vanderbilt, gets injured and plays 14 games for us," Caliapri said. "Unbelievably strong, active, a pro spirit, a pro motor. Everyone saw it, and then he got hurt again. Everyone saw the difference he makes in a basketball game you can't count. The analytics people in the NBA went nuts. That's why when he talked to us and we talked it through, go for it kid. He's in a great situation, they're gonna give him time. Couldn't be more happy for him. I wished I could have coached him longer, but you know what, you gotta be about those kids. And you know what? He's gonna do great."
Due to injury, Vanderbilt played only 14 games last season, but in those 14 games, was impressive, averaging a team-high 7.9 rebounds per game. Per 36 minutes, a popular NBA analytic, he averaged 16.6 rebounds. He also proved to be one of the team's best passers. As a senior at Victory Prep Academy, Vanderbilt averaged 28.5 points, 13.4 rebounds and 8.8 assists a game.
It's really a shame we didn't get a full season of Vanderbilt playing for Kentucky. We only had a taste of his energy on the floor but that's the type of play UK fans love. Offensively he probably would have never been a star, but as a hustle, defensive and rebounding specialist he could have been a SEC First Team. Kenneth Faried is no spring chicken and I see no reason why Vanderbilt can't be that type of player.
First priority for Vanderbilt will be for him to get healthy. The good news is he won't be rushed to play by the Nuggests. I won't pretend to know the extent of Vanderbilt's injury (hopefully not serious) but he will surely wait until he's 110 percent to play again. If that means sitting out a year then I look forward to the 2019-2020 Rookie of the Year campaign. Vanderbilt and Jamal Murray working together sounds good to me. They're two unselfish players that specialize at one area.
With the 41st pick, the @OrlandoMagic take @JVando.

Coach Cal thinks Jarred is going to have a great NBA career. pic.twitter.com/xapdrmfp1W

— CoachCal.com (@CoachCalDotCom) June 22, 2018
Taken by the @OrlandoMagic! @JVando goes No. 41 and is the third Wildcat off the board. #WhoWantsToBeNext pic.twitter.com/FtwJxM1cZ3

— Kentucky Basketball (@KentuckyMBB) June 22, 2018
In the 2016 NIKE EYBL, Jarred Vanderbilt averaged 15.0 PPG, 11.1 RPG, 3.1 APG & 1.7 SPG for Houston Hoops (TX) ?@JVando @HoustonHoops17U @OrlandoMagic https://t.co/ovSf1VF343

— D1 Circuit (@D1Circuit) June 22, 2018
Congratulations to Nike Hoop Summit Alumni (???) Jarred Vanderbilt on being selected #41 in the 2018 #NBADraft by the Orlando Magic. pic.twitter.com/qbCMIWCIXa

— Nike Hoop Summit (@nikehoopsummit) June 22, 2018