It's been a hectic few weeks for the basketball world – especially in Kentucky – so no one could blame you if you've lost track of all of the recruitments, reclassifications and declarations for the NBA draft. Don't worry, you're probably not alone.
With that being said, a LOT still hangs in the balance for Kentucky's 2018-19 season. Some of our questions could be answered by the end of the week. Others, by the May 30th NBA Draft deadline. And some we might not know until late summer. Here's everything we know as of now, with predictions and even some *suggestions.*
Point Guards
Ashton Hagans
Status: committed
When news of Hagans' commitment broke less than two weeks ago, it became pretty obvious he would be the go-to point guard once he arrives at UK – which isn't surprising, considering he's the No. 1 point guard in the 2019 class. The question, of course, then becomes: when will he arrive at UK? Although he's still technically a 2019 recruit, all signs point to a reclassification for 2018.
His commitment announcement, which came the day after 5-star EJ Montgomery's commitment, continued to boost BBN morale after a disappointing March and the recent announcement of Shai Gilgeous-Alexander's departure. Plus, it re-ignited the tradition of John Calipari and star point guards, which is something the Cats lacked this season. Hagans is the real deal, and it's likely we'll get to see him in action next season as the Cats' starting PG.
Immanuel Quickley
Status: signed
He's another highly-touted point guard for the 2018 class – 24/7 Sports has him listed as the No. 4 point guard in the nation. Quickley is an athlete; he's just 6-foot-3, but he boasts a 6-foot-7 wingspan. He's shown he's a good facilitator, dishing out eight assists and grabbing four rebounds in his 17 minutes off the bench during the McDonalds All-American game. He struggled offensively in that game, ending the night 0-2 from the field. But, we've seen he can get hot from the outside. He did tie for first place in the 3-point shootout. Check out Nick Roush's video:
A Birdseye View of Immanuel Quickley's 17-Point Performance in the @McDAAG 3-Point Shoot-Out pic.twitter.com/20oOolByRU

— Nick Roush (@RoushKSR) March 27, 2018
With a guy like Hagans coming in, you expect to see Quickley coming in off the bench, and (possibly) even being a two-year player. But, then again, that's what most of us thought about Gilgeous-Alexander too…
Tyrese Maxey
Status: recruit
Just when Kentucky fans thought recruiting news was done, a report came out saying Coach Cal pitched reclassifying and joining the 2018 Cats to another star point guard. Tyrese Maxey is listed as the No. 2 point guard in the 2019 class, coming in right behind already-committed Hagans.
In an interview with SEC Country's Kyle Tucker, Maxey seemed unphased by the possibility of having to compete with three other 5-star point guards.
"Coach Cal has had three 5-star guards on the roster before with Isaiah Briscoe and De'Aaron Fox and Malik Monk, and he gets it done," Maxey said. "And that's not the first time he's had it like that. He had Tyler Ulis, the Harrison twins, Devin Booker. That's four 5-star guards on one team. He finds a way to make stuff like that happen and work, so you gotta trust him."
That sounds like a very "Kentucky" answer from the Texan. UK is widely considered the leader in his recruitment, but, at this point, it's still unclear as to whether or not he will actually reclassify. If he does, we probably won't know until mid-July.
Quade Green
Status: ?
Even after rumors of positive feedback from Calipari's recent heart-to-heart with Green, the sophomore's decision is still up in the air. At this point, it seems like Green is leaning toward returning for his sophomore season, but it's hard to be sure. Unlike transfer announcements, it's extremely rare for a player to "announce" that he's not transferring. And, under usual circumstances, that's fine. But, with two – possibly three – major point guards coming in next season, it's hard to ignore the idea that Green may have been "recruited over."
Still, it's important to note that Green is the only returning guard who saw considerable playing time last season. We saw this year that experience does matter – especially at point guard – and repeating another all-freshman team could be another huge challenge – especially without guys like Wenyen Gabriel and Sacha Killeya-Jones coming off the bench when the freshmen inevitably revert.
From a (possibly-biased) perspective, it'd obviously be ideal for Green to continue his time as a Wildcat. His calm nature and leadership qualities could be huge for this young team. If he stays, he'll need to capitalize on his playing time at the beginning of the season, when Quickley and possibly Hagans and Maxey are still adjusting to college ball. Plus, he might have to be comfortable moving to and staying at the 2-guard position and letting one of the younger guys play point guard.
Guards
Keldon Johnson
Status: signed
Johnson comes to Kentucky as a five-star guard and the No. 14 overall recruit. He's a good size for a shooting guard – 6'6" and 216-pounds – and a good mid-range shooter (something Kentucky seems to love… Long-2-U, anyone?). He's a "lights-out" scorer, he's got good speed and he knows how to bring the energy. Fans got to see his competitive nature during the McDonalds All-American game, where he said he planned to "dominate and kill" during the game. If all goes according to plan, Johnson will likely be another one-and-done guard for Kentucky.
Tyler Herro
Status: signed
I'm not going to lie – I'm excited about this kid. He's a four-star player whose recruitment flew mostly under the radar. He's picked up steam recently though, especially since Zion Williamson called him the most underrated player in the class. He signed with the Cats early, so he's given plenty of interviews and quotes with both KSR and Hey Kentucky!. He seems like a great person and an energetic leader, and all signs point to him bringing a lot to the table next season (and possibly for a few more seasons after that).
Jemarl Baker
Status: Redshirt freshman
Baker is a real wild card in next year's class. He's been in Lexington for a year now, so he knows the ropes of Kentucky basketball and how to navigate John Calipari & Co. But, his knee injury benched him for the entire season, so he has no more game-time experience than any of the true freshmen.
He came in as a four-star recruit who was expected to stick around for a few years. But, a loaded class could push Baker a few more seats back. At one point in the season, there were rumors he could transfer. At this point, that doesn't seem like an option. But, if he struggles to get playing time this season – which is definitely possible – a transfer may not be out of the question. On the other hand, if he works his way into a rotation off the bench this year, he could become a go-to older guy in the coming seasons. Here's hoping for the latter.
Brad Calipari and Jonny David
Status: Returning
Jonny David returns as the team's lone senior this season, while Brad Calipari comes in as a junior.
Forwards
EJ Montgomery
Status: signed
While the backcourt is loaded, Montgomery is the only big-name recruit coming in, as of right now, as a 2018 forward. His commitment was huge for the Wildcats; he picked UK over Duke and North Carolina. The No. 5 power forward in the class, Montgomery is expected to dominate around the bucket. According to ESPN, he's "asserting his will around the rim much more assertively and consistently now." This is great news for the Cats, especially since this is an area Kentucky was desperately lacking in for the majority of last season.
Nick Richards
Status: (likely) returning
Although Nick Richards hasn't made any sort of announcement at this time, the BBN would be shocked if he did anything but return. Sure, you could make a case for him "testing the waters" without an agent alongside the rest of the world, but he's not currently being projected anywhere close to a lottery pick.
Although his play was, at times, frustrating last season, another year of practice and experience could drastically improve not only his play, but his draft stock. Kentucky saw flashes of his potential last season, lead mostly by his athleticism and height. But… he just really needs to work on rebounding with both hands. I'm sure Cal is all over that.
PJ Washington
Status: Declared for draft, no agent
PJ Washington, for me, is the biggest question mark for next season's roster. He's a bubble player right now, and he was originally expected to return to Kentucky for his sophomore season. However, he was the first UK player to announce he would be declaring for the NBA Draft (without an agent).
If he comes back, I'd fully expect to see a monster season out of Washington. Washington's "bully tactics" and experience would be huge for next year's team, especially if Montgomery struggles to adjust to collegiate basketball. Washington was one of the most-developed players by the end of the season, and, although he hasn't quite reached lottery-pick caliber yet, it's clear he could in the future. In fact, he's listed as an easy first-round pick for the 2019 draft (No. 18, according to Jonathan Givony). That should make it an easy choice… he should return. If he doesn't, opponents of the one-and-done system will be all over it.
Jarred Vanderbilt
Status: Declared for draft, no agent
Vanderbilt's mysterious foot injury is once again making news, mostly due to the fact that it is prohibiting him from currently playing basketball, making his decision to declare for the draft all the more puzzling. Sure, he can have conversations and review footage with NBA coaches and scouts this way, but how much have they actually seen from him?
Based on Vanderbilt's season and injury, it's expected he will return. Montgomery-Washington-Vanderbilt could be a dangerous front court combination. However, if a team lets him know they would take a chance on him based on his athleticism, energy and potential, an early departure would certainly not be out of the question.
Wenyen Gabriel
Status: Declared for draft, no agent
Although his current state is similar to Washington's and Vanderbilt's, his decision will not affect next year's season quite as much. Sure, it'd be great to see a rare junior getting playing time at Kentucky, but I'm not sure how much that would happen, especially if Washington and Vanderbilt both return.
Throughout the past year, we've seen Gabriel develop a lot. But the question is, how much does he have left in him? Could he get substantially better and play for the NBA? Or is his best bet playing in the G-League or overseas? It'd be great to see Gabriel come back, but I wouldn't be surprised if that didn't happen.
---
That puts Kentucky at 13 scholarship players (including Brad Calipari), hitting exactly the NCAA's limit. But, there are a lot of stars that have to align to hit that number 13. Hagans would need to reclassify; Maxey would need to reclassify and commit; Green would have to decide against transferring; Kentucky's frontcourt would all need to return. If any of those things don't happen, scholarships open up and last-minute recruiting efforts begin again. In other words, this roster is far from finalized.
As I sit here on a Sunday night watching the boring matches of the Survivor Series mid-card (yes I am a grown man, but a good PPV is still worth my time), I have been reading many scenarios online about the UK Bowl game possibilities. Most are from national writers who do a very good job putting for the national landscape and who have Kentucky basically headed to one of four Bowl Games. However, there view is macro and what most of us care about in Kentucky is on the micro level…specifically, what Bowl game is UK going to play in and who are the Cats possible opponents? I spent some time this morning calling a couple of sources on the team side and the Bowl side (I always talk to them when they come to games and give free things) and from those conversations, I think the scenario is fairly simple AS OF NOW (an important caveat):
LOSE AGAINST LOUISVILLE
I open with this scenario only because it is the most straight forward. As one source told me this morning, "if Kentucky loses to Louisville, I would put the probability very high that they play in the Liberty Bowl." As most of you know by now, the Liberty Bowl is one of the Bowls that is in the "Gang of Six" that, which are considered "equal" by the SEC in bowl placement. As with most things deemed "equal", some of the Bowls are a bit more "equal" than others, but in general when you are in that group, your relative standing amongst the other teams is an important factor, but not the sole factor. If Kentucky loses to Louisville, it will be 7-5 and the Liberty Bowl is by far the most likely destination. That Bowl wants Kentucky (due to proximity and no recent appearances) and the Cats have no conflicts of importance around that time that would hinder the pick. If Kentucky loses to the Cards, Memphis is our likely destination, absent a huge shift of events in the final weekend.
As for the Cats' opponent, it is a bit more up in the air, due to the how close the Big 12 Conference standings are at this time. But a source told me on Saturday, "the loser of Texas-West Virginia is the heavy favorite for Memphis" and that ended up being the Mountaineers. If WVU were to play Kentucky in Memphis, the Eastern part of the state would have the game they have longed for and both fan bases could travel in mass to the destination. If Kentucky ends up 7-5, this is the most likely result…with Iowa State as the second most likely opponent right after.
WIN AGAINST LOUISVILLE
This is a much more complicated scenario and depends a great deal on what happens in the other games on the weekend. However the most simple version is this…if Kentucky wins and finishes 8-4, the Music City becomes the most likely destination. A sources tells me that Kentucky has communicated to the SEC office that the basketball game being the same day (at 1 pm) would not change the school's desire for the Bowl, and I think a win against the Cards probably moves Kentucky to Nashville…with Iowa the most likely opponent, in a game that would mean a great deal for Mark Stoops.
If Kentucky does win against the Cards, three other Bowls are in play but a bit harder for placement reasons. One is the Outback, the most prestigious of the Six Bowls, but a source told me today that Kentucky's finish down the stretch may prohibit that game as the goal from the league standpoint is to put the team playing the best at the end of the season in this marquee New Year's Day Bowl. The Belk Bowl is unfortunately probably a non-starter due to it being at the same time as the UK-UL Basketball game. That game time means everyone involved, the Bowl Game, the two tv networks, the SEC and Kentucky see a dilution of audience for both events and such a scenario is not favored by anyone. The TaxSlayer would likely be the Bowl that Kentucky would most naturally be "slotted" for with its 8-4 season but UK's ability to get tin the game last year, means it won't be as likely this season. The SEC tries to keep teams from the same game in the Group of Six two years in a row….thus because the Cats played "up a Bowl" last year, they may not get the benefit of it this year, even though it would be where its record would deserve. Thus the Music City becomes the most likely scenario.
A win could also see a Liberty Bowl appearance, but according to one source, "a lot would have to happen" to make that in play, and since my head hurts and the big five-man tag is on the Horizon, we will leave that for another day.
Have a good evening everyone (and if you like to laugh, watch "American Vandal" on Netflix)

They sold this picture on shirts…I forgot to get one and I need one
I miss writing as much as I used to. Radio is the purest form of media in my mind, because the immediacy and live nature leads to the most genuine and real interaction one can get from hosts and public figures. But I do miss the days when I would sit down every evening around 9 pm and blast out a post about UK news and whatever other random things were on my mind. One of my favorite parts of what we used to call "the Night Post" was the introductory paragraph, which usually featured something in the state or pop culture that I wanted to highlight and give publicity. I thought of that Thursday night when I saw Tyler Childers perform at The Burl in Lexington. If you listen to the radio show, you know I have become a big fan of Tyler and I ended up seeing him twice this weekend in Lexington. However on Thursday, his opening act was a man from the mountains called The Laid Back Country Picker. His music was terrific, his band better (including his wife playing in curlers and a bath robe) but the highlight of the entire proceeding was my introduction to his hit, "Magoffin County Cadillac." As he explained it from stage, when police departments turn in their old Crown Victoria patrol cars, they often end up getting sold at an auction in Magoffin County. Local folks often buy them and thus we get the "Magoffin County Cadillac." You owe it to yourself to watch the video, hear the song (which will get stuck in your head) and learn more about the Laid Back Country Picker. He actually taught Tyler in high school and now as Childers blows up, he had the opportunity to be his opening act and play his hit "Whitehouse Road" with him on stage. It was a cool scene, a better story and sharing it is part of the reason I miss writing as much as I did in the old days.
Now to some nuggets of news:
— The biggest news of the weekend is in the basketball recruiting world where after the visits of the weekend, the UK recruiting class is starting to take shape. We know Immanuel Quickley is on board but after the visit this weekend, I feel very good about three other UK recruits and their likelihood of signing with Kentucky. Zion Williamson and Bol Bol both made their visit and from talking to a couple of sources after, I would put Kentucky now as leading with both. This has probably been the case with Zion for a bit, but with the issues at Arizona and the reconnection with Calipari and his staff, I now think Bol is likely to be a part of the final class as well. In addition, I can confirm the speculation online today that Keldon Johnson has become a definitive UK lean and could end up as a commitment in the very near future. The 6'6″ wing is the sleeper of the class in my view and I think he ends up as final Top 10 recruit by the end of the year.
In my view, Kentucky is going to take 5 kids in this class. If that is the case, I am predicting the UK class as of this moment as Quickley, Williamson, Bol, Johnson and Quentin Grimes. That would give UK a starting lineup just with these five and combined with whoever returns, a potential monster 2018-2019 team. This group doesn't include RJ Barrett, who I think the staff is still recruiting but has lost some confidence on in the past week. The increased likelihood of getting Johnson and the emergence of Bol Bol as a real option, I think makes Barrett (who in my view is still the best player in the class) less of a necessity, as good as he is. The Cats would of course still take him and will still recruit him…but I am moving him out of my predicted class and inserting Bol/Johnson. As always, things can change, but I like where UK is right now quite a bit…potentially 4 Top 10 guys and one Top 20…not too shabby.
— The story of the early practice buzz I am hearing is the tremendous defensive play consistently and the way it is affecting what the ultimate style of play will be. Defense wins every practice at this point, and that is something Calipari really likes. One person close to the program said to me, "we don't know right know whether our offense is really struggling or our defense is just that good…but it sure has been good." The issue for Kentucky (no surprise) will be shooting, but they like their ability to get in passing lanes and I think you will see this team have a TON of pressure…even if its not a full-court press. This group will not sit back and they feel good about having rim protectors to help fix any errors on the perimeter. I am told coaches feel the loss of Vanderbilt early matters more than most media have suggested, but long term this is a group they believe plays well in March.
— As you may have heard we will be having Karen Sypher as a guest on KSR Radio on Tuesday morning. This is someone we have wanted to have for some time and this will be her first interviewing since serving out her 7 year federal prison sentence. Sypher has never really gotten a chance to tell her story since the trial and she didn't testify there as to the events that occurred. As with the Katina Powell interview, we will provide her a forum to talk, but will also challenge her on the events and what happened. Some have said this is "old news" and "why would you have her on", but I respectfully disagree. There is much to this story that still hasn't been told and the events that began that night at Porcini's were the start to the downfall of a coaching legend. It will certainly be quite a morning to listen on Tuesday.
— Finally, A housekeeping note….we will be starting in 2018 a part of KSR called "KSR Voices"….it will basically be a section of KSR that will allow people in the state of all different walks of life to write about issues that are important to Kentucky. They will range from culture to economics to politics to the arts. The goal is to bring in diverse people from all backgrounds and belief systems, including those that we may not agree with so that voices are given a platform that can be seen by many. My reason for this is simple…there is a lot to be proud of in Kentucky and a lot of great minds and leaders out there that need a spotlight and a forum. I have a forum and I want to use it to better this state. As with everything on the site, feel free to ignore what you aren't interested in…but as with my Matt Jones Podcast with Ricky Jones (which you can listen to here), you might find you like things you didn't original think you would.
One of these topics will also be religion and along those lines, a pastor friend of mine Robert Cunningham from the Tates Creek Presbyterian Church in Lexington will have his first post on here tomorrow evening. He wrote today about why he decided to accept my invitation to write and you can see his thoughtful comments here. If you have people you believe would be good to consider for this long-term project, feel free to email me at [email protected]
CONGRATS TO UK VOLLEYBALL ON BEATING #1 FLORIDA!!!! The win was on the road and is huge for the program. This may be the best UK Volleyball team ever, so go out and check them out. Until tomorrow….
Over the years, we've heard some epic pep talks from Ryan Lemond, but today's at Country Boy Brewery takes the cake. To pump up the crowd for the Florida game, Ryan delivered his most intense pep talk ever, getting in fans' faces, ripping his shirt off and finally, diving into the crowd. Thankfully, it was well-documented:
Here is the epic @RyanLemond Pregame Speech and Dive pic.twitter.com/4RpjE68eme

— Matt Jones (@KySportsRadio) September 22, 2017
@KySportsRadio @ryanlemond full video of pep talk #BBN pic.twitter.com/eC9mdhVROr

— Eric J Redmon #BBN (@eredmon19) September 22, 2017
So @ryanlemond just body slammed us during pregame speech. Here is my perspective of getting body slammed @DrewFranklinKSR @KySportsRadio pic.twitter.com/HHWhUENc8l

— Big Blue Roofing (@bigblueroofing) September 22, 2017
Ryan, whose lip was already bleeding, actually scraped/cut his forehead during the dive: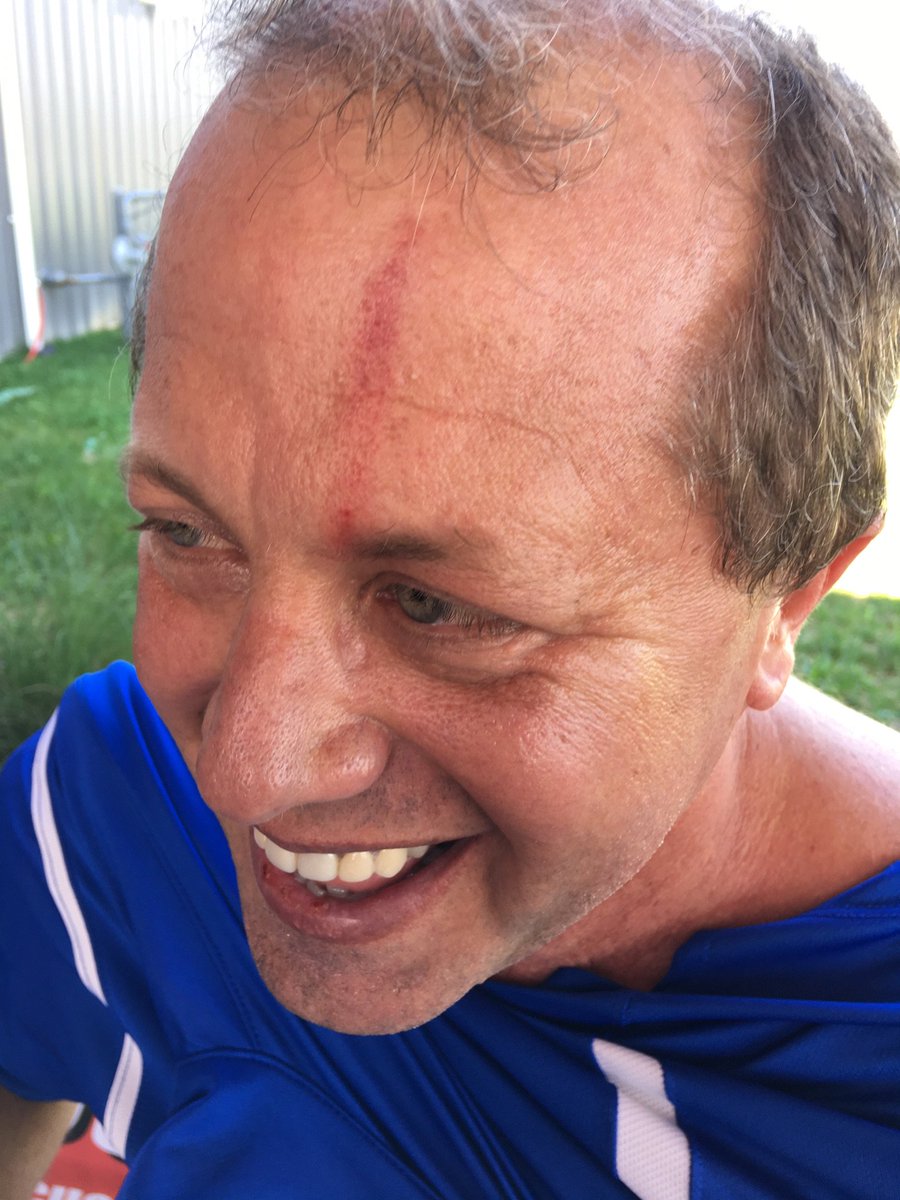 Is there anything Ryan won't do for KSR and the Cats? The answer is no.
Here are some more shots of what we believe is a record crowd:
Whatever the record was, we broke it. 😳 pic.twitter.com/VYXeTtsXgP

– Drew Franklin (@DrewFranklinKSR) September 22, 2017
You people are crazy. Especially Ryan.
For the third year in a row, KSR is tackling the biggest debate of our generation: What is the best fast food/chain restaurant in America?
Two years ago, Qdoba beat out Subway for the title, and last year, Outback upset Cracker Barrel in a debate that went all the way to the Republican National Convention. This year, we're doing it all again. Behold the bracket below in all its glory below (click to enlarge): Let's take a closer look at each region. On this morning's show, the guys did round one in the East.
The East Region:
The West Region:
The South Region:
The Midwest Region: Hear the East Region debate on today's show, which included former UK football coach Rich Brooks breaking a tie between Cane's and O'Charley's.
The entire bracket including the East Region Round 1 results:
"Last Chance U" was one of the most popular TV shows of 2016, so imagine our surprise when KSR was featured in one of the opening scenes of season two, which dropped this morning on Netflix.
I had planned on watching the show later this weekend, but woke up to about a dozen notifications that KSR was in the opening scenes, so I had to take a look. Check out academic advisor Brittany Wagner (who also came on the pregame show and my OTT podcast) talking to Matt and Ryan on the show while her players look on:
Pretty cool stuff. To see more, check out "Last Chance U" on Netflix.
The University of Louisville's scandals (plural) are still funny to all of us here in Big Blue Nation, so let's keep on laughing at our rival's misery with some good ol' fashioned internet fun while the UoL empire continues to crumble.
I dusted off the KSR photoshop machine to poke some more fun at the Cardinals, this time in the form of entertainment posters and cover art. Below you'll find potential remakes in television and in film to celebrate all of the repugnant behavior going on at Louisville.
Feel free to use any or all of them as your wallpapers, backdrops and screen savers.
*****
Rick Pitino runs Minardi Hall in House of Cards…
Scandal Season 7: The UofL Foundation…
Katina Powell's Show Girls…
Andre McGee in the remake of the 1973 pimp classic, The Mack…
And my personal favorite, Tom Jurich uses UofL foundation money to pay his incompetent son in Tommy's Boy…
Throw me some suggestions in the comments section and we might have to do a Part II next week!
The smoke is still clearing on what was a dark, dark day for the University of Louisville, which received its public infractions report from the NCAA regarding the sex scandal in the men's basketball program. This morning, I doubted any of us expected the NCAA to hammer UofL like they did; while Rick Pitino escaped with only a five-game ACC suspension, the program will have to vacate games from December 2010 through July 2014. That means, barring a miracle, UofL's 2013 National Championship and 2012 Final Four will be struck from the record.
A LOT happened today, and while we absolutely suggest you scroll through the site to catch up (if only to check out some masterpieces by Drew Franklin), I spent the afternoon breaking it down into ten crazy moments.
 The NCAA is going after that banner
Among the NCAA's punishments are "a vacation of basketball records in which student-athletes competed while ineligible from December 2010 and July 2014." UofL will have 45 days to submit a written report to the NCAA outlining which games the ineligible players participated in, which is standard procedure. The NCAA's report said 15 recruits and 3 enrolled players were involved in "adult entertainment and/or prostitution." UofL special consultant Chuck Smrt confirmed that the ineligible players in question did play in the 2013 National Championship game, meaning that unless UofL wins its appeal (a very slim chance), that banner is gone.
Who were those enrolled players? We probably know because…
 Katina Powell called into KSR moments after the ruling came out
Who better to ask about the incidents than the woman behind it all? Katina Powell agreed to come on the show to discuss the ruling, and confirmed that Russ Smith, Chane Behanan, and Montrezl Harrell all participated in the sex acts or strip shows. All three played in the 2013 title game. Title gone.
 The testimony from the recruits is damning
Included in the 35-page infractions report from the NCAA is a detailed account of the "Late Night Activities in Minardi Hall" from the recruits and players interviewed. The more you read, the more disturbing it gets. Of the 15 recruits involved, at least seven or as many as ten were minors under the age of 18 at the time. Four of the recruits who engaged in sex acts were 17, while one was 16. Another 16-year-old recruit declined the offer of a sex act, while a third 16-year-old witnessed a striptease but was not interviewed. For those of you asking how no one went to jail for statutory rape for all of this, the age of consent in Kentucky is 16.
Seriously, the further you go in this, the worse it becomes. The fact that all of these tawdry acts are laid out in the NCAA's formal legalese actually makes it seem even dirtier than Katina's descriptions in "Breaking Cardinal Rules."
 This passage alone makes the NCAA's verdict indisputable
From pages nine through ten, as highlighted by Eric Crawford:
I think you could title this passage from the final infractions report on Louisville basketball: "Why the NCAA is so ticked off" pic.twitter.com/POrYsks1vM

— Eric Crawford (@ericcrawford) June 15, 2017
Ugh. I feel like I need to go scrub my hands clean and watch some cartoons for a while after reading that. The overwhelming horribleness of all of this is exactly why UofL's appeal has no hope. Repeatedly today, the NCAA debunked UofL's main defense: that because the sex acts/strip shows didn't cost much ($5,400 in total), the violations aren't severe enough to take the 2013 title away. Throughout the report and in their comments during the conference call today, the NCAA made it clear that the monetary value of the acts has zero correlation to the reprehensible nature of the acts themselves, which undermine the integrity of the NCAA Collegiate Model.
"These are severe violations, regardless of any dollar amounts assigned to them," the report reads. "In this instance, the panel need not ascertain an exact value of the activities. The nature of the violations themselves, without more, elevates them to Level I. The types of activities that occurred in this case were repugnant and threaten the integrity of the NCAA Collegiate Model, regardless of any precise dollar value assigned to them."
There is no way to argue that. Game, set, match, NCAA.
 Brandon Williams refused to turn over his phone because his mom had it
There's a lengthy section of the report that deals with a "former program assistant" that took over the striptease/prostitution operations when McGee left. We know now that person is Brandon Williams, who worked at UofL from 2014-2016. The report suggests Williams was specifically involved in the July 2014 incident, in which a prospect (Antonio Blakeney) and his father had sex with Powell and her daughter. While the meet-up was still orchestrated from afar by McGee, the report alleges that Williams paid Powell beforehand outside the back door of Minardi Hall, citing "institutional records" to confirm that he went through the door around 10 p.m. that night.
Williams refused to cooperate with the investigation, telling the NCAA that he couldn't turn his phone over because it actually belonged to his mother.
"In his supplemental response, dated March 24, 2017, he asserted for the first time that he could not produce the requested phone records because the phone was controlled by his mother, who would not consent to their release."
Mama's boy!
 An assistant coach blamed a bad practice on the strippers
Rick Pitino may not have been aware of what was happening with his team between 10 p.m. and 8 a.m., but several members of his staff were. The report notes that "assistant coach 3" (not McGee or Brandon Williams) called out the team for playing bad in practice "because y'all had strippers in there all night."
"Prospect 4 related an incident after he enrolled when assistant coach 3 made a comment to the team that it had practiced poorly 'because y'all had strippers in there all night.' He felt that assistant coach 3 may have known of the incidents, as assistant coach 3 was 'close' to the former operations director."
Uhhh, ya think?? Wow.
 The NCAA only gave Rick Pitino a 5-game suspension…and he was still outraged!
Going in to today, many of us expected the NCAA to go after Rick Pitino and not the 2013 banner. Well, it was pretty much the opposite. Pitino was only suspended for five conference games for failure to monitor, a mere slap on the wrist considering the severity of the violations against his program. Yet, Pitino was STILL outraged by the punishment, his lawyer calling the NCAA's finding "one of the weakest I've ever seen against a head coach."
In a long line of BS that's associated with Rick Pitino, that may take the cake. Five conference games is nothing after you read this report. I don't believe Rick knew about the happenings at Minardi Hall, but that doesn't mean he shouldn't be responsible for them; that's how leadership works. Sixteen-year-olds were essentially pressured into sex acts and you're complaining about having to sit out five games? Shut up and take your suspension, Rick. It could have been a lot worse.
 Rick Pitino reacted like a child
Pitino's outrage over his own suspension was just the first of many bizarre behaviors from him today. Pitino attempted to take the moral high ground, blasting the NCAA for an "over-the-top" punishment and warning them that they "made a very large mistake." The irony of Pitino's comments is especially rich when you consider he spent more time ranting about the NCAA than showing remorse for what happened under his watch. I understand being upset, but being so defensive in a time like this is childish, a sentiment that was hammered home by Pitino's response to a reporter's question about what he should bear responsibility for as a head coach.
"I'm not answering that question," Pitino said. When asked why, he quipped, "Because I don't want to."
If I could use that defense — essentially, a child's — my life would be a whole lot easier.
Throughout the UofL press conference, Pitino lectured reporters, including this exchange:
Reporter: "Have you discussed the findings that were discussed today with the players that are in town or do you plan to do it?"

Pitino: "Well it doesn't affect them in any way, but I will discuss to them what I told them all along, that every step along the way if you see something wrong, immediately step up so that it doesn't become a problem going forward, it becomes a problem in the past that you can erase. Just, if you see something that's going on — you have to understand — obviously this gentleman is not from here. Where are you from, by the way?"

Reporter: "Wave 3"

Pitino: "Wave 3. I guess he is from here."
To that entire exchange, I say this:
It gets crazier!
 Rick Pitino suggested the NCAA gave Jimmy V cancer
The most bizarre moment of the presser came at the end when Rick Pitino made one final, desperate attempt at martyrdom by bringing up Jim Valvano, the former NC State coach that died of cancer in 1993.
"I'll finish up with this story. I once saw Jimmy Valvano, and this was way before he got sick and I recommended him for a pro job and he was coaching some tough times at NC State. I saw him later on when he was just getting sick and I said, 'Jim, how do you feel?' And he said, 'You know, the NCAA investigation broke down my immune system.' And I always thought about that and I asked Bobby if that was true, did I remember it the right way and he said yes. And believe it or not, it can tear you apart, inside and out."
So…the NCAA investigation broke down Jimmy V's immune system, leaving him more susceptible to cancer? Or the NCAA investigation was the cancer? I'm so confused. Also, I'm shocked that he left the room before bringing up 9/11.
The NCAA finally got something right
There are some words I never thought I'd type, right? Yet, after reading the NCAA's detailed account of how the University of Louisville basketball program tried to lure recruits — including minors — in via strip shows and sex acts, I am certain that, for once, the organization designed to govern college sports acted appropriately. Yes, they could have been harsher on Pitino, but for the most part, the infractions panel delivered a just ruling.
It all boils down to this: three players and 15 recruits received impermissible inducements and benefits arranged by an employee of the University of Louisville. Due to the despicable nature of those inducements and benefits, 108 wins and 15 NCAA Tournament wins should — and I believe, will — be wiped from their record.
UofL and Pitino can complain all they want, but those are the facts.
Last night, the singer Courtney Love was on "Late Night With Seth Meyers," during which Meyers brought up last week's story about Love discovering that there was another Courtney Love in this world, the senior linebacker at Kentucky.
"I google myself once in a while," Love admitted. "And I kept seeing that there was this linebacker Courtney Love. I kept thinking he was British because he kept saying U.K., but it's the University of Kentucky. He's about 6'2″, 22 years old, African American, and his name is Courtney Love."
When singer Courtney Love saw a tweet from UK saying the football player Courtney Love had been named to the Lott Trophy Watch List, she couldn't help but chime in:
I am so honored by this. I've trained so hard 🏆🏈 https://t.co/dJmSlPEtQW @Courtney_Love51 @UKAthletics @LottIMPACTrophy xoxo

— Courtney Love Cobain (@Courtney) June 1, 2017
That was all the folks at UK needed to extend an invitation.
"Now the University of Kentucky has invited me to a University of Kentucky football show," Love told Meyers, laughing. 
Check out the video of her appearance below, thanks to the football player Courtney Love:
Thanks for the shout out 😂😂 @Courtney @SethMeyersHQ pic.twitter.com/LEV1G96c35

— Courtney Love (@Courtney_Love51) June 7, 2017
This is awesome. Courtney meets Courtney.
In the wee hours of the night, something special went down at Cliff Hagan Stadium. Bolstered by a record crowd of 5,005 screaming fans, the UK Baseball team rallied to beat NC State 10-5 to advance to the Super Regional for the first time in school history. That alone is a remarkable achievement, but when you consider it came after UK lost to NC State on Friday and the Bat Cats had to win three straight games — including back-to-back victories over the Wolfpack — to do it, it's incredible. Add in that all of this success is coming in Nick Mingione's first year as a head coach, and you can understand why the team collapsed into a dog pile of emotions after the final out and Mingione was reduced to tears.
On the precipice of the program's first Super Regional — which will pit them against archrival Louisville, nonetheless — regardless of what happens, what Mingione and the Bat Cats have accomplished this season is one of the biggest success stories in UK Athletics' history; if they make it to the College World Series, it could be the biggest. Here's why.
It's not only Nick Mingione's first year as UK's coach, it's his first year as a head coach period
As Kentucky fans, we've been blessed with some charismatic coaches, most notably John Calipari, but what a year for Nick Mingione. Last summer, Mingione accepted the Kentucky job at the age of 37, his first head coaching job ever. After his first press conference, it was easy to see why Mitch Barnhart took a chance on him. It's impossible not to like Mingione. He's down to earth, passionate, smart, funny, and reads people extremely well, one reason he probably connected so quickly with his players.
Mingione spent two seasons as an assistant at Kentucky from 2006-07 and has said several times that Lexington is the only SEC town he would bring his wife to during his seven years as an assistant at Mississippi State. Now, in his first season as a head coach, he was named Coach of the Year in the SEC, a huge baseball conference, and is taking his team to the Super Regionals for the first time in program history. No wonder he sounded so giddy on the phone this morning.
No one saw success coming this soon
Given last season's struggles and the fact that this is Nick Mingione's first year as a head coach, everyone – understandably – had guarded expectations for this season…except the team. Mingione took over a program that was coming off back-to-back subpar seasons and had only been to the NCAA Tournament three times in the past decade. The Cats were picked in the bottom half of the league in the preseason, started off 2-5, and didn't break into the national rankings until week five. Now, they're 43-21, only two wins away from tying the school-record 45 wins in 2012. Mingione found a way to not only connect with his guys early on, but push them to their limits and beyond, which is why he was moved to tears watching them celebrate last night:
It's captured the excitement of a "basketball school"
UK has broken attendance records all season, and last night, a record 5,005 fans sat through a two-hour and sixteen minute rain delay to cheer on the team to victory, which came sometime around 1:15 a.m. I wasn't there in person, but everyone who was raves about the experience, many ranking it among their favorites as a UK fan. That says a lot from a school that's won eight national championships in basketball and is coming off one of the biggest upsets in the football program's history. People always refer to Kentucky as a basketball school, and it likely always will be, but for the fans who stayed through the rain and well past midnight (including John Calipari), last night was a special moment, exactly the kind a program on the rise needs to break through.
It comes at the perfect time
I'm glad The Cliff got last night because soon, we'll have another stadium to christen with memories. The Cliff has one more year of use until Kentucky's new $49 million stadium opens in the fall of 2018, a much-needed upgrade that will put the Bat Cats on par with their SEC peers. In case you missed it all the times they showed it during last night's broadcast — thanks, SEC Network! — here's the rendering:
Kentucky's new stadium combined with their breakout season is music to Mingione's ears. Known as an ace recruiter, Mingione has already landed several big recruits in his first year in Lexington, and as time goes on, we continue to see why. Who wouldn't want to play for this guy?
Mingione's first season rivals John Calipari's
Hear me out, hear me out. Calipari came to Kentucky as the best recruiter in college basketball; it was not surprising that he brought five-star players — whom he was already recruiting — with him. Playing for a proven coach like Calipari at a powerhouse program like Kentucky is a no-brainer. In college basketball, you only need five good players and, if you're lucky, a few stars, to make some noise, which Kentucky definitely did in Calipari's first season. Despite falling short in the Elite Eight, John Wall and Calipari instantly put the Cats back atop college basketball, which is where they've stayed ever since.
Contrast that with the UK Baseball team, which had some talent but was coming off years of stalled progress. After Gary Henderson resigned, the players put their faith in an enthusiastic first-year head coach who purposefully kept a grueling season-opening series vs. North Carolina as a litmus test. Bits of success snowballed into boulders of momentum, and now, they've accomplished something that no other team in the 121-year history of the program has…and they're not done yet.
For all the reasons I've already listed, UK Baseball's turnaround in Mingione's first year as a head coach rivals Calipari's first year in Lexington; if they make the College World Series, it could even surpass it.
A Cliff Hagan Stadium record crowd of 5,005 stayed up well past midnight to watch the Kentucky baseball team win the program's first Regional Championship in head coach Nick Mingione's first season.
A back-and-forth affair, the Cats took the lead for good in the seventh inning when Kole Cottam's deep drive to right-centerfield hit the top of the raised wall.  The double drove in two RBIs to give UK a 7-5 lead.
JUNE MADNESS. pic.twitter.com/aVb8SwNDj6

– Not Jerry Tipton (@NotJerryTipton) June 6, 2017
After a rough start, a wild fourth inning filled with confrontation peaked when Kentucky's Marcus Carson doubled down the rightfield line to put two runs on the scoreboard.  Connor Heady and Evan White each added an RBI to tie the game at 4-4.  The Cats fell behind in the fifth before the explosive seventh inning put Kentucky in the driver's seat.  They topped it off with three insurance runs in the top of the ninth for the 10-5 final score.
Sean Hjelle shut the door on the Wolfpack.  Entering with two outs in the sixth inning, the SEC Pitcher of the Year needed only 35 pitches, good for three strikeouts in the bottom of the ninth, to retire the last 10 batters and secure the win.
Dog pile! @UKBaseball wins first regional in school history, 10-5 over NC State pic.twitter.com/hnxPPPKAkg

– Big Blue Insider (@bigblueinsider1) June 6, 2017
Kentucky advances to play in the Super Regional next weekend at Louisville where the winner of the best-of-three series will advance to the College World Seris.
Welcome to the University of Kentucky!
As a new student-athlete on campus and a member of our basketball program's top-ranked recruiting class, we are excited to have you in Lexington and in Big Blue Nation. With your arrival this week and enrollment in our second summer session, you are officially a Kentucky Wildcat! Woo-hoo! Take that, Duke!
Now that you are all moved in to the Lodge and eager to learn about your new home for the next four years (or one year LOL), take a moment to read this Wildcat Welcome Guide complete with things you need to know as a UK basketball player. If you have any questions, ask your Twitter followers.
---
Upcoming Events
---
Tuesday, June 6: First team meeting (An Introduction to Position-less Basketball)
Wednesday, June 7: "see blue" U Orientation and Registration for new and returning students
Thursday, June 8: First day of classes
Friday, June 9: Walk aimlessly around Fayette Mall as a group
---
Places To Know
---
You will learn much more about our 800-acre campus in your student orientation and in the UK 101 course in which you are already enrolled for the upcoming semester, but go ahead and familiarize yourself with the following places as you will be spending the majority of your time in them as a member of the men's basketball team:
Joe Craft Center – The newly-renovated, state-of-the-art basketball practice facility attached to Memorial Coliseum; also home to basketball support spaces, including the coaches' offices (key card entry only)
CATS: Center for Academic & Tutorial Services – The first center of its kind dedicated solely to providing primary academic support for UK's more than 500 student-athletes; located inside the Joe Craft Center
Wildcat Coal Lodge – Residence hall for the men's basketball program
Student Center – Currently in the midst of a $175 million dollar renovation, the UK Student Center will soon include a 600-seat cinema, retail and residential dining, and a Barnes & Noble-run student bookstore; temporary facilities are fully operational along Avenue of Champions
Sorority Row – As a member of the UK basketball team, you will be very popular among our sororities and the entire female student population; perks of the job, they say
Raising Cane's – Unofficial, off-campus dining hall for the men's basketball program; although, John Wall preferred Indi's Fast Food Restaurant over Cane's when he craved chicken during his time at UK
---
5 Fun Facts About UK Men's Basketball
---
1. UK is the most successful NCAA Division I basketball program in history in terms of both all-time wins (2,237) and all-time winning percentage (.765).
2. UK leads all schools in NCAA tournament wins (124).
3. The school's eight NCAA championships ranks second all time.
4. Kentucky is the only program with 5 different NCAA Championship coaches.
5. Anthony Davis took the fourth most shots.
---
Important Dates To Know
---
August 23, 2017: First day of fall semester
April 2, 2018: NCAA Championship game
May 8-13, 2018: NBA Combine
May 23, 2018: Deadline for early entrants to return to school
June 21, 2018: 2018 NBA Draft
---
Frequently Asked Questions
---
Is it safe to walk through the Big Blue Madness campout?
Yes and no. You will get attacked by mobs of autograph-seeking fans who have been sleeping on the ground for two days, but they're pretty harmless, for the most part. It is at the campout that you will truly realize that Kentucky fans, though kind at heart, are crazy and will do anything to get a photo with you.
Will Big Blue Nation be upset if we lose to Louisville?
Short answer: Don't lose to Louisville.
(And you won't.)
Should I go live on Instagram after midnight?
No.
When can I meet Drake?
You will meet Drake only if Sandy Bell decides the meeting is within NCAA rules. In fact, you will do nothing without Sandy's approval of your every move. You will not go to sleep until she tells you it is okay to go to sleep and you will not eat until she says your meal is NCAA compliant.
Why is someone standing outside my window with three basketballs?
Get used to it.
---
A Message From Your Coach, John Calipari…
---
"Welcome to Lexington, son! I'm so happy to have you here at the University of Kentucky as a member of our men's basketball program! As I told you throughout our discussions during your recruitment, this place isn't for everyone. You are here because it is for YOU and only YOU will decide how far it takes you in your basketball journey!
The first step in that journey will be accepting your role within the TEAM and learning servant leadership. You're going to share more than you have ever shared, you're going to score less, you're going to play less minutes, and be more about your teammates than about yourself. YOU will be your brothers' keeper here at Kentucky, and when you embrace that brotherhood and practice servant leadership, we will all eat together.
I hope you're ready to be a part of the gold standard in college basketball!"
---
Detach the following form and submit to Mrs. Ellen by Friday.
---
Confirm your Date of Birth.
______ / ______ / ____________
Peanut allergy?    NO         YES   
---
Kevin Knox was a surprising late addition to John Calipari's 2017 recruiting class.  Deciding shortly after the Kentucky Derby, the initial shock caused for celebration.  After the celebration, fans began to ask questions, "How did he get to UK?  Where is he going to play?  What can he do for our team?"  In an interview with KSTV, he answered all of those questions and more.
The most curious question is where the versatile 6'8″ forward will play.  An athlete with exceptional offensive skills, Knox can play forward or stretch the floor as the two-guard.
"They want me to play a lot of two, a lot of three, maybe throw in some four depending on what lineup," Knox said.  "They really want me everywhere on the floor and I think that's one of the reasons why I picked Kentucky."
While fans waited to hear Hamidou Diallo's decision, many questioned if his return would negatively affect Knox by taking away some of his time as a two-guard.  Knox's reaction was quite the opposite.
"I'm naturally my best on the wing and I think with Hamidou coming back and him most likely playing a lot of the two, I'll be playing a lot of the three.  Me and him on the wing together — that's pretty scary." 
Many experts, analysts and fans have questioned this team's ability to shoot.  Knox does not.
"A lot of people say we lack shooting, but I think I can knock shots down, P.J. can knock shots down, Jarred can knock shots down.  I think we're really pretty solid on shooting."
Youth is the team's biggest question mark.  It's a question raised every year for John Calipari's teams, but with eight newcomers the concern is even more extensive.  Even though they're young and have yet to report to campus, Knox has a great rapport with his teammates.  Their time playing AAU on shoe circuits and at All-American games has created a bond, a bond that will build through competitiveness in practice.
"Every single day we're in the gym together it's gonna be real competitive," Knox said.  "That's one of the reasons why I picked Kentucky is because I know they'll get me better.  The players around me, they'll push me really hard.  I can't come to practice and slack off everyday.  I know I gotta come to practice with my A-game."
The time for talking is finished.  Knox knows it's time to go to work. "I'm ready to strive for nine."
[KSTV]