WOO PIG! A Razorback Road Trip to the Land of Walmart
When I volunteered to take a road trip to Fayetteville to watch Kentucky take on the Arkansas Razorbacks, the bar was set low. Little did I know it would be one of my favorite Kentucky basketball experiences.
In case you forgot what transpired, Kentucky was victorious at Bud Walton Arena. Sure, that's one reason why the road trip was an overwhelming success, but there are so many more that will make it one I'll never forget.
Scenic Northwest Arkansas
Before agreeing to work the game, I threw in an unusual caveat. Instead of simply covering the event from press row, I invited my Dad to join me on the excursion. After attending countless football and basketball games together throughout my childhood, that all changed when following UK Athletics became my career. Upon approval, I found some tickets in the nosebleeds, wrapped up a Beanie Baby pig and told him on Christmas morning to prepare for Hog Calling.
A destination neither of us had previously visited in the SEC, we were shocked to find rolling hills and mountains once we made it through an ice storm in southern Missouri. We entered enemy territory prepared to bash it. What we found was a complete surprise.
Fayetteville's hilly downtown area had a little bit of everything. There were your typical college bars and tasty burger joints. It also featured a few places that looked way too hip for either of us. The bookstores and coffee shops prepared us for the most eye-opening experience of the trip.
With time to kill before the 3 p.m. local time tip-off, the Roush-clan was excited to see the home of Walmart about 30 minutes up the road in Bentonville. Before seeing where Sam Walton started it all, we sought out a recommendation from Mrs. Tyler Thompson at the Crystal Bridges Museum of American Art. Days later I still can't believe what I saw.
In the heart of a sprawling urban development created by Walmart and Tyson was an oasis of art. Tucked in between hills in the woods and on top a large pond, the architectural masterpiece was unlike anything I'd ever seen before. I only wish the pictures could justify how amazing this place really is.
We weren't the only Kentucky fans checking out the art museum that Walmart built. There were plenty of folks clad in blue admiring the early American art. I'm no aficionado, but it was an impressive collection, highlighted by portraits of wounded warriors painted by President George W. Bush. Coincidentally, a profile on the president's paintings aired earlier that day during CBS This Morning while we ate our breakfast.
After questioning "How is this art?" in the contemporary section, we made our way to the real reason why anyone visits Northwest Arkansas: Walmart.
Google Maps took us to the first Walmart, an outlet center that appeared vacated. "Surely, this can't be it, right?" Nope, the "Somewhere in Time" antique shop is the original home of Walmart. The store in Rogers lived up to its name. It was not as hospitable as Walton's Five and Dime, located in the heart of the quaint Bentonville town square. Restored as a history museum of sorts, it's a little sad how many placards I read on the development of the discount superstore. By the time we left, my Dad was a Walmart expert, equipped to be to greeter at any nationwide store.
Just when we thought the surprises were over, we drove past a 21c hotel and a Top Golf on the way out of town. Capitalism worked wonders.
Bud Walton Arena
Just like Bentonville, the basketball arena home of the Arkansas Razorbacks wouldn't have been made possible without Walmart. Sam's brother Bud donated $15 million to construct "The Basketball Palace of Mid-America." It's not an exaggeration.
As you walk through the doors of the 20,000-seat arena, you are greeted by a Walmart greeter pristine displays of the Razorbacks extensive accomplishments, highlighted by the 1994 National Championship trophy. Right next to the bookstore, it's the kind of entrance I expect at the University of Kentucky.
Inside the arena an hour before tip-off, the only thing more packed than the student section were the lines for Bud Light. A refreshing addition to our game-watching experience, I noticed my Dad was holding onto his for the entire second half, even though only a sip remained. Us Roushes aren't superstitious, but we're a little stitious.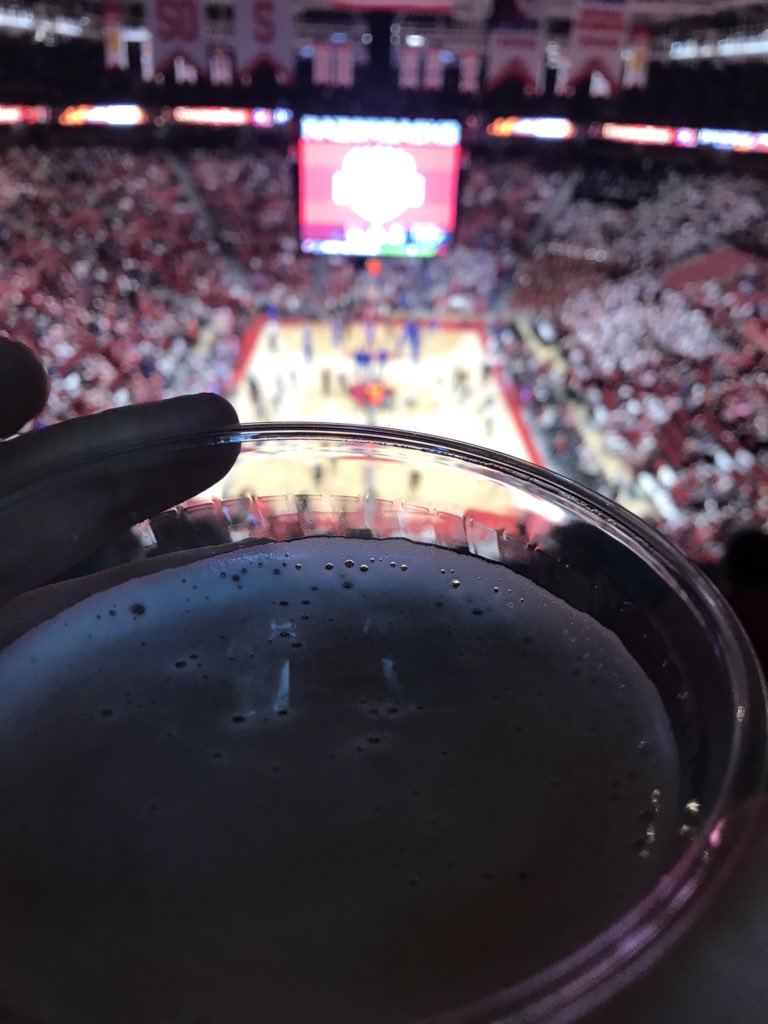 I left Bud Walton only further convinced that beer is on the way to Rupp Arena. The university paid no more than $1 for an $8 drink that filled the hands of almost everyone in the stands. Nobody got out of hand, except Dick Vitale in the student section.
Dickie V is Calling the Hogs pic.twitter.com/Z28wXWbjVO

— Nick Roush (@RoushKSR) January 18, 2020
Things really reached a new high at halftime when Red Panda took the hardwood. A routine I had seen many times on television, I considered myself lucky to be near the floor when she started flipping bowls.
Red. Freaking. Panda. pic.twitter.com/Uc8FtOnuhy

— Nick Roush (@RoushKSR) January 18, 2020
Stand Up, Sit Down
Before the game got underway, you could feel the big-game atmosphere. The first time fans Called the Hogs, it was mesmerizing. All 20,000 fans were united, ready to whoop Cal's Cats.
As the game got underway, I was quickly reminded of a game I had not played in years, "Stand Up, Sit Down." Bud Walton stayed on their feet until the first TV timeout as each traded jabs back and forth. Once everyone took a break, one guy in a striped shirt in the front row got everyone in the section back on their feet. The de facto cheerleader of the section, every time he raised his arms to pump up the crowd, I could feel the eyes rolling of the people sitting behind him. Some went so far as to move over temporarily so they did not have to stand up. I cannot describe that guy as a jerk because my father and I would later become those jerks.
Few of the fans in the arena could name Kentucky's starting five, but they all knew John Calipari. You could feel the vitriol in their voice whenever one screamed, "T HIM UP!" after each time Cal spoke to an official. Eventually, they got their wish. I've been to a lot of 100,000-seat football stadiums and I've never heard a place louder than Bud Walton Arena after John Calipari was ejected. The floor shook. The roar physically hurt my eardrums. I can't imagine what kind of damage they did to my already hard-of-hearing father.
"Wow" was really all we could think in the moment. It was a spectacle, and for the time being, Kentucky was still within striking range. They responded better than we could have ever anticipated.
As Kentucky embarked on a 15-0 run over the final five minutes, Razorback fans slowly returned to their seats. We did not. When Tyrese Maxey slammed one home to give UK a three-point lead, we involuntarily fist-pumped, high-fived and made a silent pledge to stay on our feet as long as the Cats were rolling. My Dad and I were stuck standing in front of Arkansas fans for more than a few minutes.
On the drive home I left Arkansas with two thoughts. First, I was happy to see somebody else in the SEC do basketball right. Razorback fans care tremendously about their basketball program. Eric Musselman injected a spark they desperately needed. Dreaming of better days in the 90s, for the good of the game I hope their fans will be treated to elite basketball once again.
All things considered, it was the most fun I've had at a Kentucky basketball game since Anthony Davis blocked John Henson's shot at Rupp Arena in 2012. I admittedly do not attend many UK basketball games, and even fewer I get to experience in the stands. What really made it special was sitting side-by-side with my Dad as the Cats silenced a roaring crowd on the road. It doesn't get much better than that.