Will Julius Randle's wingspan hurt him in the NBA? This guy thinks it might.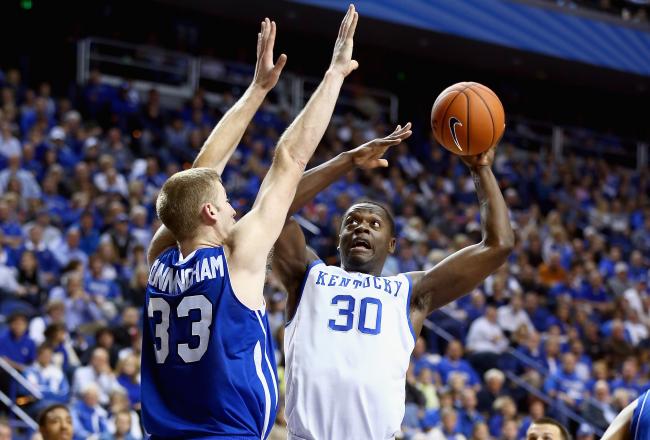 Julius Randle's wingspan is a problem, says NBA writer Jonathan Tjarks. It isn't a concern for Kentucky's national title hopes this season, but it is reason to worry about Randle's future at the next level. According to Tjarks' research, if Randle were an NBA power forward today, his wingspan would rank last in the league among starters.
"Randle is built like a Tyrannosaurus Rex: all torso and no arms," he writes:
He has a 6'11 wingspan, per Draft Express, which is enormous in most contexts, but not the super-sized world of the NBA paint. When matched up against the best power forwards in the world, he's going to have a significant length disadvantage, a problem that could impact his game on both sides of the ball.

In almost any basketball context, having longer arms than your opponent is helpful. The guy with the longer arms can shoot over the top of of his defender. On defense, he can play a step farther back and still contest the other guy's shot. He has an easier time reaching for rebounds and getting hands in passing lanes. The closer you get to the basket, where there is less room to maneuver, the more important this becomes.
With all the good in Julius' game — we could go on for days — it's a little petty to be overly concerned about his wingspan, but Tjarks makes a good point. I'm not losing any sleep over it, though, because Randle is averaging a double-double for Kentucky this season and ranks seventh in the country in rebounds per game. But it is an interesting read during our current basketball drought.
Wingspan: The big problem with Julius Randle's NBA upside