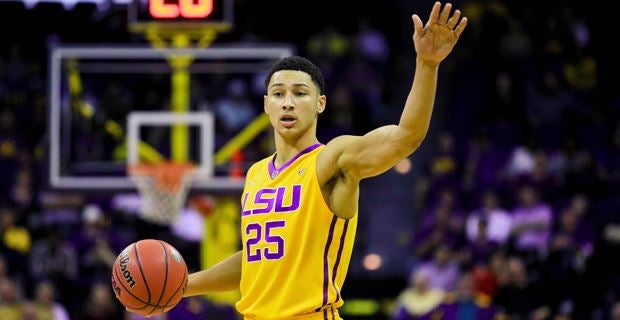 Tuesday's game against LSU will be an odd role reversal of sorts for Kentucky. In three of John Calipari's first six years at Kentucky the Cats have featured the eventual number one draft pick. In the other three years, UK never faced off against the player who would go to to be selected first. In most games Coach Cal was the one with the most talented player on the court if not the top three but that won't be the case on Tuesday night. No, that honor will belong to freshman superstar Ben Simmons.
Containing Ben Simmons is the key to taking down LSU. In five Tiger losses, Simmons has averaged 14.8 points. In 8 LSU wins (against bad teams) that stat jumps to 24 points. Clearly, Simmons' is the key to LSU's fortunes so who will be the player tasked with stopping him. Here are my three candidates:
Marcus Lee
Kentucky's defensive specialist is an ideal match-up for Ben Simmons. Both players are long, lean, and super athletic which should make for a great offense/defense showdown. While I think Marcus can hang with Simmons on the inside it will be an interesting test to see how he does as Simmons spaces the floor and plays in transition. Last year when Marcus would sub in for Willie Cauley-Stein he showed an ability to switch and cover multiple positions that he hasn't been asked to do this year. That could come in handy against Ben's skillset.
Skal Labissiere
This is the match-up everyone was waiting to see in the preseason but one that I doubt we will see much of. Bottom line, Skal just isn't ready to play college defense against a guy like Ben Simmons. Against Ole Miss last night he picked up 5 fouls in just 14 minutes of gametime. Against Duke and Arizona State he fouled out in 13 minutes. Could Skal provide some good minutes against Simmons? Yes, but he has to keep the foul situation under control and that may not be a risk Cal wants to take early in the game.
Alex Poythress
So who backs up Lee in this game? The answer is Alex Poythress. Poythress has the size, bulk, and athleticism that is capable of giving Simmons fits. Alex has shown capability in going up against players with a height advantage like Montrezl Harrell or an ability to slash like Sam Dekker. Those players combine in Simmons but I think Alex will be up to the task.
Who do you see going head to head with Simmons and do we have a shot to shut him down?