What's Happened Since Kentucky Lost to Tennessee
Kentucky Lost Three of Four, Two on College GameDay
After the loss in Knoxville, Kentucky let a large first half lead slip away at home against Kansas. They squeaked past Georgia two days later before taking the worst loss of the season on the road at Florida. Including the following game at LSU, in the five-game stretch Kentucky scored 13 points less per game and allowed their opponents to score 10 more points per game. To turn it around, Calipari installed a "reboot." So far, there's been marginal improvements, but the turnaround is not complete.
Tennessee has Impressive Wins, and Losses
The Vols rode that momentum into the SEC/Big 12 challenge, knocking off Kansas State 70-58. They followed that up with a win over Auburn, but it would not last. The Vols lost two of their last three games to Miss. State and Georgia by a combined six points.
Rupp got a Guinness World Record, and Lost It
The atmosphere at the Kansas game was unbelievable. With the National Championship trophies on the court and Michael Buffer on the mic for introductions, Rupp set a record for crowd noise at an indoor arena, reaching 126.4 decibels. After seeing the sight, Kansas responded by inviting the Guinness officials to last night's game against West Virginia, where they stole the record with a 130.4 decibels.
Tennessee's Freshman is on a Roll
One of Bam Adebayo's high school adversaries, Tennessee freshman Grant Williams, hit a hot streak last week. In games against Ole Miss and Georgia, Williams averaged 24.0 points, 6.5 rebounds and 3.5 blocks to earn SEC Co-Freshman of the Week honors.
Beyonce got Pregnant, and Weird
I'm normally a proponent of weird musicians. The weirdness has a way of bringing out creativity that can inspire. But this, this is too much. The crown at the Grammy's screamed, "LOOK AT ME! LOOK AT ME!"
Tennessee got on the Bubble
ESPN believes their schedule is good enough for NCAA Tournament consideration, even with double-digit losses. The Vols need another signature win, against a team like Kentucky, to keep their NCAA Tournament chances alive.
The Cats got a Three-Seed
In the first ever March Madness Preview Show, the selection committee put together a potential Sweet 16 matchup between the Cats and the Cards.
SNL got Spicy
President Trump was not a fan.
Kentucky got Healthy
The Cats needed the guys in green from ServPro to sanitize the Wildcat Coal Lodge. Sickness kept De'Aaron Fox, Mychal Mulder, Tai Wynyard and Sacha Killeya-Jones off the court for various amounts of time. Now *knock on wood* the entire team is healthy heading down the backstretch of the season.
I got Arch-Supports
People always say, "you know you're getting older when the hangovers start lasting more than a day." While that may be true, I hold the trump card. I recently purchased a pair of Asics and insoles with arch support and my feet have never felt better. It's something a 40-year old does, not a 25-year old. I guess I'm just an old soul.
Calipari Became Rick Barnes' Son (on Wikipedia)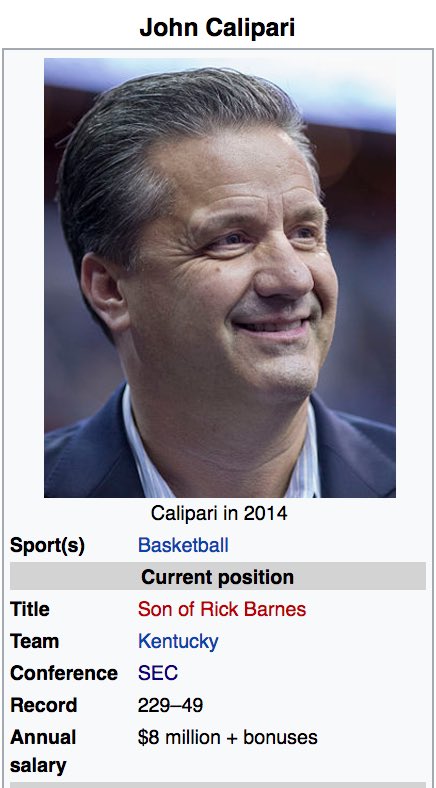 Matt Jones Found Love (in a hopeless place)
w