What to Look for in Cleveland State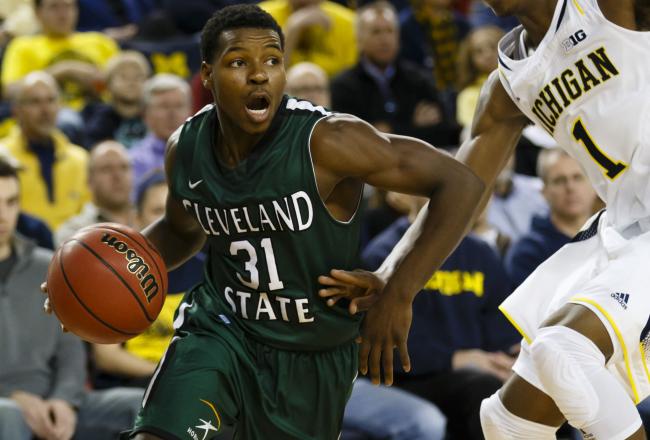 As football season draws to a close in the Bluegrass (to the happiness of many, Coach Stoops included), it's now time to focus all of our big blue hearts towards basketball season and the top five team we have on our hands here in Lexington. The 4-1 Cats look to improve their record as they host the Vikings of Cleveland State tomorrow evening at 7:00. 
Cleveland State enters tomorrow's game at 3-2 on the year and as a part of the "Bill Keightley Classic". The Vikings have defeated Iona, Robert Morris and Texas Arlington, while having lost to Eastern Michigan and San Francisco. Expect a tougher challenge from the Horizon League team than UTA and Robert Morris provided, but it should still be a hay day for UK. The last time these two squads met up was John Calipari's inaugural season in Lexington, as the John Wall and DeMarcus Cousins led Wildcats defeated CSU 73-49.
The Vikings are led by sophomore Bryn Forbes who averages 19.6 points a game and fellow guards Charles Lee and Trey Lewis who round out the CSU players likely to score in double-figures. Cleveland State has been coached by Gary Waters for the past eight seasons, and have routinely fared well in their conference, despite falling short to Butler and Valparaiso on most occasions. CSU was picked to finish third in their conference this season.
Cleveland State has amassed over 73 points per contest they've played in this season, so offense isn't really their problem. Calipari has been yearning for a stronger defensive effort from his team, and cites that's why Dominique Hawkins has done so well to start the year. Improved play at the point guard position from Harrison should also be a focus in tomorrow's game, as the Wildcats gear up for a tough December schedule featuring several ranked teams.
Kentucky is a 21.5 point favorite. Over/under?
Oh and ps…Louisville lost to North Carolina today. Yeah, that was fun.
Cats.
@WilderTreadKSR