What They're Saying About The Twin's Return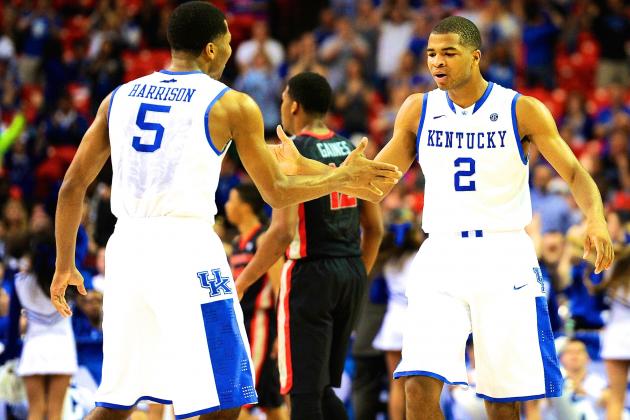 Not since the days of Mark Morrison have we seen a return this monumental. The Harrison Twins are coming back for another year of college basketball and universities around the nation have been put on notice. Welcome to the Unfinished Business Tour. What does the nation think is in store for Lexington next season? Let's take a look at reactions from around the land:
[SI, Brian Hamilton: Return of Harrison twins makes Kentucky a leading contender for 2014-15]
So what did everyone do with those 40-0 T-shirts?

Guards Andrew and Aaron Harrison announced Friday that they would return to Kentucky for their sophomore seasons, instantly making the Wildcats a favorite for a preseason No. 1 ranking and to return to the national championship game they lost earlier this month.
NBCSports: College Basketball Talk's Way-Too Early Top 25, Volume Two
1. Kentucky: Kentucky lost just two players to the NBA Draft, with Julius Randle and James Young moving on. But the front court is loaded with Willie Cauley-Stein, Dakari Johnson and Alex Poythress all returning and McDonald's All-Americans Karl-Anthony Towns and Trey Lyles joining the program. And with the Harrison twins in the backcourt (freshmen Devin Booker and Tyler Ulis as well), the perimeter won't lack for depth either.
Obviously, Calipari could instead start Ulis, a natural ball-handler and distributor, at the point and play both Harrisons off the ball — especially if Poythress proves incapable of playing on the wing. Or he could start Cauley-Stein or Towns instead of Johnson. Or, honestly, he could play any combination of bigs with any combination of guards. To argue the specifics is to miss the point, and the point is this: Kentucky is loaded with a roster featuring at least nine and perhaps 10 future NBA Draft picks, meaning the biggest issue facing Calipari will be managing minutes, and, all things considered, that's not a bad problem to have while attempting to make the Final Four for the fourth time in five seasons.
[Yahoo Sports, Jeff Eisenberg: Only one NBA team has as many McDonald's All-Americans as Kentucky will next year]
Kentucky will certainly be a popcorn-worthy attraction during the 2014-15 season considering the obscenely deep and talented roster John Calipari will have. With six would-be NBA draft picks expected back from last year's national runner-ups and four highly touted recruits set to join them, the Wildcats are nearly certain to once again be hailed as the nation's preseason No. 1 team.

No NBA franchise finished the regular season with more than nine McDonald's All-Americans on its roster and the Charlotte Bobcats are the only one that even had nine. The average NBA team had 4.9 former McDonald's All-Americans on its roster and several had as few as one or two.

It's official. Andrew and Aaron Harrison heading back to Kentucky. Talk about depth. Two-deep at every spot, even three-deep at some.

– Jeff Goodman (@GoodmanESPN) April 25, 2014
[Troll Alert, Dan Shanoff: The Harrison twins didn't come back to Kentucky; they were rejected by the NBA (and that's John Calipari's problem, not just the Harrisons')]
I feel kind of bad for the Harrisons. They wanted to be pros right now so badly; the professional market rejected them. Their "return" is completely (and justifiably!) begrudging.

If they were good enough to be 1st-round picks, NBA GMs would have bent over backwards to draft them this year – call it the "Archie Goodwin theory."
Adam Himmelsbach of the Courier-Journal:
When Kentucky unveiled its historic recruiting class last fall, some of the hyperbole that surrounded the baby Wildcats was unjustified. They'd never played a college game and they'd never played together.

And then we watched them stumble during the regular season, and we began to wonder what the fuss was about. We questioned the rankings. We questioned ourselves for buying into the rankings. We realized that the wise move in the future would be to scale back the hype.

Well, good luck with that.
The number of NBA personnel attending Kentucky practices will be crazy.

– Seth Greenberg (@SethOnHoops) April 25, 2014
This summer is going to be one of the longest in history. How excited are you for next season?