What the NBA Combine Should Actually Measure
I don't care about the NBA Combine often, but when I do, it's because I want to complain about the pointlessness of measuring a player in his socks. Do they play basketball in socks? No. So why does anyone care?
Personally, I think the time and effort spent measuring future NBA players in socks should be put towards other, more relevant measurements. Here are just a few ideas:
-Least amount of impact it takes for a player to fall down dramatically: Beginning with a feather and gradually increasing to a water balloon filled with varying amounts of water, and culminating with a two-year old pushing him during a temper tantrum, former Duke players will be tested on how little impact they can absorb and still convincingly flop.
-Klout Score: How influential are these players on social media? How many followers do they have that aren't spam accounts? How many retweets and favorites does each tweet average? Do they often interact with celebrities on social media? How's their hashtag game? Potential sponsors can evaluate a Combine participant's "reach" to help determine how much money a contract should be worth.
-Scoville Scale: How much heat can these guys actually take? The Combine should go Man vs Food style and line up ten peppers ranging from your typical bell pepper to the terrifyingly named Trinidad Moruga Scorpion pepper that may make grown men cry just being in their presence.
-How long can a player hold it: You know what I'm talking about. In the heat of a playoff game, do you want a guy who can hold his bladder until the end of the game? Or do you want a guy who's going to piss in a towel on national television? As a team owner, this would be very important to me.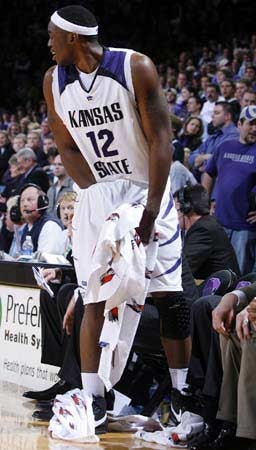 -Playoff beard growth potential: Playoff beards are a revered tradition in some sports' playoffs, and I believe it's time for the NBA to make this an official movement. Starting from a fresh shave at 7am, a player's stubble will be measured throughout the course of the day, ending at 5 o'clock on the nose. The robustness of a player's "shadow" will be utilized as proof of manliness on and off the court, as well as evidence of his prowess with the ladies.
Sorry Johnny, time to shave that sucker.
-A grown man's reaction to the player's dunks: From stone-faced Mikayla Maroney-style "Not impressed" to "tweets '#posterized!'" to "rockets out of seat and involuntarily fist pumps while cheering for a player that's not even on his team" to "sheds a single, solitary tear in memoriam of the poor soul that just got dunked over," how does a grown man react to this player's best dunk?
-How much ball weight a player can withstand as he's getting dunked over: Especially relevant to those facing Nerlens Noel.
What else could the Combine measure that would help predict a successful NBA player?