Weekend Reminders to get you through this week You made it to the middle of the work week, which means we're now just days away from a huge weekend for UK Athletics. There's a lot going on, so here's a quick recap of the coming weekend's biggest activities in and around campus in Lexington:
Friday – Big Blue Madness
The fun begins Friday evening. Big Blue Madness is essentially the launch party for another season of Kentucky Basketball, and this year will be no exception. The action is slated to start at 7 p.m. inside Rupp Arena.
If you didn't score tickets to the event itself, you can tune in on the SEC Network, where our friend Tom Hart will be commentating (listen up for any KSR references!). You can also come to the "Blue Carpet" event at 5:30 inside the Lexington Center to watch the team and special guests enter the Rupp Arena.
It's #BBM19 week pic.twitter.com/7B3f174bXp

— Kentucky Basketball (@KentuckyMBB) October 7, 2019
Both the men's and women's teams will be introduced before participating in their first open practice of the season. Who will come out with the best dance moves? My money is on Immanuel Quickley (or maybe Matthew Mitchell).
Saturday – Kentucky vs. Arkansas football game
Sandwiched between two fun days of basketball comes an important game for the UK football team. The Wildcats are set to take on Arkansas at 7:30 on the SEC Network. The game is the official Jared Lorenzen tribute game, as well as UK's annual Homecoming game.
It's been a rough couple of weeks for the football team, and this Saturday is the Wildcats' chance to get back on the right track. Mark Stoops is determined his guys play "a hell of a game" for Lorenzen.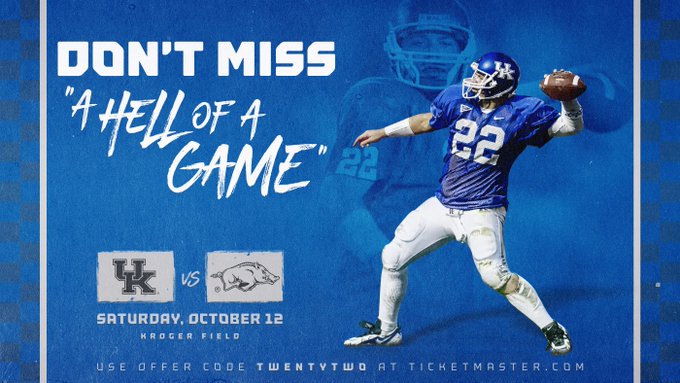 It's not too late to grab tickets for Saturday's game. Seats are still available HERE, and you can use the promo code 'TWENTYTWO" to receive $22 off the price of your tickets.
Sunday – John Calipari women's basketball clinic
Then, we're back to basketball. After a day to recover from the spectacle of Big Blue Madness, John Calipari returns to Rupp Arena to host this year's women's clinic.
The ladies in attendance will be invited to take a behind-the-scenes look at the inner workings of the program, including a self-guided tour of Rupp Arena and the locker rooms. There will be staff members stationed throughout the facility for directions and questions.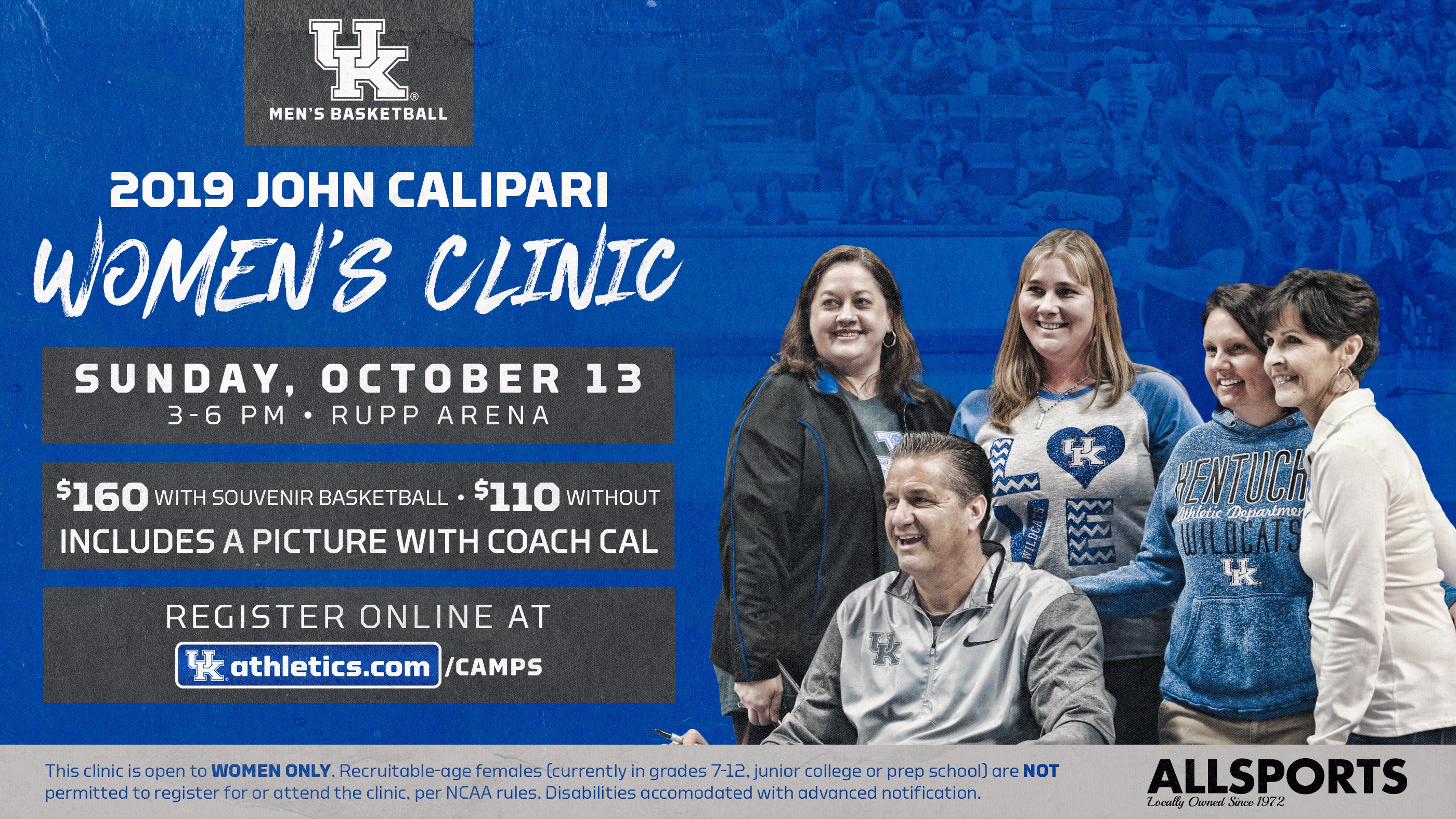 Each participant will also be guaranteed a small group picture with the entire team and the opportunity to take a picture with John Calipari and his wife, Ellen (because she's the major draw here, right? Don't you want the chance to make it on her Instagram?!). You can read more about the clinic HERE.
Registration is open now. The past eight clinics have completely sold out, so grab your spot before it's too late. Ladies, I'll be there for KSR – come say hi!
---
Oh right… Don't forget Keeneland will also be open all weekend. Have fun out there, Wildcats.