Weekend Recap: Pro Day Notes, Recruiting Updates and More
Good morning! It sure is nice to wake up without a hangover from the day after a Kentucky football loss. We did three straight Mondays of those so it feels good to breathe a little better and enter this new work week without the weight of defeat on our hearts. Kentucky is back to its regular football routine this week — get excited about that — as the Cats focus on the upcoming game against Arkansas in Kroger Field.
Before we buckle down and attack this week together, a recap of a rather busy weekend with no football:
---
UK BASKETBALL PRO DAY
---
A bye weekend for the Kentucky football team allowed the Kentucky basketball team to sneak in and borrow the spotlight for a day or two. Coach Cal's program held its sixth annual Pro Day, a preseason event to promote the program and its players in a televised workout in front of scouts from every NBA franchise. I don't know what it did for the players' NBA futures, but Pro Day did its job in igniting a fan base that is growing hungrier and hungrier for basketball season.
Here are some of the highlights
— Nate Sestina was the MVP. Sestina opened a lot of eyes during his introduction to Kentucky basketball fans, mostly for how well he shot the ball. In case you haven't heard already, Sestina hit 20 out of 24 three-pointers while on camera and he didn't need the rim on most of the makes. The shot looked great, folks, and the performance has many of Big Blue Nation's most excitable fans losing their collective minds over Sestina's potential. He will get a lot of those looks from the pick-and-pop, and Pro Day suggests he can thrive in that role, so why wouldn't we get excited?
— Johnny Juzang can really shoot too. Maybe the hype's real? Juzang showed off his jumper in the scrimmages, hitting a couple of three-pointers (in a row, I believe) in the 5-on-5. The quickness from catch to release is a real beauty when Juzang is letting it fly, and at his size he will have no problem getting them up. The looks test says Juzang will be the best shooter on the team. We'll have to wait to see how good that actually is.
— Before we got to the good stuff like Sestina and Juzang looking like Splash Brothers, we did have to fight through a slow start. The program began with drills — 3/4 Court Sprint, Jump Testing, Shuttle Run & Lane Agility, Full Court Drills, in that order — before getting to the shooting and scrimmaging portion of the evening. There was a lot of talking to fill time.
— Kentucky is LONG. Pro Day taught us that seven players on the team have a seven-foot wingspan or better, which is nice for Calipari's goal of being a long, disruptive defense.
Dontaie Allen with a surprising 7'2 wingspan there.
— Jimmy Dykes believes this team's strength will be its defensive versatility. In summarizing his thoughts on the day and UK's team as a whole, Dykes said he believes the offense will struggle early and defense will need to carry the load, and that defensive versatility will ultimately be what makes UK go.
— Tyrese Maxey hit a step-back three-pointer in Nick Richards' face at the buzzer. It was nasty but also lovely. Kid's going to be REAL good.
— Two of the scouts in attendance were none other than Tayshaun Prince and Chuck Hayes, a couple of former Wildcat greats. Prince, now a member of the Memphis Grizzlies front office, did an interview with Jimmy Dykes in which he had a lot of nice things to say about Big Blue Nation.
— Once it was all over, Calipari tweeted, "If our guys practice that hard every day and talk like they did throughout the whole #UKProDay, we will be fine. Only two guys got cramps. I expected half the team to get them. I like my team."
If our guys practice that hard every day and talk like they did throughout the whole #UKProDay, we will be fine. Only two guys got cramps. I expected half the team to get them. I like my team. pic.twitter.com/cKPEo9SYbd

— John Calipari (@UKCoachCalipari) October 7, 2019
---
UK BASKETBALL RECRUITING
---
— Though UK's Pro Day was the headline, we cannot let the news of Devin Askew's visit slip under the radar. A five-star guard in the Class of 2021 (for the moment), Askew was in Lexington for an official visit to the University of Kentucky over the weekend and it went very, very, very….. very, very… very, very, very well. Askew did not announce a commitment to Kentucky before heading back to Santa Ana, Ca., but both sides walk away extremely happy with how the visit went. His announcement is expecting to come soon.
— More good news! Cade Cunningham will visit for Big Blue Madness after all. The No. 1 guard in America will skip USA Basketball training camp in Colorado to attend Big Blue Madness this coming Friday. Cunningham is reportedly warming up to the idea of becoming a Wildcat, as opposed to Oklahoma State, where his brother was just hired on as an assistant. This is an enormous visitor ahead for Calipari and his staff.
Lots more (and more thorough) recruiting talk ahead in Jack Pilgrim's insider notes. He will publish a new version of the notes later this morning.
---
NFL
---
How is Austin MacGinnis not on an NFL roster? How? HOW?! I do not get it. Obviously we are biased here, but it makes no sense that a proven kicker with game-winners and all-time records on his college resume can't get a phone call when many of the kickers in the league can't make a field goal. I watched the Titans' kicker miss ALL FOUR of his field goal attempts in the Titans' 14-7 loss to the Bills. I was saying all kinds of words someone shouldn't say out loud in KSBar, but it was painful to see because (a) it screwed my Titans and (b) MacGinnis can't get a call. What in the actual %&$# am I missing here?
Meanwhile, down in Dallas, former Packers wide receiver Jordy Nelson wore Randall Cobb's old Kentucky jersey on the sideline of the Packers' game against Cobb and his new team. ---
Sports Gambling
---
Circa Sports released its opening lines for Week 7 of the college football season and Kentucky finds itself as a 6.5 point favorite against Arkansas.
The total on the game is 54.5.
---
NBA Preseason
---
Did you know NBA preseason play began over the weekend? Well, it did, and several former Kentucky Wildcats played well.
— PJ Washington shined in his professional debut with the Charlotte Hornets on Sunday, scoring a team-high 16 points in only 19 minutes played off the bench. Washington went 6-of-7 from the field, 3-of-4 from 3-point range, and grabbed five rebounds in the loss to Boston. Washington's two UK alum teammates, Michael Kidd-Gilchrist and Malik Monk, did not play.
— Keldon Johnson also made his debut, but it didn't go as well as Washington's. Truth be told, it didn't go well at all. Johnson made only two of his team-high 14 shot attempts, with three misses from outside and two at the foul line.
— Journeyman James Young exploded for 31 points on the Memphis Grizzlies. Bet you didn't see that one coming, did you? (You didn't.) Can you name which team he did it for? (You can't.) Answer: Young's 31 points were scored for Maccabi Haifa, a professional Israeli basketball club and Young's new team, apparently. Maccabi Haifa traveled from Israel to West Tennessee to help the Grizzlies get ready for the upcoming NBA season. There is a lot to digest in this paragraph.
— Out in LaLa Land, Anthony Davis stole Lebron James' show with 22 points and 10 rebounds in his first action as a Laker. Lakers head coach Frank Vogel, a fellow UK alum, said of A.D., "He's a monster. It's going to be very difficult to slow him down with what we had around him. I'm excited about what he's going to do, and Lakers fans should be too."
— Isaac Humphries made the Orlando Magic with three minutes played. Hey, that is more than no minutes played.
— Andrew Harrison got seven minutes with the Golden State Warriors and scored four points with two assists.
— De'Aaron Fox and Wenyen Gabriel came to Kentucky together, and now they're together again on the other side of the world, in India, playing for the Sacramento Kings. The Kings played two games against the Indiana Pacers in the first ever NBA action held in India. Fox was greeted by chants of "MVP! MVP! MVP!" from the crowd while at the foul line. That's pretty cool.
---
MLB Playoffs
---
Eat it, St. Louis fans.
Chop on!
---
What's Ahead
---
— Mark Stoops will address the media in the return of his weekly Monday press conference following a week off. You can hear his comments right here on KSR beginning at noon today. Stoops will likely tell us the status of Sawyer Smith, the status of the offense with Lynn Bowden at quarterback, and what is ahead for the week of the Arkansas game.
— A new UK football depth chart will be released around 11 am. Refresh KSR around that time until it pops up to see the rotation for Arkansas week.
— Want something fun to do after work (in Lexington)? Come to KSBar and Grille from 5-6:30 today to hang out with me and my friends from UK Federal Credit Union. UKFCU will be giving away some very nice prizes and we'll be having lots of fun, way too much fun for a Monday evening.
— The "Hammer It Out Of The Park" cash giveaway continues at KSBar and Grille with four MLB playoff games today beginning at 1:00 in the afternoon. If you're at KSBar when there is a home run in any of the playoff games today through the World Series, you can win $50 cash just for being there when it happened.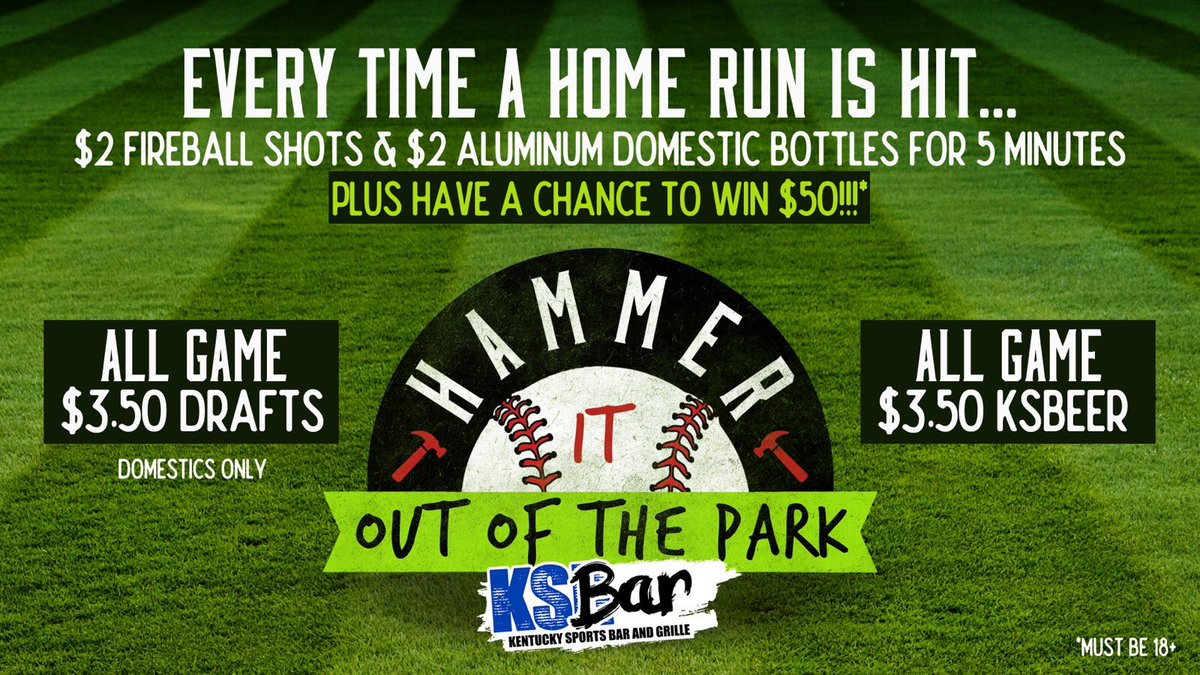 — There will be a new KSR Football Podcast. Sometime later tonight, a new KSR Football Podcast will pop up on your podcast feed. I haven't heard it yet because we haven't recorded it yet, but it's a great episode. I just know it.
Now get out there and punch this Monday in the face.