Wednesday's Top 10: 20 Cats in NBA action, "SEC Inside," and Blue getting in to the World Series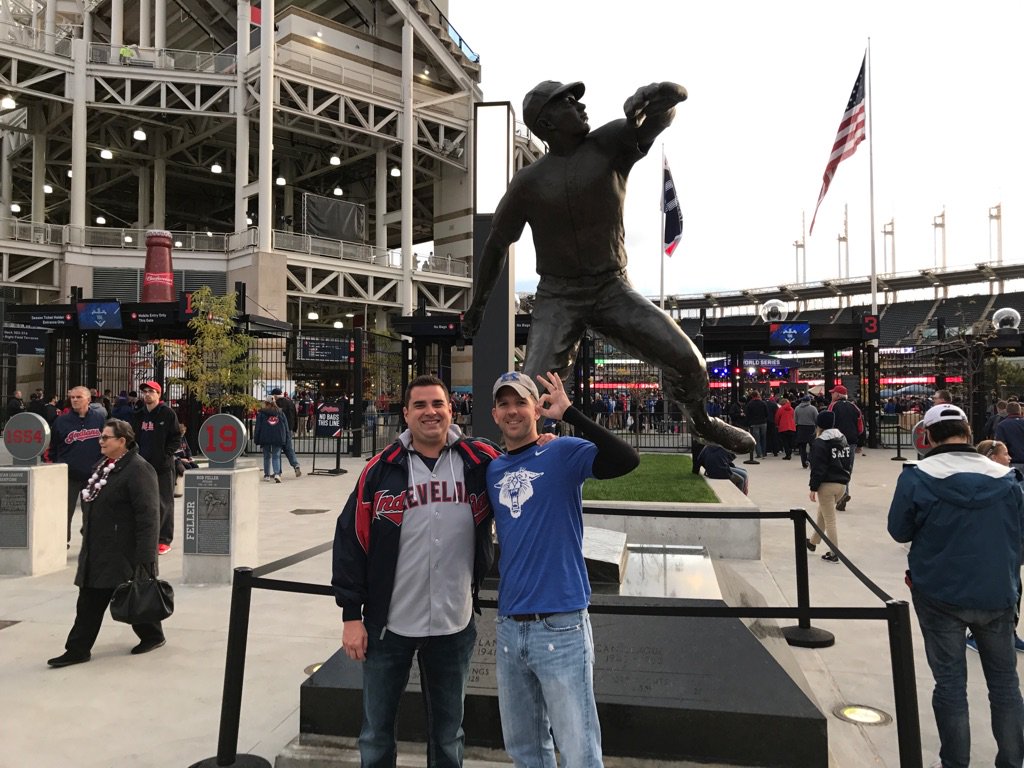 Good morning, everyone, and how about Game 1 of the World Series? Like my colleague Drew, I'm not a big baseball fan (there's actually a line prohibiting it in our contracts), but even I tuned in last night to see the Indians beat the Cubs 6-0 to take a 1-0 lead. I gave up on the game about three innings in (even playoff baseball is sloooow), but man, that Corey Kluber sure is something. Watching him strike out nine players in six shutout innings probably made these two guys very happy. Also, why does it not surprise me that blue got in to Progressive Field?
Don't forget to submit your Fan of the Day photos to KSR's Facebook Page. Odds are you'll see them on this very website sometime in the future if you do.
Now, let's get on to the ten things you need to know today…
1. Mark Stoops will be on SEC Teleconference
Stoops and Missouri head coach Barry Odom will address reporters on the SEC Coaches teleconference this afternoon, so check back after lunch for a full recap of their remarks.
2. ICYMI, Missouri lost two of their best defensive players
Last night, Odom confirmed that both star linebacker Mike Scherer and defensive lineman Terry Beckner, Jr. tore their ACLs in the Tigers' loss to Middle Tennessee State. From a personnel standpoint, the loss is brutal for Missouri, but Scherer was also considered the heart and soul of the defense, starting 33 games and coordinating communication on the field for his unit.
3. Stephen Johnson spoke to students at Sayre yesterday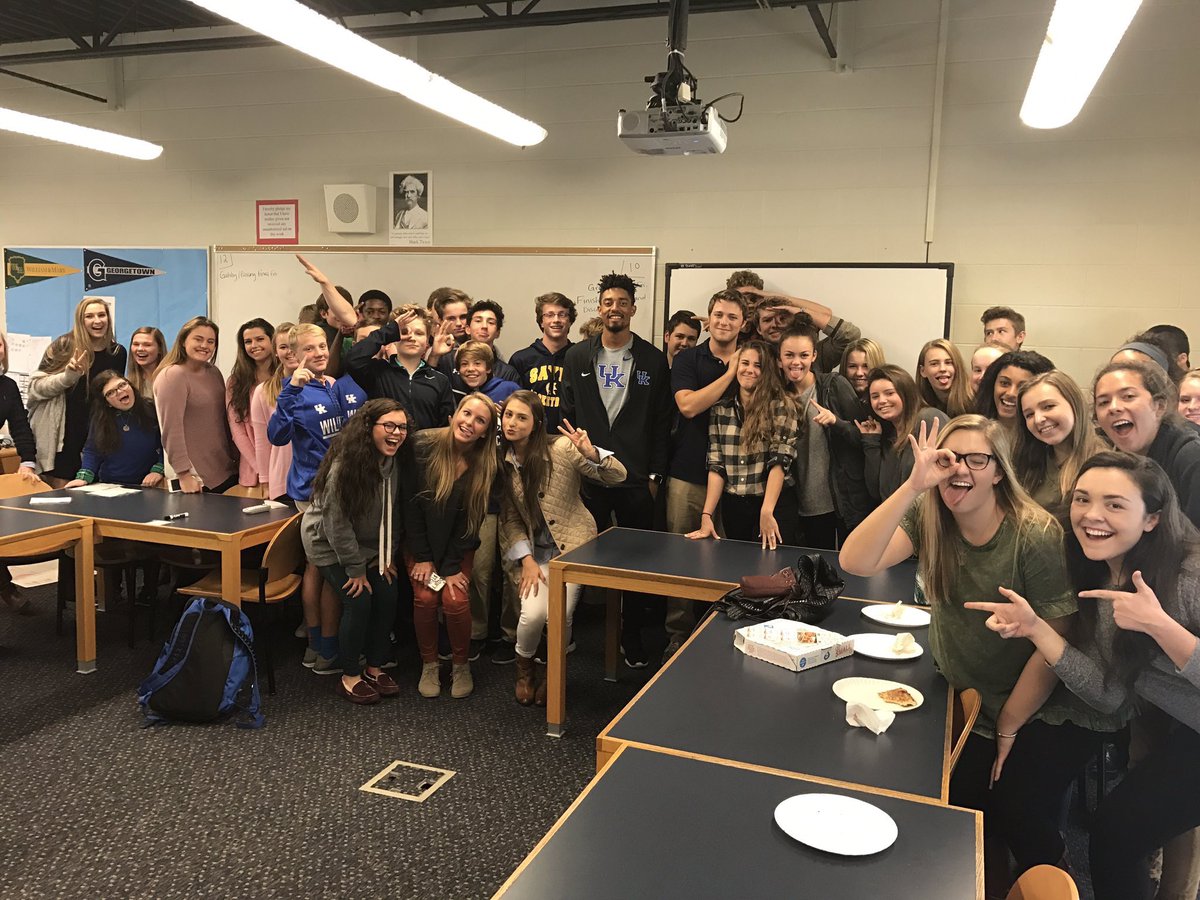 UK's quarterback made the short drive to Sayre to "share [his] testimony" with students. They certainly look excited to hear it, or maybe they're just pumped about the free pizza.
4. 20 NBA Cats in action tonight
Unbelievable, right? In one game alone tonight, you can watch SEVEN former Cats face off.
7:00 PM: Heat at Magic (Jodie Meeks)
7:30 PM: Nets at Celtics (James Young)
7:30 PM: Pistons at Raptors (Patrick Patterson)
8:00 PM: Hornets (Michael Kidd-Gilchrist, Aaron Harrison) at Bucks
8:00 PM: Timberwolves (Karl Towns) at Grizzlies (Andrew Harrison)
8:00 PM: Nuggets (Jamal Murray) at Pelicans (Anthony Davis, Terrence Jones)
8:00 PM: Thunder (Enes Kanter) at 76ers (Nerlens Noel)
10:00 PM: Kings (DeMarcus Cousins, Willie Cauley-Stein, Skal Labissiere) at Suns (Eric Bledsoe, Brandon Knight, Devin Booker, Tyler Ulis)
10:00 PM: Rockets at Lakers (Julius Randle)
"But wait, Tyler," you say. "I don't have NBA League Pass. How can I watch these games?"
I'm glad you asked…
5. NBA League Pass is on free trial until November 1
So you have no excuse not to watch all 24 Cats play this weekend. Stream them live online here.
Trust me, staying in and watching the Cats this weekend is probably way more fun than that Halloween party you said you'd go to.
6. See MKG's shot for yourself
Tonight marks MKG's return from various injuries last season, and although MKG will forever be one of my favorite players, there's no denying his shot is still bizarre:
It seems to be working, so who am I to judge?
7. Georgia already sold out their basketball game vs. Kentucky
In a "That's so SEC Basketball!" update, the Georgia Bulldogs already sold out their home game vs. Kentucky on February 18. According to Marc Weiszer, it's the earliest date for a home sellout ever. We're almost to "t-shirt night" season, folks!
8. The SEC Network goes inside UK's win over Mississippi State tonight
Want to relive Kentucky's win over Mississippi State? Be sure to set your DVR to record "SEC Inside" tonight at 7 p.m. on the SEC Network as the show takes a behind-the-scenes look at the Cats' thrilling win over the Bulldogs. The show will feature new vantage points and sound from the sidelines of the game, as well as footage from Kentucky's weeklong prep.
9. This mural in Lebanon is cool
A few months ago, I showed you the cool Maker's Mark water tower in Lebanon, and now, they've upped their public art game even more with this mural. They also added this cool sign in front of the tower for perfect photo opps.
If you partake, do the Lebanon tourism folks a favor and use the hashtag #LebanonMakersWaterTower when you post your pictures on social media.
10. Rex Champan will be on the show today
We broke the news last week, but Chapman was officially introduced as the new co-host of the UK Basketball Pregame Show yesterday. After some rough times that resulted in a rocky relationship with the BBN, Rex is doing better than ever and is excited to take over Oscar Combs' sacred spot. As John Calipari said last night, Rex is an icon in the UK Basketball program and well-deserving of the opportunity, so tune in at 10:30 a.m. to hear from him as he joins Matt, Ryan, and Drew in studio.