We officially have our first 2018-19 Kentucky basketball practice report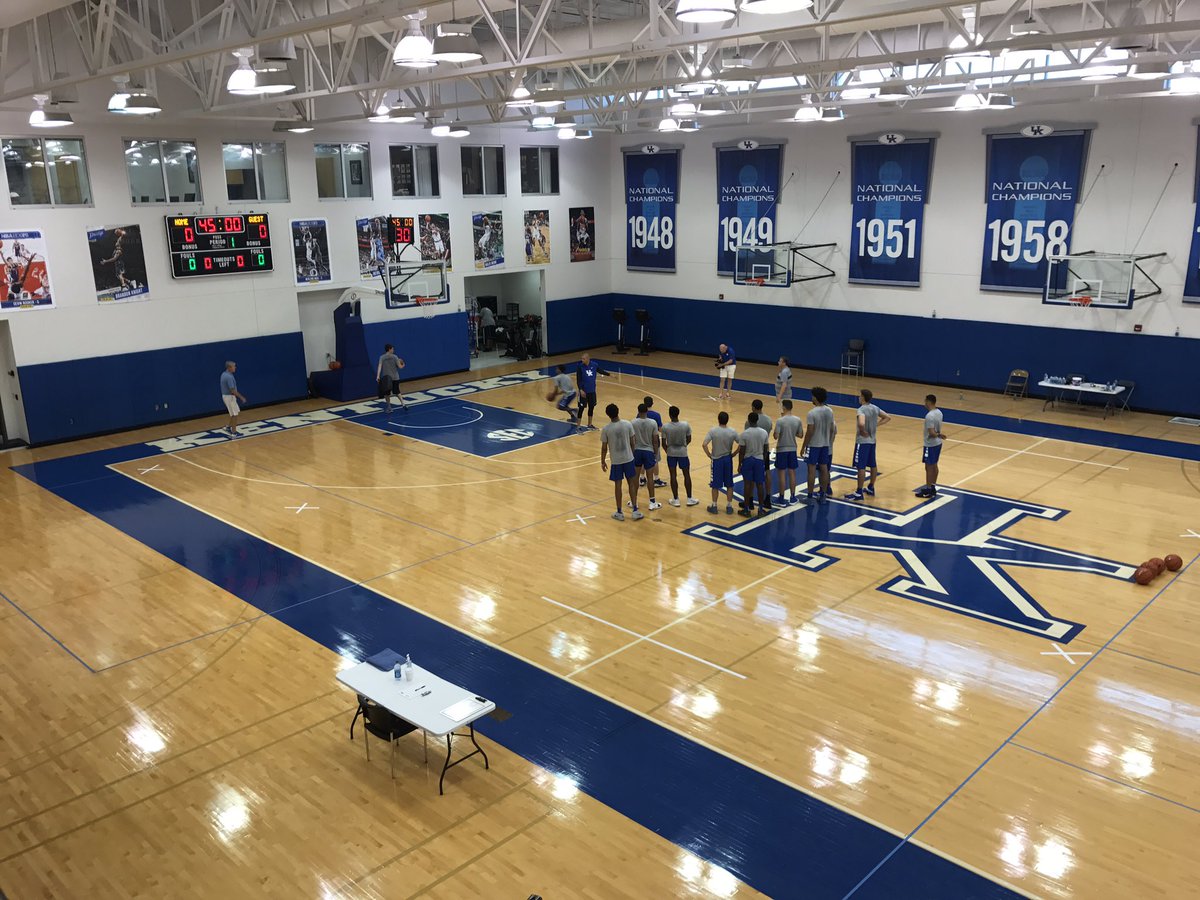 We're still two months away from the Bahamas trip and a little under four months out from Big Blue Madness, but the first Kentucky basketball practice report has officially been released…
And according to at least one individual there at practice, there is a WHOLE lot to be excited for.
Former KSR employee and current CoachCal.com editor TJ Beisner got to see the team up close and personal, and he wrote a breakdown of the events for the world to see.
He started with the team as a whole, where he said the returning players jumped in and set the tone for the newcomers.
Calipari demanded attention to detail in every drill and continually stopped practice to make sure the newcomers understood what the staff is looking for from them.  To have perfect practices in January and February, you have to emphasize the little things early on and that's exactly what today was about.

But Calipari and the assistant coaches were not working alone.  The returning players set a competitive tone for the pace of drills and provided guidance to the newcomers.  PJ Washington, who is still recovering from hand surgery, put on a quality coaching performance for a good stretch of the practice as he sought out the freshmen and gave them pointers.  Even better, they were all receptive to the veteran's advice.  Quade Green, Nick Richards and Jemarl Baker all did the same.  I never felt like I was watching a group of players work out.  It really felt like a team out there practicing as one.
From a pure talent perspective, they have the tools necessary to be a special group.
It's easy to see that this is a talented group.  Really talented.  The guards can fly up and down the floor.  They have tremendous length and athleticism.  They look like they can knock down shots.  Most importantly, especially to Coach Cal, there appears to be a shared swagger stemming from the understanding that practices are going to be a war every day and that this path has the possibility of leading to a special place.
Beisner then broke down each freshman one by one, with EJ Montgomery seemingly stealing the show in their first time on the floor.
EJ Montgomery: The only word to really sum up seeing EJ up close at practice is "wow."  He has tremendous length and has unbelievable body control for a freshman big man.  He's far from a finished product, but he has tremendous potential and appears to be able to help this team in a number of ways.  He will complement any group of four players he's on the floor with.

Keldon Johnson: He looked great.  He's so versatile and smooth in everything he does.  What's funny about watching Keldon is that everything appears to come easy for him, but he still goes so hard.  He's just so natural on the floor, but he competes like he's fighting to prove he belongs.  And that's exactly how Coach Cal wants it to be.

Immanuel Quickley:  A truly phenomenal athlete.  When it was time to go, Immanuel was absolutely flying.  He was dialed in to everything Coach Cal said and I can't recall there being one instance  where Cal blew the whistle to show him how to do something differently.  He was all about business the entire practice.

Ashton Hagans: From watching practice, you'd have absolutely no idea that Ashton just finished his junior year of high school.  Like Immanuel, Ashton absolutely flies up and down the floor.  Confident and competitive.  Can't wait to see all of the guards compete with each other.

Tyler Herro: Smooth and confident.  Much has been made of Tyler's presence as a shooter and you saw a little of that today, but he made some very nice passes in transition and made a couple of nice defensive plays as well.  He was another guy who was very competitive in the individual drills.

Zan Payne:  Did not practice as he continues to recover from a knee injury suffered in high school
Montgomery is Kentucky's highest-ranked recruit in the class of 2018, and it certainly seems to be showing out of the gates. Johnson was extremely impressive throughout the All-Star circuit, most notably for his crazy intensity and will to win. For him to show that right off the bat, enough to turn Coach Cal's head, that's certainly a great sign. As for Quickley and Hagans, I think it's going to be fun to see those two battle it out for the starting job this fall. Regardless, the Cats are going to have ridiculous talent available off the bench.
And I'm hyped.
For the full report, head on over to CoachCal.com.