UK giving out individual player posters at each home game starting Sunday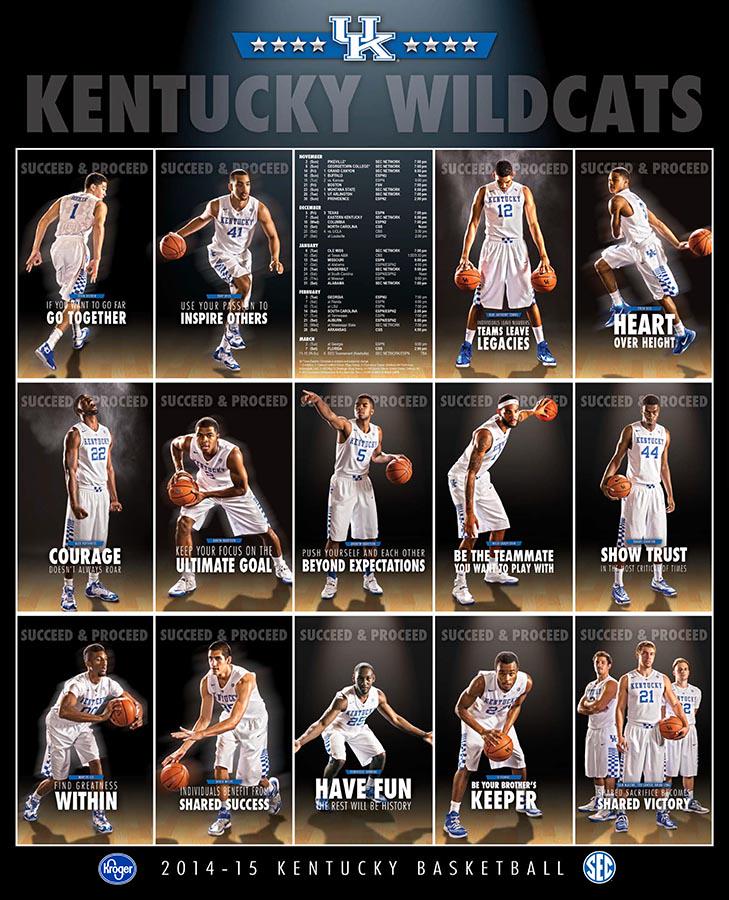 Did you love this poster that was distributed at Big Blue Madness? Then you'll love to hear that UK will distribute individual versions featuring each player at each home game, starting with freshman Devin Booker's poster for the Providence game on Sunday. The first 5,000 fans at Rupp Arena for each game will receive one poster for free.
Here's the schedule:
Providence — Devin Booker (Nov. 30)
Texas — Trey Lyles (Dec. 5)
Eastern Kentucky — Karl-Anthony Towns (Dec. 7)
Columbia — Tyler Ulis (Dec. 10)
North Carolina — Alex Poythress (Dec. 13)
Ole Miss — Aaron Harrison (Jan. 6)
Missouri — Andrew Harrison (Jan. 13)
Vanderbilt — Willie Cauley-Stein (Jan. 20)
Alabama — Dakari Johnson (Jan. 31)
Georgia — Marcus Lee (Feb. 3)
South Carolina — Derek Willis (Feb. 14)
Auburn — Dominique Hawkins (Feb. 21)
Arkansas — EJ Floreal (Feb. 28)
Florida — Sam Malone, Tod Lanter and Brian Long (Senior Day, March 7)
Posters will be distributed in the main concourse at Rupp Arena. Doors open 90 minutes prior to tipoff and fans are encouraged to arrive early and proceed to the table where posters are being distributed after entering the arena.