UK Fans of the Day Want the Monday Morning Wakeup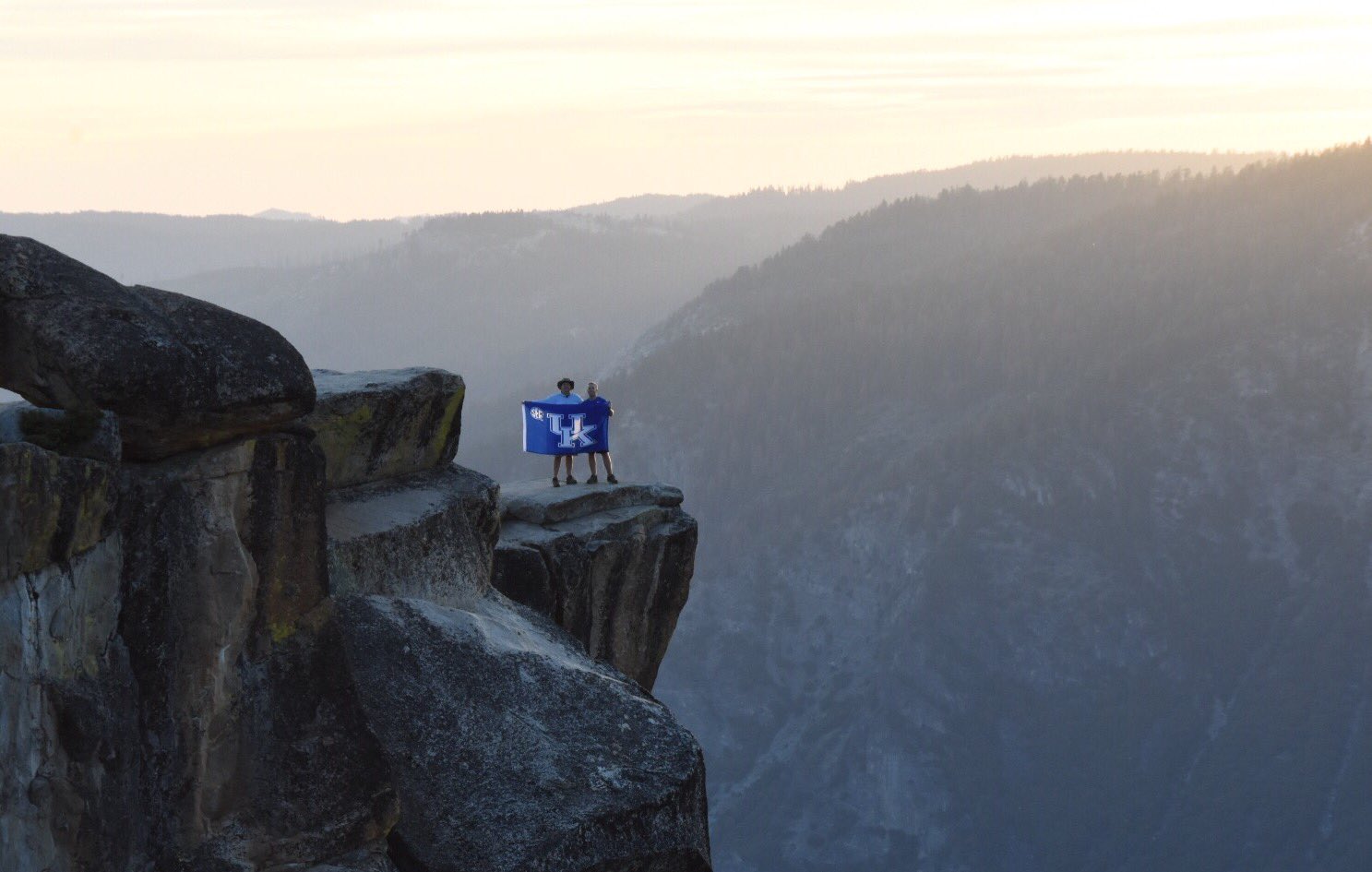 It's a new day and a new week in KSR land, so why not start it with an awesome picture? Shoutout to Austin Lee and Rod Polk for representing UK atop a 3,000-foot drop at Taft Point in Yosemite National Park. Given the miserable heat and humidity that's suffocating the South right now, I'd give a lot for one breath of fresh, cold mountain air.
Alas, I'll have to settle for air conditioning. Let's go over some leftovers from the weekend and run through today's agenda…
I hope people don't judge MKG too much for his training facility comments
Much has been made about the new UK Football Training Facility, and with good reason. The $45 million, 100,000-square foot facility is a much needed, state of the art commitment to the UK football program. Much has also been made about Michael Kidd-Gilchrist's comments about the facility on Saturday. When discussing the changes around campus, MKG admitted he was "very, very jealous" of the new football facility and didn't understand how the basketball team didn't get one. JD Harmon fired back at MKG on Twitter and many football fans interpreted the former Cat's comments as a shot at the program, but after watching the clip, I don't think it was that big of a deal. MKG doesn't have a mean bone in his body, and, according to those there, the comment came off as a joke. Plus, seeing as MKG suffers from a mild speech impediment (which he made great strides with while at UK), I discourage people from reading too much into his tone.
Ultimately, fans should just be glad football has something basketball players are jealous of. Besides, the Joe Craft Center isn't too shabby. (In fact, it's pretty amazing.)
Russ Yeast got an offer from Alabama
Many believed the former UK commit was headed to Louisville, but maybe not after snagging an offer from Alabama on Saturday. Things may not have ended well between Yeast and UK, but congrats to to Craig Yeast's son on the huge offer.
James Hudson will announce his decision soon
Commitment coming real soon 😳

— James Hudson III â"¢ (@__BallisLife2) July 24, 2016
Another fellow former UK commit is nearing a decision. Four-star defensive end James Hudson teased his commitment last night, and unlike Yeast, Kentucky is still in the running, along with Louisville, Michigan, and Alabama. Pulling Hudson back in would be a huge deal, so cross your fingers and stay tuned…
This UK Football ball marker is cool
At the Women's Clinic, UK fan Michele (who writes for Cameron Mills' website) showed me this cool UK Football golf ball marker that fellow avid golfer Lamar Thomas gave her. As you can see, it has this year's schedule on it and the center logo is magnetized and comes off to act as the actual marker. Cool, right? (And no, I have no idea where you get one.)
Demarcus Cousins had 12 points and 7 rebounds in Team USA's win over China
Team USA destroyed China last night 106-57, and Boogie came off the bench to put up twelve points, seven rebounds, and two assists in 18 minutes. It wasn't much of a game, but Boogie turned in some highlights, including this impressive spin move:
Team USA plays China again on Tuesday (10 p.m.) and Venezuela Friday (9 p.m.) Until then, their training camp will travel from LA to Oakland to Chicago. They'll wrap their exhibition tour with a game vs. Nigeria in Houston on August 1.
Mark Stoops will be on KSR this morning
The guys are in Philadelphia for the Democratic National Convention, but that's not stopping Mark Stoops from calling in to talk some football. Tune in to hear what Stoops has to say about his team 40 days away from kickoff.