UK Fan in Germany wants the Friday Morning Wakeup
You're looking at Lynda Clark, a diehard UK fan who repped the Cats all the way in Germany. Cheers, Lynda. I hope you enjoyed that picturesque little village behind you, where surely they drink pilsner out of steins, are very clean and polite, and have trains that always run on time. At least, that's my experience with Germany. Cheers!
Let's go over the agenda, because there's a LOT happening today…
There's a basketball game tonight
First things first. Tonight at 6 p.m., your Kentucky Wildcats will take on the Kentucky State…Googling, Googling…Thorobreds. Darnell Williams will bring his team into Rupp Arena for only the second meeting between the two schools. UK won the first meeting back on December 15, 2001 118-63. If I were a betting woman, I'd wager tonight's game will have a similar outcome.
We'll have coverage of the game tonight starting at 3:30 p.m. with the KSR Pregame Show. As we did on Monday, Drew and I will run comment threads for the first and second half in lieu of a live blog. We were pretty pleased with the feedback Monday, so join us for what will surely be an entertaining Friday night.
Harry Giles will announce his decision at noon
Yesterday was a busy day on the Giles front. We found out that Giles has a partial tear in the ACL of his right knee and will miss the rest of his senior season. Two years ago, Giles tore the ACL, MCL, and meniscus in his left knee, making this news especially cruel. With the bad news out of the way, Giles will announce his college decision today at noon on SportsCenter. If he doesn't pick Duke, I'll be shocked, but I guess stranger things have happened. Do yourself a favor and don't get your hopes up.
Who knows what will happen at Georgia
If you think there's tension around the UK football program, get in your car and head down I-75 to Athens, Georgia. Yesterday, there was DRAMA around the Georgia football program, with rumors that defensive coordinator Jeremy Pruitt was out and the boosters were coming after Mark Richt. USA Today reported that Georgia athletic director Greg McGarity actually wanted to fire Richt last season, but the school president overruled it. At one point, the word on Twitter was that Richt told Pruitt he was fired and Pruitt punched him in the face. Richt did his best to squelch the rumors by tweeting that Pruitt was still the defensive coordinator and was "in the office working diligently getting ready for Kentucky!" but he might as well have been tap dancing to distract people from what is clearly a sh*tstorm.
What will happen today when the Cats roll into town? Excellent question. If you're an optimist, you hope that the mess at Georgia is so bad it transfers on to the field; if you're a pessimist, you fear the team will rally together and somehow get things working just in time to roll the Cats. I'm a realist, so I'm going in to the weekend with low expectations hoping to be proved wrong.
UK will be without Boom, Darius West, and Joey Herrick
Last night, Mark Stoops confirmed those three players will be out, Boom with an elbow injury, West an ankle injury, and Herrick a bone bruise. With Boom out, Mikel Horton will shoulder the load for the Cats. He was one of the only bright spots from the loss to Tennessee, so here's hoping that performance carries over.
Jarrett Allen starts his official visit
The early signing period starts next Wednesday, making this a huge weekend for recruiting. Five-star power forward Jarrett Allen will be on UK's campus this weekend for an official visit, and Kentucky's chances look pretty good right now. The 6'10" Texas native still has a list of eight schools and probably won't sign until the spring, but ESPN and Hoopseen.com peg the Cats as the favorite in his recruitment. He's a pretty quiet guy, so make him feel welcome at Rupp tonight, okay?
Devin Booker has custom ping pong paddles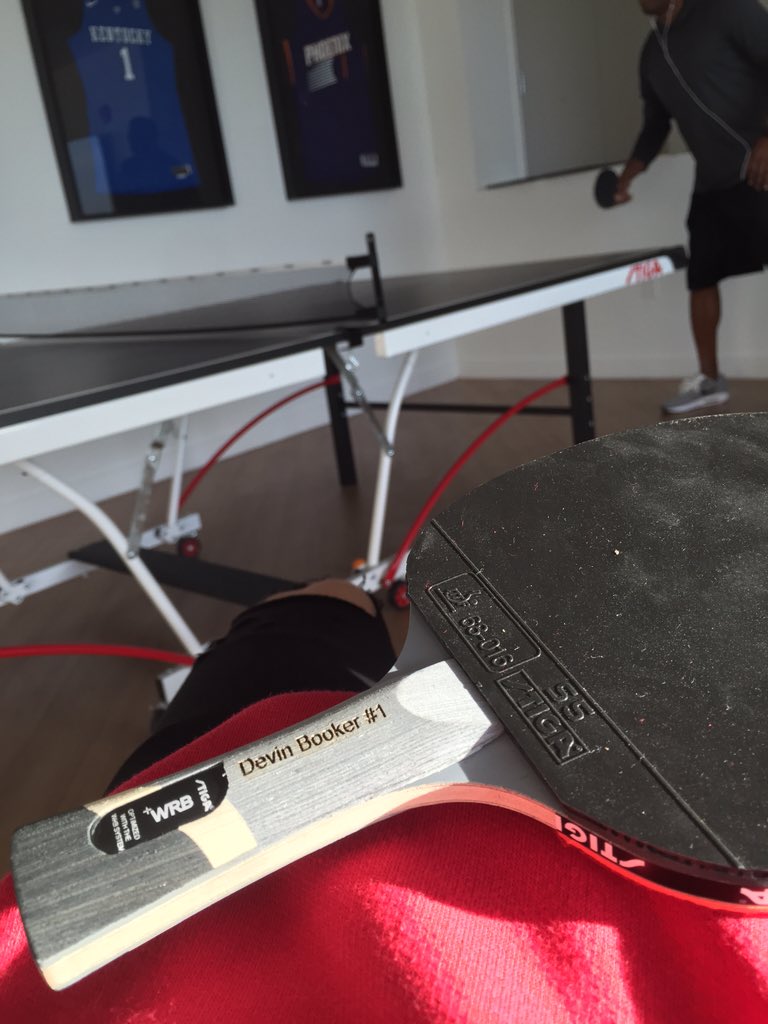 Devin Booker's got a pretty nice life right now. He's playing for the Phoenix Suns with three other former Cats, he's got money, and well, he's Devin Booker. He's also got quite the ping pong set up at his house, complete with framed #1 jerseys and custom ping pong paddles. I'm not sure why this picture amused me so much, but I like to think that Devin and his fellow Sun Cats get together to play ping pong and watch UK. It's a nice dream, right?
The KSR Preps Game of the Week is Franklin County at John Hardin
The playoffs start this week, and our own Trey Huntsman will be in Elizabethtown to watch Franklin County take on John Hardin. In case you missed it, here are Trey's previews of the playoffs:
Thoughts out to the family of Daniel Ellis
The Richmond police officer died early this morning after being shot in the head on Wednesday while investigating a robbery. The 33-year-old Ellis leaves behind his wife and a three-year-old son. This morning, dozens of officers joined the procession to escort his body from UK Hospital to Frankfort:
Procession in honor of Officer Daniel EllisWKYT viewer Chase Reynolds shared this video of the procession carrying Officer Daniel Ellis's body to Frankfort. Dozens of officers took off from UK Hospital to pay tribute to their fallen comrade.

Posted by WKYT on Friday, November 6, 2015
Absolutely tragic.
KSR is at the McDonald's in Paris
Come on out to 3999 Lexington Rd in Paris to see Matt and Ryan preview tonight's game against Kentucky State, tomorrow's game against Georgia, and everything in between.