Tuesday's Top 10: Rivalry week, Mychal Mulder, Karl Towns & Shirtless Bill Walton
Good morning, friends. Throughout the week, we'll be revisiting some of our favorite Louisville fan pictures, including this classic from Tootsie's in Nashville in 2011. With the Cards a 23.5-point favorite and Lamar Jackson poised to run all over the Cats' defense, we may need photos like these to remind us that even if Louisville wins, they're still Louisville, and we can always make fun of that.
With that in mind, let's go over the ten things on the agenda today…
1, Rivalry week rolls on
Yesterday brought us Bobby Petrino joking that he wants his children to egg Kentucky fans' houses and Mark Stoops saying all of the nice things about Lamar Jackson. What will today bring? Between pregame scuffles and mid-game collapses, Kentucky's emotions have been all over the place in the series the past few years, so Stoops just wants his guys to remain focused amidst the chatter.
"It's about being very precise with our focus and our discipline. Again, that's easy to talk about but it's different. These kids have emotions. You want that, but you want to be able to control it."
2. Tickets are still available for the game in Kentucky's section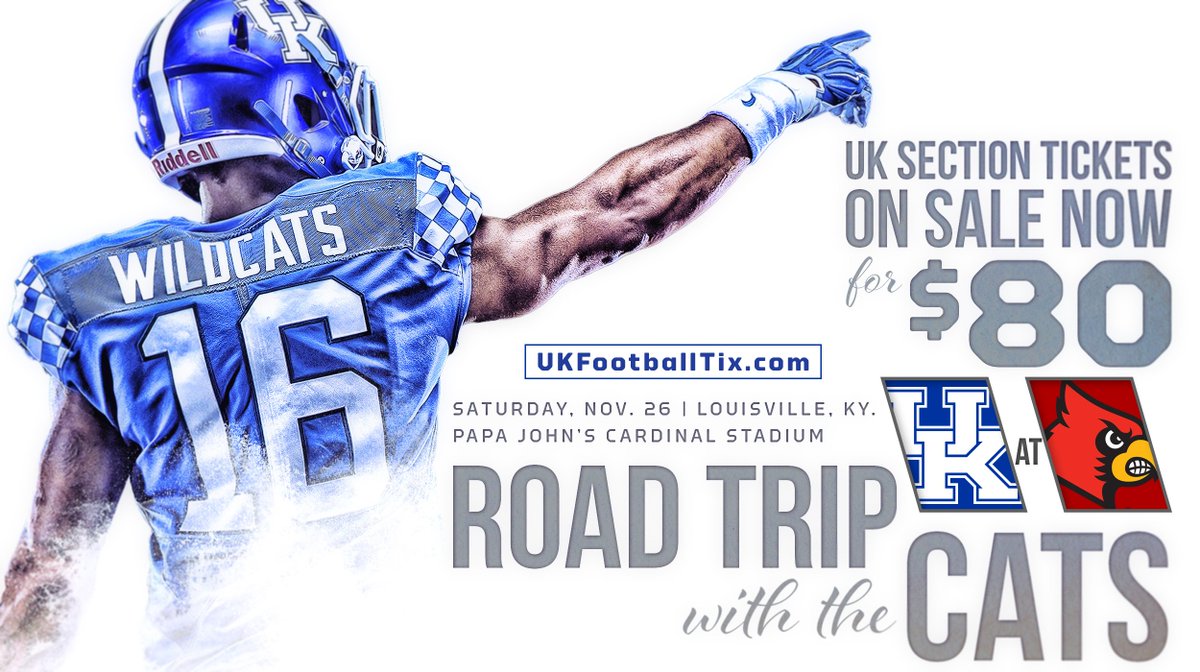 Want to go to the Governor's Cup yourself? There are still tickets available in Kentucky's section at UKFootballTix.com. You can also request tickets to UK's bowl game, wherever that may be.
3. Eddie Gran will address reporters after practice
Check the site tonight to see what Gran and select offensive players have to say about Saturday's showdown.
4. John Calipari will speak to the media at 2:30 p.m.
This time tomorrow, we'll be only four hours away from Kentucky's game vs. Cleveland State. We'll also have comments from some select players, so check the site the site this afternoon, if only to see if De'Aaron Fox's hair is back to normal.
5. Mychal Mulder's confidence is on the rise
On his call-in show last night, Cal said he elected to take a chance on Mychal Mulder vs. Duquesne, putting him in first ahead of Dominique Hawkins, and it paid off. Mulder had a career-high 13 points, including three threes, and, most importantly, didn't hang his head after missing his first three shots. Dom still brings more to the table in terms of defense and rebounding, but if Mulder can continue to hit it from the outside, he could be Kentucky's answer to cold shooting nights.
6. Karl Towns was ridiculous again last night
Towns turned in his seventh double double of the season last night with a 27-point, 18-rebound performance against the Celtics, including this freakish play vs. his mentor Al Horford:
.@KarlTowns is such a freak. pic.twitter.com/gqyry72wSz

– Alex Kennedy (@AlexKennedyNBA) November 22, 2016
Remember, Karl is 7-feet tall.
7. Dakari Johnson won D-League Player of the Week
Congrats to Dakari, who was named NBA D-League Performer of the Week after averaging 19 points and 8 rebounds over five games for the Oklahoma City Blue last week. Last night, Dakari had a game-high 22 points, 5 rebounds, 3 assists, and 1 steal in OKC's win at Salt Lake City.
8. The Chattanooga school bus crash is horrible
Yesterday, a bus carrying 35 children ranging from kindergarden through fifth grade crashed into a tree in Chattanooga, killing at least five kids and injuring a dozens over. Headlines like these are the worst, and our thoughts are with the victims and families. Reality sucks sometimes, which makes clips like this next one even more essential…
9. Did you see a shirtless Bill Walton rowing during the Maui Invitational?
Bill Walton, shirtless and rowing.

college basketball back pic.twitter.com/yaGjCwmED3

– Ricky O'Donnell (@SBN_Ricky) November 21, 2016
Well, now you can't unsee it.
10. College basketball tonight
Thanksgiving break has probably started for most of you, so why not spend it watching hoops? Here's a rundown of games today:
6:00 PM: Auburn vs. Texas Tech
7:00 PM: South Carolina State vs. #18 Syracuse
7:00 PM: Grambling State vs. #7 Virginia
8:00 PM: Arkansas vs. Minnesota
8:30 PM: #17 Purdue vs. Utah State
9:00 PM: #3 Indiana vs. Fort Wayne
10:00 PM: San Jose State vs. #15 Saint Mary's
Go Fort Wayne!