Tuesday's Top 10: Reboot Edition
After a weird start to the week, John Calipari ended the day by giving us a new catchphrase to help the Cats and the fans bounce back tonight against LSU. Allow me to explain Coach Cal's latest creation.
1. #Reboot
John Calipari announced this year's version of "the tweak" on last night's call-in show, but he insisted it's not a tweak. The reason why? This team was actually really good just three short weeks ago. The reboot is about getting back to what they did well. Still, John Calipari isn't one to get bogged down by details. This is what he was willing to share about the reboot.
Fox and the guards must learn to balance patience and pushing the ball.
"Ya gotta go in there and fight or I'll play other people."
A few guys have very specific tasks they must be able to accomplish in order to play.
"My hope is you're gonna watch and say, 'I see a difference.'"
Calipari admitted there's no more rewarding feeling for him than experimenting with a group and watching his plan work. He's confident the reboot will work before the regular season concludes in a month.
"Let me do my thing a little bit with these guys."
2. Malik Monk Apologized
A college athlete had to apologize for smiling during a basketball game. "Winning is on my mind from the jump, so if anybody took that wrong I'm sorry for that," Monk said yesterday.
Is this rock bottom? Maybe.
3. A Big Drop in the Polls
Even though there was a significant drop in the polls, the numbers are still HUGE. Eighth place a week ago, the coaches have Kentucky ranked No. 12 while the AP believes the Cats are No. 15.
In better, unrelated news, Dakari Johnson was awarded NBA D-League Player of the Week. Dakari and Alex Poythress earned a spot on the D-League All-Star Roster. Both are averaging more than 18 points and 7.5 rebounds a game. The D-League All-Star game is Saturday afternoon of All-Star Weekend at 2:30.
4. Tai is Still Sick
Calipari said he had to kick Tai Wynyard out of practice yesterday after he showed signs of illness. Malik Monk also admitted he had the sniffles a little bit, but Wynyard is the only one who might miss tonight's game against LSU.
5. LSU is Still Terrible
The Tigers are tied with the Missouri Tigers at the bottom of the SEC standings. Their only win in conference play (1-9) came against Mizzou on January 4. At 9-13, their "best" wins came against Houston and Southern Miss. If there was ever a team to play after an embarrassing loss on the road, it's LSU.
The Cats are 25-point favorites, yet they're still getting ESPN's A-team tonight at 7:00 with Dan Schulman, Jay Bilas and Maria Taylor on the call.
6. Tubby Smith is (Still) an Awesome Human
Orlando "Tubby" Smith is donating $1 million to his alma mater, High Point University, to help build a new on-campus basketball arena. Four coaching gigs removed from his time at Kentucky, there's one thing Smith's done well at every stop: he gives back to his community. High Point's new home is expected to be finished by 2020. The court shall be named after Tubby and his wife Donna.
7. The KSR Caricature Just Got Bigger
The infamous depiction of KSR's three-headed monster added an STD.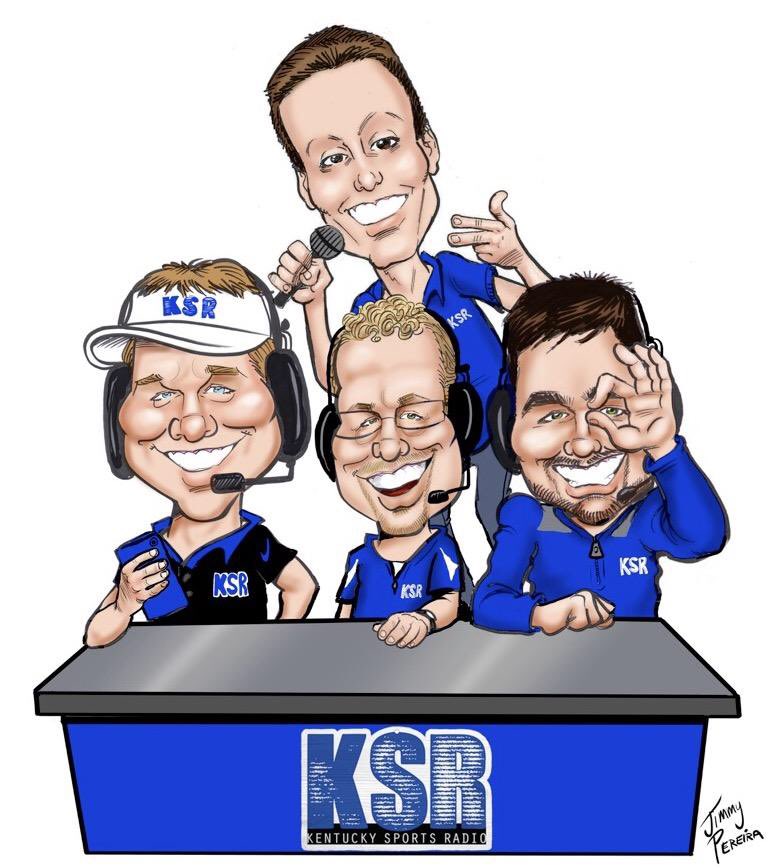 8. LeBron Walked…Twice
The Cavs-Wizards game was a regular season game for the ages. It ended with Wall's Wizards falling in overtime, but that never would have happened if NBA officials used their whistles to call walks. LeBron's missed layup followed a terribly egregious walk.
wowowowowowow. 2nd NBA night in a row a former MVP missed a game winning layup (Steph Sat, no Sun night games) pic.twitter.com/VnA8Ybdgkg

– Michael Gallagher (@MikeSGallagher) February 7, 2017
His game-tying bank-shot also featured at least one too many steps.
LeBron….. pic.twitter.com/sU6DMXTMoz

– Full Court Prez (@fullcourtprez) February 7, 2017
9. Pitino Mad
Rick Pitino's temper got the best of him after the Cards were crushed (once again) by the Virginia Cavaliers. Slick Rick suspended Deng Adel and Mangok Mathiang before the game for breaking curfew.
After the 71-55 loss, Rick took just two questions. When Eric Crawford asked him about rebounding and mentioned Mathiang's name, Rick replied, "I don't — don't mention his name to me. That's all I've got. Thank you."
No Rick, thank you. Your behavior continues to provide content for Kentucky Sports Radio dot com.
10. Good Vibes Only from this White Filly
There was a lot of negativity in this post, so let me end on a good note. A beautiful white filly was born in the bluegrass during Sunday's Super Bowl. You can't see this tiny creature and not smile.
Excited to announce a stunning white filly by REVOLUTIONARY o/o Beautiful Devil born during the #SuperBowl at Patchen Wilkes Farm! pic.twitter.com/UPTS6pCIMd

– WinStar Farm (@WinStarFarm) February 6, 2017
KSR is one hour away. Keep your radio close, and your iHeart Radio app even closer.