Tuesday's Top 10, Brought to you by a Salty Russell Westbrook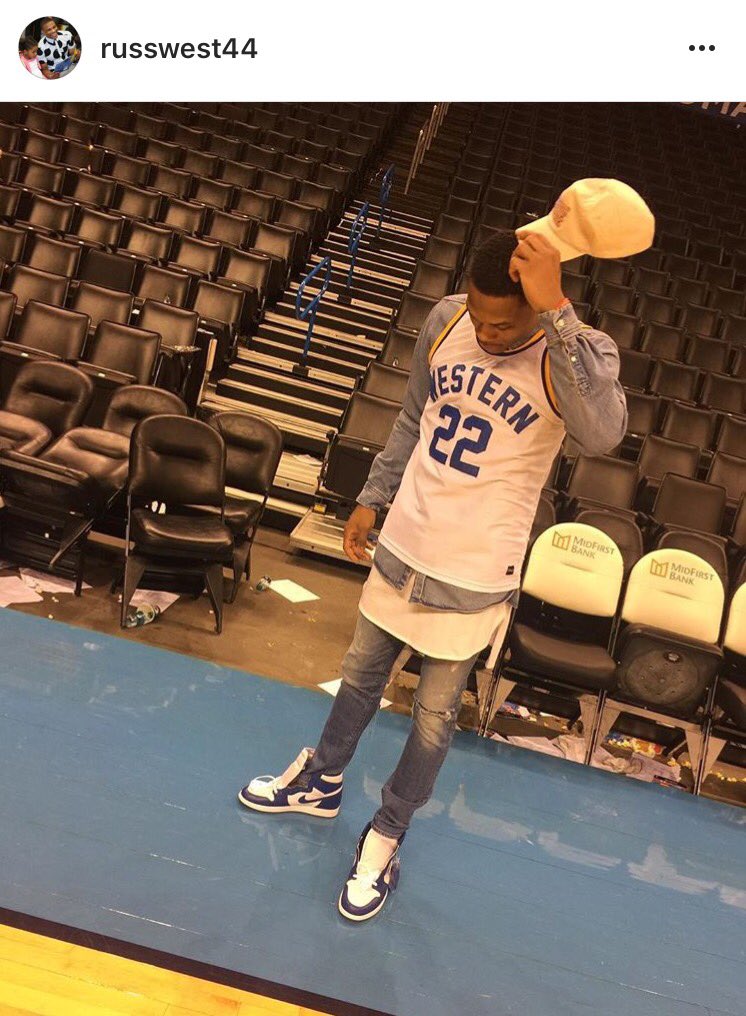 When KSR hits the road, you never know what's going to happen. It was not surprising when Jerry Lawler's Diner turned out to be trash, or that a ghost drank a glass of wine at the haunted hotel in Oklahoma City. I think we all were surprised to see Russell Westbrook snap back at KSR's Editor-in-Chief last night on Twitter.
After Drew poked a little fun at Westbrook's Instagram modeling, Westbrook got salty. As usual, Drew had the last laugh.
All of this happened on a Monday. They still have three more days before they reach Vegas. I can't even begin to guess the kind of shenanigans they'll get into, so you better stay tuned.
1. Kentucky Added a Football Commit
The first UK news of the week broke early Monday morning when Florida offensive guard Sebastien Dolcine flipped his commitment from UCF to UK. He's the second UCF commit to flip to Kentucky, following defensive end Chris Whittaker. Dolcine is commit No. 17 in the class of 2017 and the third offensive lineman, considered the No. 78 offensive guard in America.
2. More Commits Coming?
Junior college defensive back Lonnie Johnson will choose between Kentucky, Georgia and West Virginia this evening at 5:00 p.m. The Gary, In. native took his official visit to Georgia last weekend and UK the previous week. Johnson is considered one of the top two safeties in junior college football. He's one of a few JUCO transfers that could pick UK this week; more on that a little later today.
3. No Movement in the Polls
After defeating Valpo and Hofstra, Kentucky stayed at No. 6 in the AP Poll and No. 7 in the Coaches' Poll. When the Cats take on the Tar Heels this Saturday in Vegas it will be a matchup between No. 6 and No. 7, regardless of which poll you prefer.
4. Jeopardy Fail
This $1,000 clue in the category "basketball" is about as easy it gets.
This was the final question in the #NBA category on @Jeopardy tonight? No respect for Karl Malone…. pic.twitter.com/K5KGaMsjt5

– Def Pen Hoops (@DefPenHoops) December 13, 2016
5. Calipari Doesn't Wrap Christmas Presents
I understand where Cal is coming from. Wrapping Christmas presents is much harder than it looks. Even though I'm terrible, I do it anyway. When they see the excessive amounts of paper crumpled up in the corner, they know the gift came from me. Cal needs to suck it up and get to wrapping in between book signings.
Calipari also admitted he doesn't chop onions. The coach-speak translation: Cal doesn't cry.
6. In Case you Haven't Heard Cal Enough, There's a Podcast
If you couldn't find the time to hear Cal in one of his 57 weekly media opportunities, he's giving the BBN another chance to get to know him in a new weekly 30-minute podcast. Featuring guests from Papa John to Drake, the first episode was taped yesterday in New York City and should be released later this week.
7. Jeff Fisher (Somehow) Got Fired
Of all the surprising news from 2016, nothing caught me off guard quite like the news that Jeff Fisher got the ax in L.A. The King of keeping a job just recently got a two-year contract extension after allowing just shy of 50 points in a game. The strange "contract extension, then termination" move prompted one local news station to throw some serious shade in the chyron.
8. New Coach at WKU?
Pete Thamel is the first to report that Mike Sanford will be the Hilltoppers' next head coach. Notre Dame's offensive coordinator for the past two seasons, Sanford also spent time coaching at his alma mater Boise State, Stanford, and a season at WKU under Willie Taggart. It's not yet official, but once it is confirmed there will only be one head coaching vacancy remaining: Temple.
9. Boogie and Randle Fight
You must use the term "fight" loosely. The two got tangled up near the top of the key and tumbled to the ground. The no-call infuriated Lakers' coach Luke Walton. Watch him get tossed out of the game by the officials.
Luke Walton ejected. Not happy about Randle and Cousins locking up and no foul called. pic.twitter.com/Cjb3zvCZtX

– â"'arcusD2.0 (@_MarcusD2_) December 13, 2016
Don't worry BBN, the two former Cats made up at the half.
DeMarcus Cousins and Julius Randle have made up with one another during halftime. #BBN pic.twitter.com/Er0ocIODSz

– Scott Charlton (@Scott_Charlton) December 13, 2016
10. Finals Must Really Suck
Sorry students, but I'm not sorry. I've gone one year without school and it feels oh so good. You should try it. You should also listen to KSR, from somewhere in West Texas, starting in one hour.