Top 10 for a Day Which Will Live in Infamy
75 years ago, a beautiful Hawaii Sunday morning was disrupted by the sound of Japanese fighter planes streaking across the sky. By the time the planes departed, 2,400 Americans lost their lives in one of the deadliest attacks in U.S. History, thrusting America into World War II.
Survivors have traveled thousands of miles to be at Pearl Harbor today. Most are now in their 90s, describing this as "the last reunion." Their stories are fascinating tear-jerkers. There are few people in our country that deserve more respect than those who fought for our freedom in World War II. Today all of those who made the ultimate sacrifice for our country will be honored in Hawaii, starting at 7:45 a.m. local time, the moment those fateful attacks began 75 years ago.
Now, onto less important news.
1. Cats Look to Bounce Back vs. Valpo
The Cats will try to move on from their first loss of the season tonight at 8:00 on the SEC Network when Valparaiso comes to town. Saturday's loss to UCLA was a humbling loss. The wake-up call revealed the Cats' weaknesses, especially on defense.
"There are a lot of things that I learned that last game that I'd rather win in a close win than a loss, but you know what, now you've got this game," John Calipari said yesterday. "We'll be fine."
2. Valpo is Good
The Cats are 19-point favorites, but that doesn't mean taking down Valpo will be easy. A perennial power in the Horizon League, Valpo's only loss came at No. 4 Oregon. Alec Peters is their star, a 6'9″ forward that will play in the NBA. How does Calipari plan to stop him? "You go to church and light candles and stuff."
More on Valpo throughout the day.
3. A Future Player will be in Attendance
Next year he'll be on UK's sideline, but tonight he'll be sitting behind the bench. Adam Zagoria reports Shai Gilgeous-Alexander and some of his teammates will be in attendance at tonight's game.
4. Little Debbie Christmas Trees are Back
They're smaller than they used to be but I don't care, I still ate half the box yesterday.
5. Jon Toth & Jordan Jones are Second Team All-SEC
They deserve recognition, but probably more recognition than second team. The fact that Mike Edwards was not recognized is absolutely ridiculous. Regardless, don't get too worked up. Before the day is done Mark Stoops may be your SEC Coach of the Year.
6. Football Commit Coming?
Yesterday 3-star offensive tackle Naasir Watkins spoke with KSR after visiting Lexington this weekend. Stoops has only received one commitment so far after the big weekend, but Watkins could be next.
"I'd like to make a decision before Christmas," he said. "Maybe in the next week or so. This is really important to me and my family. I want to sit down, talk over all of my options with them, and go from there."
Read the full article to find out which 4-star prospect could join Watkins in Lexington.
7. Willie Taggert is Oregon's Next Head Coach
The college football coaching carousal continues to spin. Willie Taggert will replace Mark Helfrich at Oregon, leaving a vacant seat at USF. It matters to Kentucky because the Cats are actively recruiting a USF commit, 3-star athlete Bruce Judson. Darrin Hinshaw and Lamar Thomas visited his home in Cocoa, Fl. last week and Judson has an official visit to Kentucky planned for January 11.
8. John Wall Dropped 50
Actually, he dropped 52, only the fourth NBA player to go for more than 50 this season. Peep his highlights:
9. The 2017 Forecastle Festival Lineup was Released
Waka Flaka is gonna be there, so you know it's a party, it's a party, it's a party.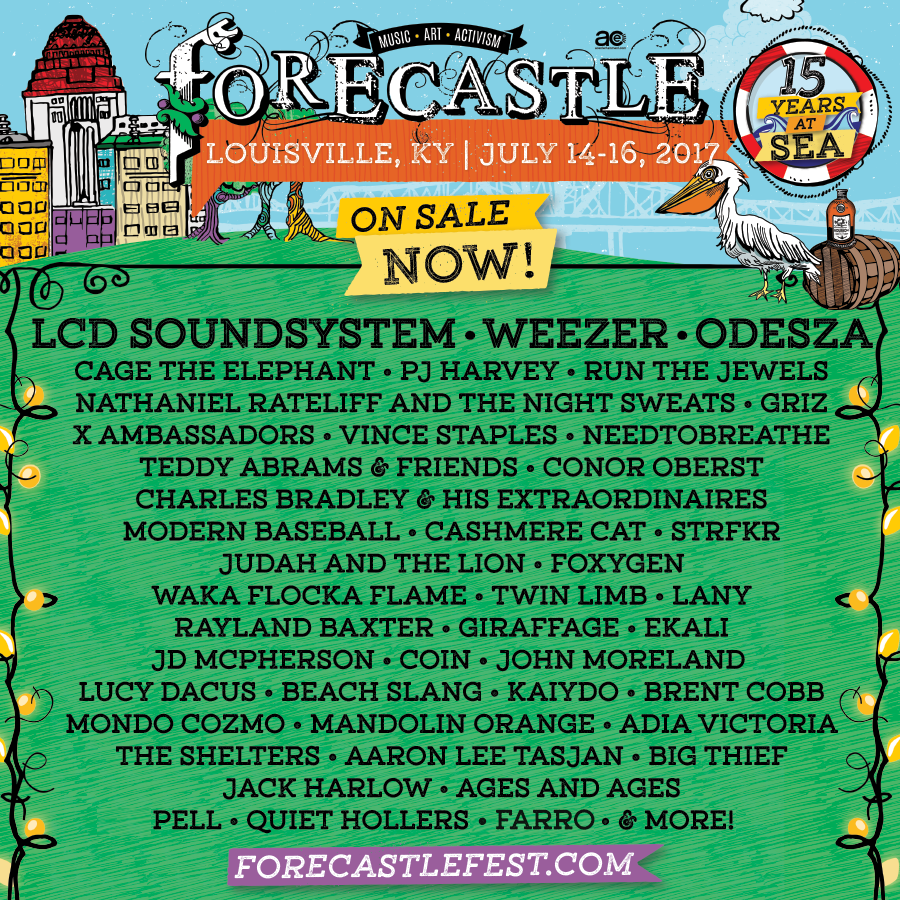 10. Tonight's College Basketball Schedule
7:00 — Southern Illinois at Louisville
7:00 — Ga. Tech at VCU on ESPNU
7:00 — Cal at Seton Hall on FS1
9:00 — Davidson at North Carolina on ESPN2
9:00 — Howard at Maryland on ESPNU
11:00 — Washington at Gonzaga on ESPN2
KSR starts in an hour.