Tony Vanetti's Friday Morning Wakeup
Over the past few days, I've done something I've never done before: listen to UofL talk radio. How could I not? The prostitution scandal has captivated the Commonwealth and while many of his Louisville colleagues are sticking their heads in the sand regarding the story (cough, Jody Demling, cough), Tony Vanetti is standing tall as the voice of reason.
Yesterday on the "Afternoon Underdogs," Vanetti called out the Pitino apologists and took UofL President James Ramsey to task for his odd handling of the situation, calling for him to be presidential instead of pushing all of the power in Tom Jurich's hands. As the dominoes continue to fall around Louisville basketball, Tony is calling it like it is, going as far to say that Pitino cannot survive the scandal. No matter how many times his fellow media members say Pitino didn't know what happened or how heartbroken he is over it all ("It happened in his brother-in-law's dorm!!"), Vanetti is right when he says none of that matters. This happened under Pitino's watch and as Tony put it, "Would Rick keep Rick?".
In fact, the only time I've felt bad for the Cards in the past week is when Tony told the story about how excited he was watching Pitino's plane land in Louisville fifteen years ago and how his boss, a Kentucky fan, warned him that two things would happen during Pitino's reign: he would win a lot of games and he'd break your heart. That pang of deja vu actually had me feeling sorry for our rivals.
Regardless, Vanetti was great yesterday, so much so that angry Louisville fans questioned whether or not he was working for KSR. He's not, but Tony, the door's always open; in fact, you can have the KSR shirt off BTI's back.
What will happen with UofL today?
A rundown of what happened yesterday in the prostitute scandal:
"Breaking Cardinal Rules" author Dick Cady said on KSR that he expects Katina Powell will speak to the NCAA
Ohio State freshman JaQuan Lyle confirmed the escort allegations to the NCAA
An anonymous former Louisville player confirmed to Eric Crawford that strippers were in the dorm rooms
UofL President James Ramsey threw his support behind Tom Jurich, but did not mention Rick Pitino
Rick Pitino gave another bizarre interview, this time to Terry Meiners. Meiners grilled Pitino, who was defiant when asked if he would resign. "I don't know what resigning would accomplish," he said. "I think that's the cowardly way out." He ain't leaving on his own, folks. His ego is too big.
What will happen today? I can't wait to find out.
No one is having more fun with this than the San Diego Strippers Twitter account
SoCal strippers have standards, yo.
In UK land, Edrice "Bam" Adebayo will start his official visit
The third best power forward in the 2016 class will arrive in Lexington soon, and, although most believe NC State is the favorite after snagging his AAU teammate Dennis Smith, John Calipari has been putting on the press recently. Hopefully Bam enjoys campus and seeing what it's like to have your basketball practice televised nationally. Yes, Bam, we talkin' bout practice.
A trip to Keeneland can't hurt, either. Just saying.
UK will wear blue vs. Auburn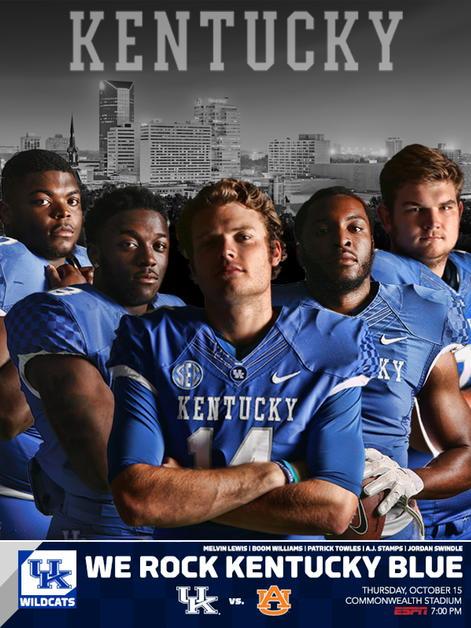 The game is less than a week away, but UK wants you to get your outfit ready. Yesterday, they released this poster on Twitter calling for a Blue Out, which includes the players. Does this mean we'll see the blue chrome helmets too?
I don't listen to Drake's music a lot, but that "We rock Kentucky blue" quote is gold. Just fine with that being a slogan.
Rupp Arena's got one more prize to give away today on Twitter
To promote the Kings/Pelicans exhibition game next Saturday at Rupp, the folks at Rupp Arena have been giving away prize packs all week on Twitter. Today is the final giveaway, and they've hinted that it may include SIGNED shoes from DeMarcus Cousins. Whoa. Keep your eye on their Twitter account (@Rupp_Arena) from 8:30-10:30 a.m. ET to participate.
I'm going to see Florence & the Machine tonight
I've been a fan for years, and have only seen them live as the opener for U2 a few years back. The forecast looks sucky for an outdoor show, but hopefully Mother Nature will work with me starting at 8 p.m. I also hope she'll play this song, which is getting a lot of run on my iPhone these days:
It's a slow build, but when the tempo picks up about 1:45 in, there's no better running song in this world, I'm convinced.
Matt and Ryan are live at the Red vs. Blue Hunger "Drive-Thru"
Yum! Brands is celebrating its 18th anniversary with a Red vs. Blue Hunger "Drive-Thru" benefitting Dare to Care Food Bank today from 5 am to 5:30 pm. Matt and Ryan will do the show from the Yum! Brands Restaurant Support Center (1441 Gardiner Lane) in Louisville from 10 a.m. to noon. If you bring at least 18 canned goods, you will be entered into a drawing for either UL-Duke or UK-LSU basketball tickets. The winners will be announced at noon. You ready?