Today on KSR, Presented by 21c/Lockbox
A message from today's sponsor:
Executive chef Jonathan Searle brings simple, honest food to Lexington. Indulgent dishes from Braised Short Rib and Cornmeal-Dusted Catfish to Hot Chicken Sandwich and Griddled Steak Melt, showcase Searle's commitment to sourcing local, high-quality ingredients across the Bluegrass region. Revel in the bounty of Kentucky when you enter to win dinner for two by signing up to receive monthly menu updates and recipes to make at home with our e-newsletters at 21cmuseumhotels.com/mailing-list.
---
Cal is Feeling Good
Swaggy Cal was back in a big way on Monday as he made rounds through a variety of national media platforms.  He loaded up one joke for CBS Sports and PTI: "I'm worried that the Selection Committee may try to re-seed and send us back out to L.A."  Calipari even pulled out Inside Higher Ed's APR Bracket for a little humblebrag.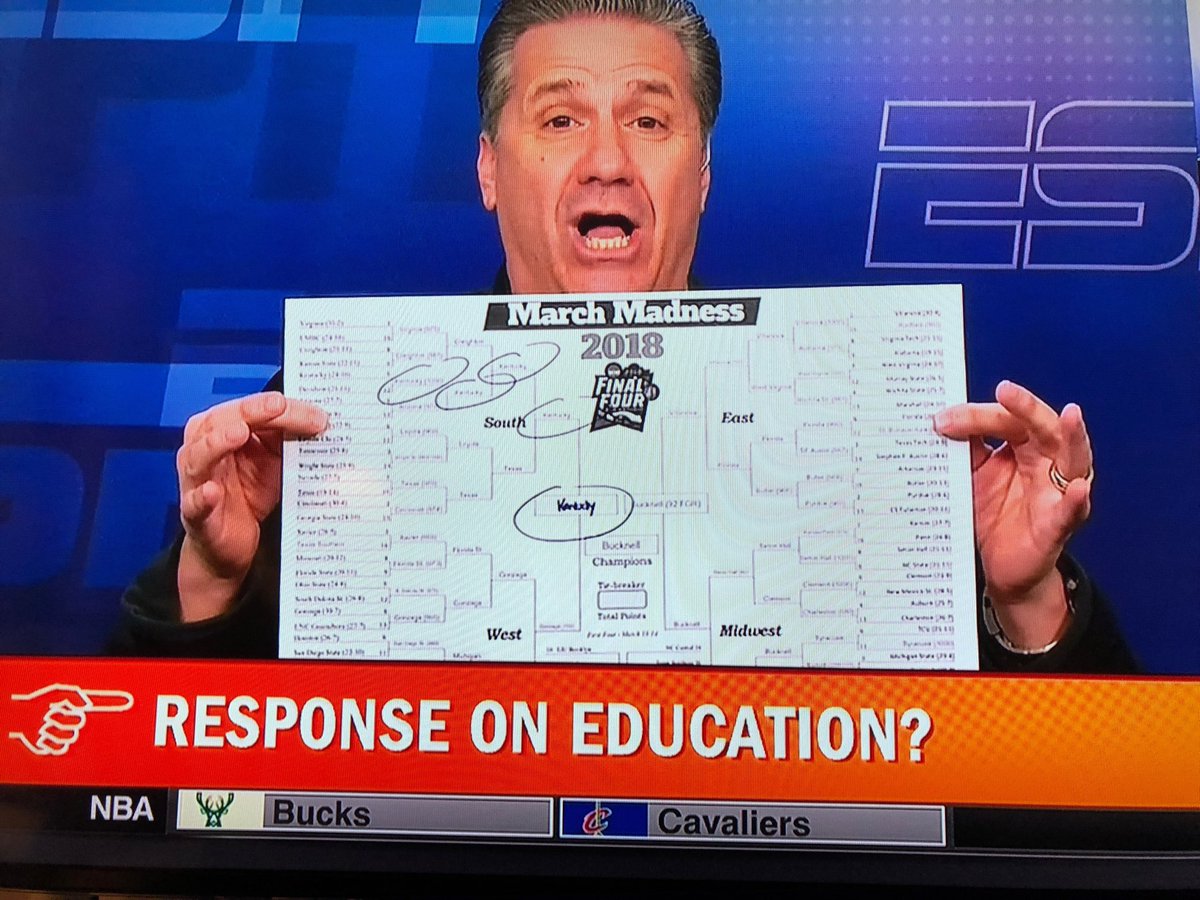 After his national TV appearance, Swaggy Cal put on a headset for an hour on the John Calipari Show.  He's not counting his chickens before they hatch, but you can tell he really, really likes his team.
Check out all of Cal's interview on PTI in yesterday's podcast, beginning at the 13:43 mark.  If you want a replay of The John Calipari Show, click here. 
Cal Did Not See Vanderbilt Workout
After teasing it in the morning, he left all individual workouts to his assistants and did not see Vanderbilt on Monday.  Today Calipari will put it to the test during a full team practice before the team departs for Atlanta.  Cal is hopeful that Vanderbilt can at least be used in case of emergency, but we will not receive an update until after UK's shoot-around at Phillips Arena tomorrow afternoon.
Make Sure UK's Managers Win
Kentucky can't lose to little brother in anything, especially when it's on the hardwood.  Do your thing, BBN.
WEST SWEET 16
(Expected score as 50% of vote)

3 – Louisville (52.7%)
10 – Kentucky (47.3%)@UofLMBBManagers @UK_Managers

— Manager Games (@ManagerGames_) March 20, 2018
Spring Football Returns
Mark Stoops' football team is back on the gridiron after a week away for Spring Break.  This morning we will hear from the offense.  Stay tuned for updates from the Nutter Football Training Facility.
UK Baseball Hits the Road
The Bat Cats are back in action today after a rough, three-loss weekend at Arkansas.  They'll travel to Cincinnati to play Xavier today at 3:00.  Hopefully they can avenge an early mid-week loss to the Musketeers before the weather forces them off the field.
Until then, if you've never listened to The KSR Baseball Podcast before, try yesterday's.  I have a feeling you'll laugh at least once or twice.
Louisville is Playing for the NIT Final Four
While Kentucky is playing for the REAL Final Four.  The Cards host Miss. State tonight at 9:00 on ESPN, following a 7:00 match-up between Penn State and Marquette.
[mobile_ad]