Today on KSR, powered by Lextran: The Florida game approaches, McDonald's All-American Game moves to Atlanta
A message from our friends at Lextran:
Heading to the game? Hop on the Lextran football shuttle to Kroger Field! Lextran operates shuttle service during every UK home football game from downtown and campus. The service begins three hours prior to kick-off and runs for 30 minutes after the start of the game. Shuttle will pick back up at the beginning of the 4th quarter. Pay $1 each way onboard the bus. Please have exact change! Further details can be found at www.lextran.com!
---
The Florida game is officially SOLD OUT
At 5 p.m. yesterday, Mitch Barnhart shared the good news: Saturday will be Kentucky's first sellout since the Thursday night Auburn game in 2015. With a packed house and arguably the best chance to break Florida's 30-year winning streak in some time, Kroger Field will be nuts.
The team wore the chrome helmets in practice yesterday, the latest indication they wear them on Saturday night:
Next up for @UKFootball is Florida. #GoToWork pic.twitter.com/lnb2ZstmWp

– KYwildcatsTV (@KYwildcatsTV) September 20, 2017
Mark Stoops will take his turn on the SEC Coaches Teleconfernece
With his team 3-0, I expect an upbeat but focused Stoops on the conference call this afternoon. Nick Roush will be listening in to bring you updates. Speculation continues that the nine suspended Florida players won't play due to their involvement in a credit card fraud investigation, so surely someone will ask Jim McElwain about it. Check the site around lunch for a recap.
Defensive coordinator Matt House will address reporters later this afternoon. Last night, Eddie Gran, Benny Snell, and Stephen Johnson took their turns at the podium, and if you missed their comments, enjoy the recaps from Nick below:
Stephen Johnson and Benny Snell Explain their Viral Moments vs. South Carolina
The CBS Sports Network crew likes the Cats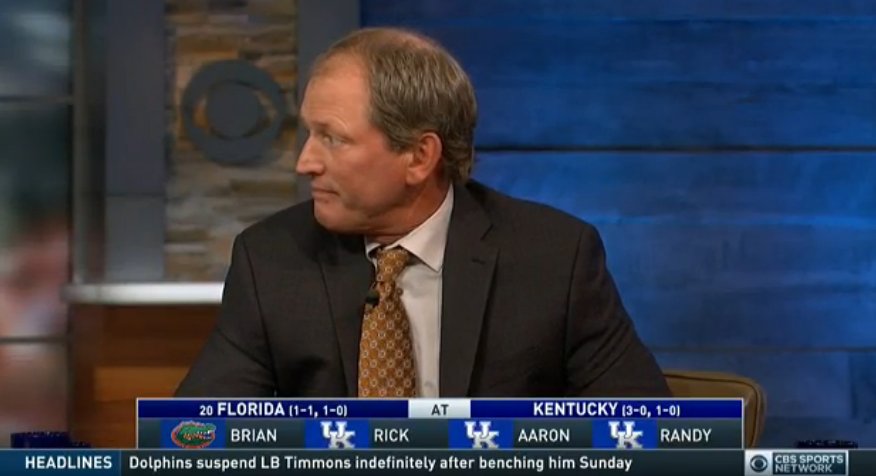 Get on board, Brian Jones.
ICYMI, the 2018 football schedule was released
Sept. 1                          CENTRAL MICHIGAN
Sept. 8                          at Florida
Sept. 15                        MURRAY STATE
Sept. 22                        MISSISSIPPI STATE
Sept. 29                        SOUTH CAROLINA
Oct. 6                            at Texas A&M
Oct. 13                          Open Date
Oct. 20                          VANDERBILT
Oct. 27                          at Missouri
Nov. 3                           GEORGIA
Nov. 10                         at Tennessee
Nov. 17                         MIDDLE TENNESSEE
Nov. 24                         at Louisville
Pencil me in for that trip to College Station on October 6. I've only driven by Kyle Field on a trip to cover a basketball game at Reed Arena a few years back and I can't wait to see a game there.
The McDonald's All-American Game is moving to Atlanta
After seven years in Chicago, the famous high school all-star game is moving to Atlanta. The event is scheduled for March 28, 2018 at Philips Arena. Rosters won't be announced for a while, but they're guaranteed to include most, if not all, of UK's targets, including Zion Williamson, RJ Barrett, and Immanuel Quickley. Can anybody stop Zion from winning the dunk contest?
Speaking of Zion, a reminder that he'll be on campus this weekend for his official visit. Something tells me he'll be front and center to watch John Wall enter the Hall of Fame on Friday night.
Everyone say a little something for Puerto Rico
Last image of #HurricaneMaria from #PuertoRico #radar before it became unavailable pic.twitter.com/Z1tw0uoe9f

— Stu Ostro (@StuOstro) September 20, 2017
The island is currently being slammed by Hurricane Maria. Most of my husband's family is from Puerto Rico, including my father-in-law, who lives on the island half the year. Thankfully, he's in Tennessee right now, but it's scary to think what he could go back to once the storm passes.
While you're at it, say a little something for Mexico City as well. The images coming out after yesterday's 7.1 magnitude earthquake are horrible. Mother Nature, are you trying to tell us something?
I'm on day three of eating clean and all I can think about is cheese
Someone please tell me it gets better. Also, why the hell am I doing this during football season?
Radio in an hour.