Today on KSR: Madness guest list, Star Wars trailer, ugly Florida uniforms
Shoutout to these fans for repping the Cats at 10,900 feet in Rocky Mountain National Park a few weekends ago. Based on the pictures I saw on the news yesterday, that vista is probably covered up with snow right about now. Yet, it was still 85 degrees here in Nashville yesterday. Sigh.
Here's what you can expect in the wonderful world of UK sports today…
The guest list for Madness takes shape
With football on a bye, we shift into basketball mode this week. Media Day is Thursday, and on Friday, Kentucky will host a bevy of elite recruits for Big Blue Madness. Here's the guest list thus far:
2018: Immanuel Quickley (committed), Bol Bol, Zion Williamson, Darius Garland
2019: James Wiseman, D.J. Jeffries, Keion Brooks, Tyrese Maxey
2020: Jaemyn Brakefield, Jalen Johnson
2021: Zion Harmon
Between Bol, Zion, and James Wiseman (No. 1 player in 2019), I don't think we can overstate how important this weekend is for recruiting. We'll have a primer for you later this week.
Mark Stoops, Eddie Gran, and the offense will address the media
Because it's a bye week, we didn't get Mark Stoops' weekly press conference yesterday, but today, he'll join Eddie Gran and talk to reporters after practice. Check the site this evening to see what he has to say about his team after watching the Mizzou tape.
If you missed it last night, Stoops sounded optimistic that the team would be healthy by the Mississippi State game:
Mark Stoops Shares an Optimistic Injury Report
Speaking of that Mississippi State game, we found out yesterday it will kick off at 4 p.m., so make your social plans accordingly.
Hopefully they get the wildfires in wine country under control
It's been tough to see the pictures and videos of the California wild fires this week. So far, 11 people have been killed, 1,500 structures destroyed, and over 100,000 acres burned. Wine country is some of my favorite country, so here's hoping they get the fires under control before there's no Pinot Noir and Cab Sauv left.
Did you see the new Star Wars trailer?
If not, you may be the only one. The new trailer was must-see TV in our house last night:
I'm nowhere near as big a Star Wars fan as my husband, but that little creature hanging with Chewbacca — a Porg, I'm told — is pretty cute.
How about the new Florida uniforms?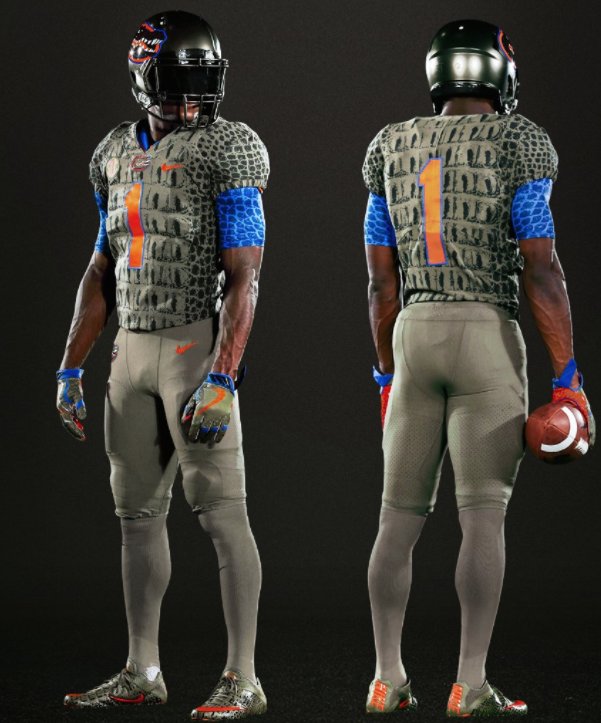 Just when you thought Florida couldn't get any more Florida. All that's missing is a pair of jean shorts. They'll sport those monstrosities on Saturday vs. Texas A&M.
I'm recording a new episode of The OTT Podcast
Fake Barney and I will record a new podcast tonight to catch up on all the happenings the past few weeks, which reminds me, why haven't we heard anything about the UNC final report? Surely the major fundraising event in Chapel Hill is over by now?
Radio in an hour. Until then, tackle your morning with the fierceness of the BYU cougar:
Really need to know who this cougar is pic.twitter.com/7gqzdzIVb2

– Jasmine (@JasmineLWatkins) October 10, 2017