Today on KSR: Looking towards Missouri, previewing the basketball season
Hello, friends. I'm back after a quick getaway to Clearwater Beach, and all that rest and relaxation kind of went out the window with the news of last night's mass shooting in Las Vegas. Regardless, let's power through today's agenda, because there's a lot going on.
All eyes turn towards Missouri
Confession: I did not watch Saturday's game vs. Eastern Michigan. Our hotel didn't have the SEC Network, so Tom Leach, Jeff Piecoro, and Freddie Maggard were our eyes and ears, and man, it didn't sound pretty. Regardless, the Cats are 4-1 heading into this week's matchup with Missouri, and Mark Stoops will take the podium at noon to talk about it. Nick Roush will have all the updates for you, so check the site around lunch for a live stream and recap.
Did you read our basketball preview?
Drew worked really hard on it, so scroll down and read what John Calipari thinks of his new team. Spoiler: He thinks they're really talented, but really, really, really young.
2017-18 UK Basketball Preview: Preseason Q&A with John Calipari
We'll have player previews for you throughout the week as well. With Big Blue Madness a week from Friday, basketball really is just around the corner.
Dr. Mike snapped this pic of Sydney McLaughlin on Saturday
The 2016 Olympian was one of many UK student-athletes that sported Nate Northington's number for a presentation during Saturday's game. It takes quite a star to outshine the football and basketball team at a major university, but Sydney might just do it.
What will happen with Louisville today?
Great question. If you missed it last night, James A. Patterson, one of UofL's biggest boosters, sent this letter to interim president Greg Postel Sunday encouraging him to keep Tom Jurich as athletic director: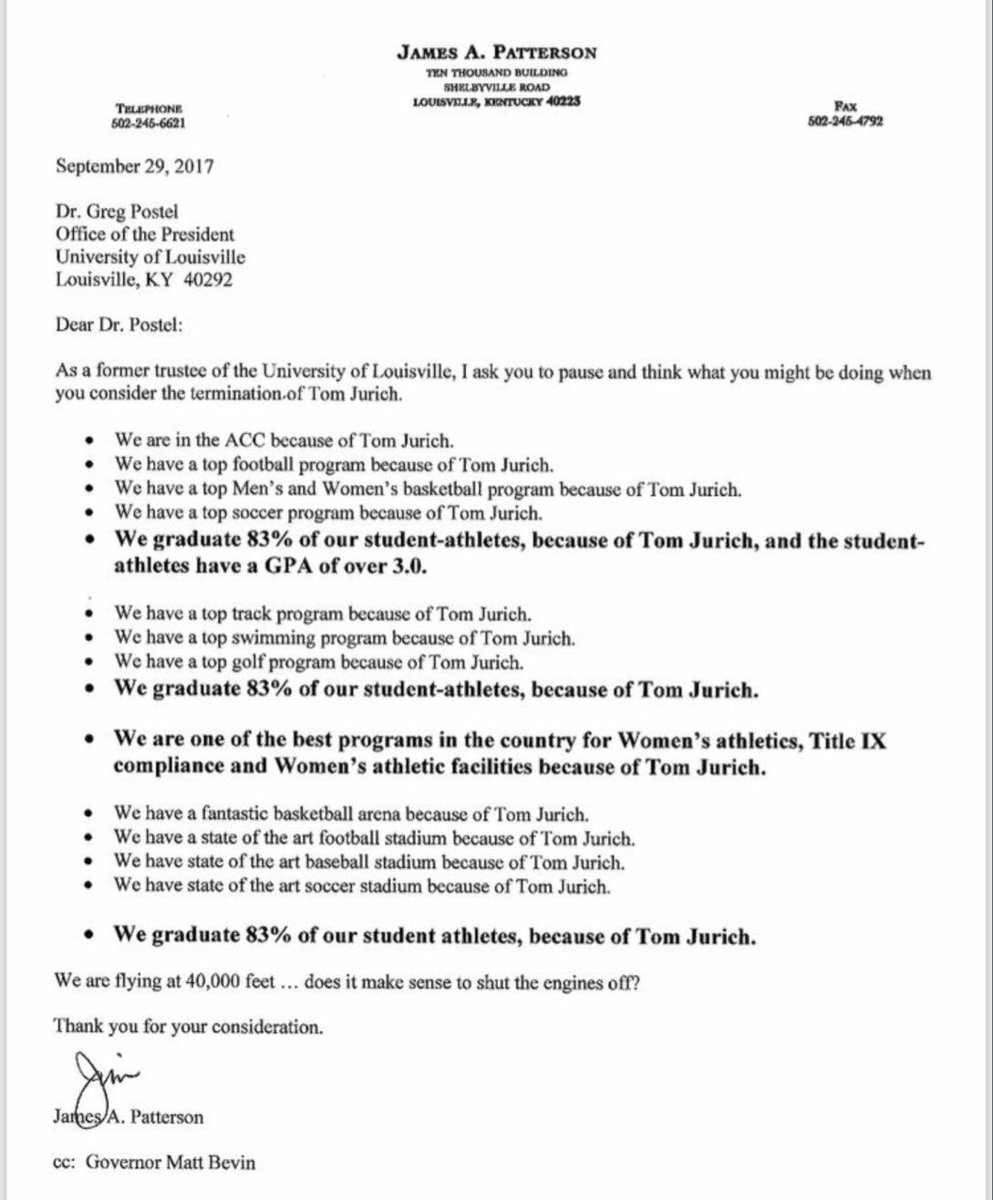 Are you really "flying at 40,000 feet" when your university is a national laughingstock for being associated with scandal after scandal after scandal? Where's that on Patterson's list of Jurich's accomplishments?
The Vegas shootings are sickening
If you haven't seen the news, the deadliest shooting in U.S. history took place last night in Las Vegas when 64-year-old Stephen Paddock opened fire on a crowd at a concert on the Strip from the 32nd floor of the Mandalay Bay hotel. More than 50 people were killed and 400 injured. Waking up to news like this is absolutely depressing. Vegas is supposed to be a fun place, where people go to unwind — especially at a concert! — not fear for their lives. After our initial trip to Florida was canceled due to Hurricane Irma, we actually considered going to Vegas this weekend instead. Thank goodness we didn't. Thoughts and prayers go out to the victims, their families, and the city of Las Vegas.
Now, a dog video because I need it this morning:
My dad finally got his puppy, needless to say he is pretty excited. pic.twitter.com/dkOWnptsIr

— Jason (@KuentzJ) September 29, 2017
Radio in an hour.