Today on KSR: Jarred Vanderbilt Watch Continues
The Big Blue Nation was rocked Wednesday morning when news broke that Jarred Vanderbilt sustained an injury in practice. The initial details were sparse, nothing more than a simple "day-to-day" prognostication, but throughout the day we learned more information, information that should make all Kentucky fans hopeful.
As fans feared it was another foot injury, Kyle Tucker reported Vanderbilt simply sprained his ankle. Then our boss discovered the injury was much less severe than UK officials originally thought, and they hope for a return this season. Later that night, Ben Roberts caught up with Vanderbilt's father who reinforced the sentiment that his son's injury is nothing serious. "We're just going day to day."
Last night our friends at LEX-18 Sports, Keith Farmer and Jonathan Dunn, caught the team walking through the lobby after dinner. As you'll see, Vanderbilt doesn't appear to have any type of brace on his left ankle, although there's a slight limp at the beginning of the video.
UK Basketball has arrived in St. Louis. Here was the team walking by including Jarred Vanderbilt. pic.twitter.com/AEQT7s29uK

— Keith Farmer (@KeithFarmer18) March 8, 2018
This afternoon Kentucky will practice in St. Louis. If Vanderbilt doesn't play today, it's unlikely he'll play tomorrow in UK's SEC Tournament opener. We'll receive an update from John Calipari following that practice tonight around 7:00 ET.
Kentucky Gets Winner of Georgia-Missouri
SEC Player of the Year Yante Maten scored 25 points to lead Georgia to a dominant 16-point victory over Vanderbilt on opening night of the SEC Tournament. They'll play Missouri today at approximately 3:30. The winner will take on Kentucky 24 hours later.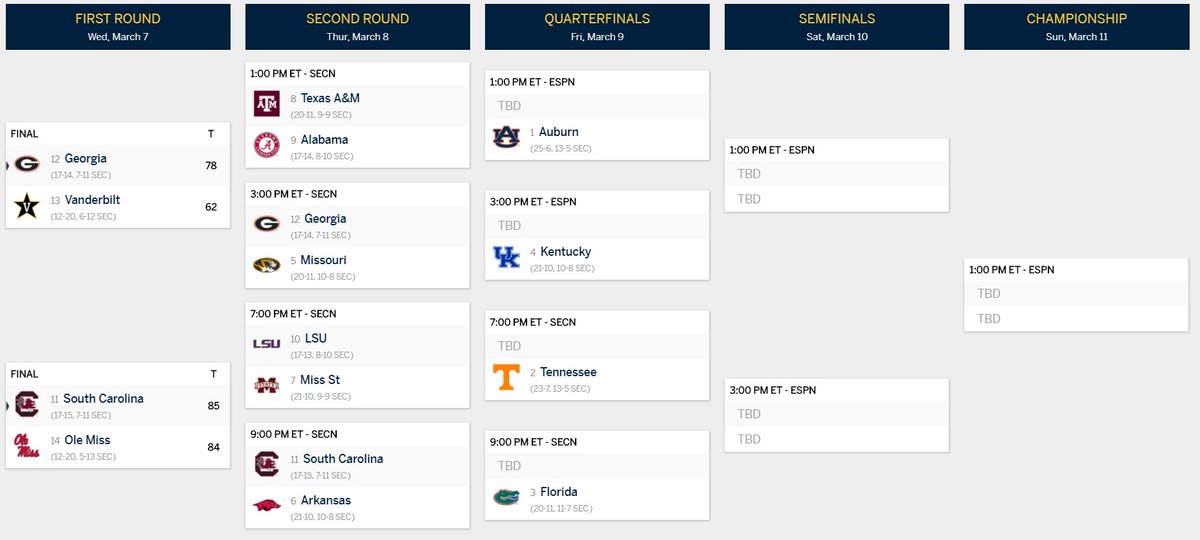 To see a schedule of the 782 games being played today, click here.
Bubble Watch
Louisville — The Cards won their opening ACC game vs. Florida State to put them in a more comfortable position. Considered one of Lunardi's last four in, a revenge win over Virginia today at noon would lock up an NCAA Tournament berth.
Notre Dame — Somehow, some way, the Fighting Irish continue to win. They trailed Virginia Tech by 21 in the second half and still won. They're creeping closer to a tournament berth, but I will not be sold unless they knock off Duke tonight at 7:00.
Oklahoma — Once a National Top 16 seed, it looks like Trae Young won't play in the NCAA Tournament after the Sooners lost to Oklahoma State in the first round of the Big 12 tournament. Lunardi still has them as one of the last four in, but wins from other bubble teams will surely keep them out.
Spring Break is Coming
Today is the last day of spring practice before the Cats get a week off for spring break. Don't worry, you'll still see some football stories over the next week, but most of our attention must remain on the basketball team until Stoops' Troops return to the field Tuesday March 20.
KSR is LIVE from St. Louis
This morning's radio show is coming to you LIVE from the Downton Abbey house. Sorry, it's not open to the public, but I have a feeling you will still love to hear the dulcet tones coming from Matt Jones' voice.
[mobile_ad]