Today on KSR: Good morning, Duke lost
Is there anything better to wake up to than the news that Duke lost? As the big red letters on DidDukeWin.com say this morning, "NO."
Last night, Stephen F. Austin knocked off the No. 1 Blue Devils AT HOME 85-83 on a layup at the buzzer. Duke was favored by 27.5 points, making this the largest upset in college basketball in the past 15 seasons, surpassing Gardner Webb's win over No. 20 Kentucky in 2007 and, yes, the Cats' loss to Evansville a few weeks ago. It's the first time Duke's lost a nonconference game in Cameron Indoor Stadium since 2000, snapping a 150-game streak. It. Is. Glorious.
One more time with the Titanic music:
— free man paco (@AllaireMe) November 27, 2019
Is it wrong to take so much joy in this considering the same thing happened to Kentucky earlier this month? If so, I don't wanna be right.
After you watch those videos a thousand times, here's what else is happening today.
We'll hear from John Calipari
Today around lunch, John Calipari and two of his players will meet with the media to preview Friday night's game vs. University of Alabama-Birmingham. So far in the — checks schedule to find random tournament name — BBN Showcase, the Blazers beat Lamar 57-48 and Mount St. Mary's 58-1 and lost to Utah Valley 66-55. So, they are not a great basketball team; however, as we've learned this season (AND DUKE LEARNED LAST NIGHT HAHAHA), that doesn't necessarily matter if this team isn't ready to play.
We'll have a live stream of Cal's comments on the site this afternoon, followed by a recap.
The Volleyball team plays LSU on the SEC Network
At 8 p.m., the No. 14 Kentucky Volleyball team takes on LSU in Baton Rouge. The match will be aired live on the SEC Network or ESPN app. The Cats have won seven straight against the Tigers, including a 3-0 victory in Lexington earlier this season. This is the penultimate match of the regular season, the finale taking place Saturday at 1 p.m. vs. Ole Miss at Memorial Coliseum. (Any chance of changing that game time so it doesn't interfere with the football game, powers that be?)
The Women's Team is now 6-0
Last night, your No. 14 women's basketball team cruised to an 81-35 win over Grambling State, moving their record to 6-0. Rhyne Howard had a season-high 27 points and the Cats shot a season-high 49.1% from the field. Click here for Zack Geoghegan's recap. The ladies will be back in action vs. Austin Peay at 4 p.m. Sunday.
College Basketball on TV today
Feast Week continues with a full slate guaranteed to help you get through those last few hours at work.
| | | | | |
| --- | --- | --- | --- | --- |
| 12:00 PM | Michigan | Iowa State | ESPN | Battle 4 Atlantis |
| 1:00 PM | Saint Louis | Boston College | ACC Network | Gotham Classic |
| 2:30 PM | #3 Michigan State | UCLA | ESPN2 | Maui Invitational |
| 2:30 PM | #6 North Carolina | Alabama | ESPN | Battle 4 Atlantis |
| 4:00 PM | Maine | #7 Virginia | ACC Network | |
| 5:00 PM | Dayton | #4 Kansas | ESPN | Maui Invitational |
| 5:00 PM | Ole Miss | Penn State | ESPN2 | NIT Season Tip-Off |
| 6:00 PM | South Carolina | Northern Iowa | CBS Sports Network | Cancun Challenge |
| 7:00 PM | #8 Gonzaga | Southern Miss | ESPNU | Battle 4 Atlantis |
| 7:00 PM | Oklahoma State | Syracuse | ESPN2 | NIT Season Tip-Off |
| 8:30 PM | Wichita State | West Virginia | CBS Sports Network | Cancun Challenge |
| 9:00 PM | Georgia | Chaminade | ESPNU | Maui Invitational |
| 9:30 PM | #11 Oregon | #13 Seton Hall | ESPN2 | Battle 4 Atlantis |
| 11:00 PM | Oregon State | San Jose State | FS1 | Las Vegas Classic |
| 11:30 PM | Virginia Tech | BYU | ESPN2 | Maui Invitational |
KSR Dogs of the Day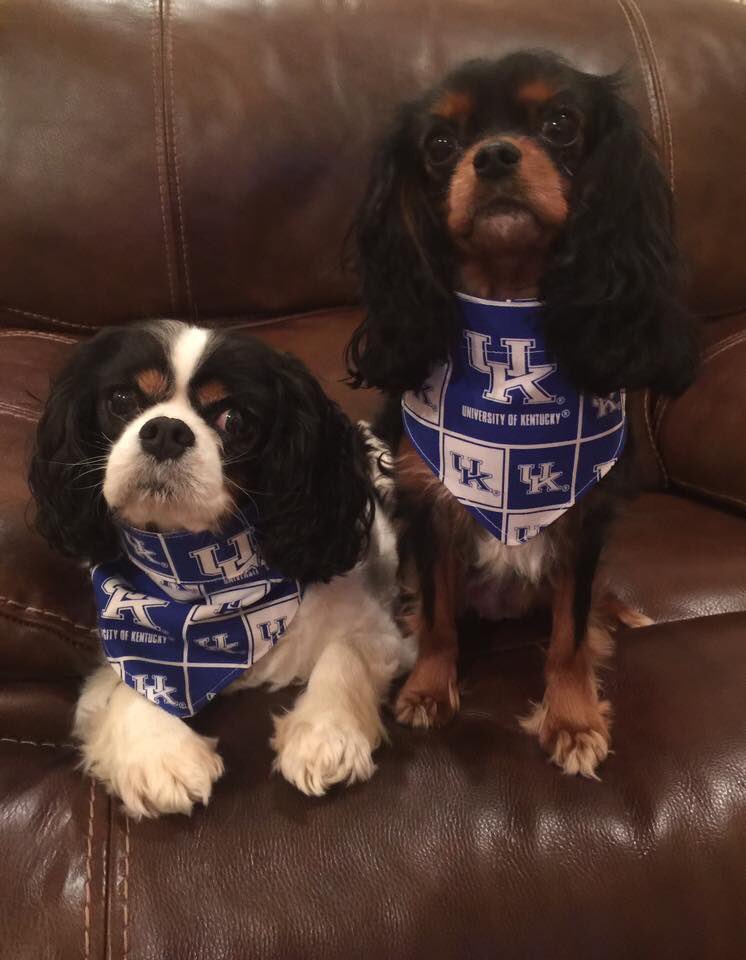 Casper and Darby are ready for turkey on Thursday and cardinal on Saturday.
Help us fill up our Salvation Army Kettle
KSR is partnering with the Salvation Army this holiday season to raise money for those in need. Maria, Maggie, and Zack decorated our kettle, which you can "fill" by liking the tweet below:
Kentucky Sports Radio's creative kettle! "Like" this photo to cast your vote for @MariaT_KSR! Want to give more? Donate to their kettle by visiting https://t.co/alQBFAIjex #FillMyKettle pic.twitter.com/gR8nlvmTvj

— Salvation Army Lexington, KY (@SalArmyLex) November 25, 2019
You can also donate here. All proceeds go to the Lexington community, including the Boys & Girls Club, emergency shelter, food pantry, and clothing bank.
KSR is at Puccini's in Lexington
Come on out to Puccini's at Helmsdale Place for the final show before the holiday.