Today on KSR: Davion Mintz is in; is Matt Haarms next? Good morning, friends, and happy Saturday. It's supposed to be a beautiful one, so get out there and enjoy it — while maintaining at least six feet of distance from others, of course. The weather's supposed to get pretty nasty tomorrow, so get your fill of Mother Nature while you can. Netflix will understand.
First, a quick run through the news.
ICYMI, Davion Mintz is a Kentucky Wildcat
Did you see we have a new point guard? Yesterday, Creighton grad transfer Davion Mintz announced he will finish his college career at Kentucky. The Charlotte, North Carolina native sat out last season at Creighton after suffering a high ankle sprain in the preseason, but in the year prior, averaged 9.7 points on 42% shooting along with 3.0 rebounds and 3.9 assists per game. While Mintz's numbers may not be flashy and he wasn't a five-star recruit, he will provide what could be a very, very young backcourt with some much-needed experience and guidance, especially if Immanuel Quickley decides to stay in the draft.
Mintz made the announcement at 10:17 a.m. because the numbers 10 and 17 have special meaning to him, a fascinating piece of trivia that I must know more about. Here's more of our coverage if you need to catch up:
UK hasn't released a statement on Mintz's transfer yet, but they did put out one of their "Dream Big" videos featuring Eric Bledsoe, a pretty sweet comparison.
? | #LaFamilia pic.twitter.com/vjX3kMWS4C

— Kentucky Basketball (@KentuckyMBB) April 10, 2020
Mintz is certainly off to a good start in winning the BBN over, including this message to fans in his Instagram post:
"BBN, I am thrilled, humble and hungry to be part of the UK family! I look forward to earning your trust and respect through my commitment, experience, and hard work every day."
Sounds good to me.
Kentucky makes the cut for Matt Haarms
John Calipari added experience and depth to the backcourt; what about the frontcourt? This morning, Kentucky was one of ten schools to make the cut for 7'3″ Purdue grad transfer Matt Haarms. He's also considering Arizona, Arkansas, Boston College, BYU, Gonzaga, Memphis, Minnesota, Texas Tech and UNC Greensboro. For more on this, scroll down to the post directly below this one.
Kentucky makes the cut for Purdue grad transfer Matt Haarms
The NBA Draft could be delayed until August
The other big news yesterday was ESPN's report that NBA teams are pushing for the draft to be delayed from June 25 to August 1 so they can complete the season, still have the combine, and interview and hold workouts with prospects. Right now, due to the coronavirus pandemic, all teams can go on are virtual interviews and footage of players from college and workouts.
One player who could definitely benefit from a delayed draft is Kahlil Whitney, who declared yesterday. Obviously, Whitney's college career did not go as planned, so he'll have to impress teams at the combine or in workouts to have a shot at hearing his name called.
I don't need to remind you of this, but we're still waiting to hear what Nick Richards, Immanuel Quickley, and EJ Montgomery will do. We'll keep our ears to the ground for you.
Governor Beshear issued a new order to stop mass gatherings
Easter is tomorrow, and in hopes of preventing Kentuckians from attending church services in person and potentially spreading the coronavirus, Governor Beshear announced a new statewide order yesterday. Anyone who attends a mass gathering in the state of Kentucky this weekend will be given a mandatory 14-day self-quarantine notice. State police will be on hand at churches that are still planning on holding services to record license plate numbers to give to the health department, who will hand deliver mandatory notices to people's doors. Can't be doing that, guys.
The news comes after another record day of cases in the state. Beshear confirmed 242 new cases of coronavirus in Kentucky yesterday, along with 11 new deaths. The total number of positive cases in the state is now at 1,693 with 90 total reported deaths. Four hundred sixty-four people have fully recovered and 24,288 total residents have been tested.
In lighter news, Virginia Moore, Governor Beshear's ASL interpreter and star in her own right, taught us some sign language yesterday, a new feature of each briefing.
We will get through this together.
There's a new Saturday Night Live tonight
SNL has been on hiatus during the pandemic, but tonight, will return in its normal time slot at 11:30 p.m. ET to bring you some socially distant original content. On Thursday, the cast shared this picture from a Zoom call:
?? This Saturday ??#SNLAtHome pic.twitter.com/JT62ELvmsW

— Saturday Night Live – SNL (@nbcsnl) April 9, 2020
Can it top Katie Nolan's Zoom Challenge? Only if they can get Lin Manuel Miranda.
The Kentucky Basketball family did a Zoom last night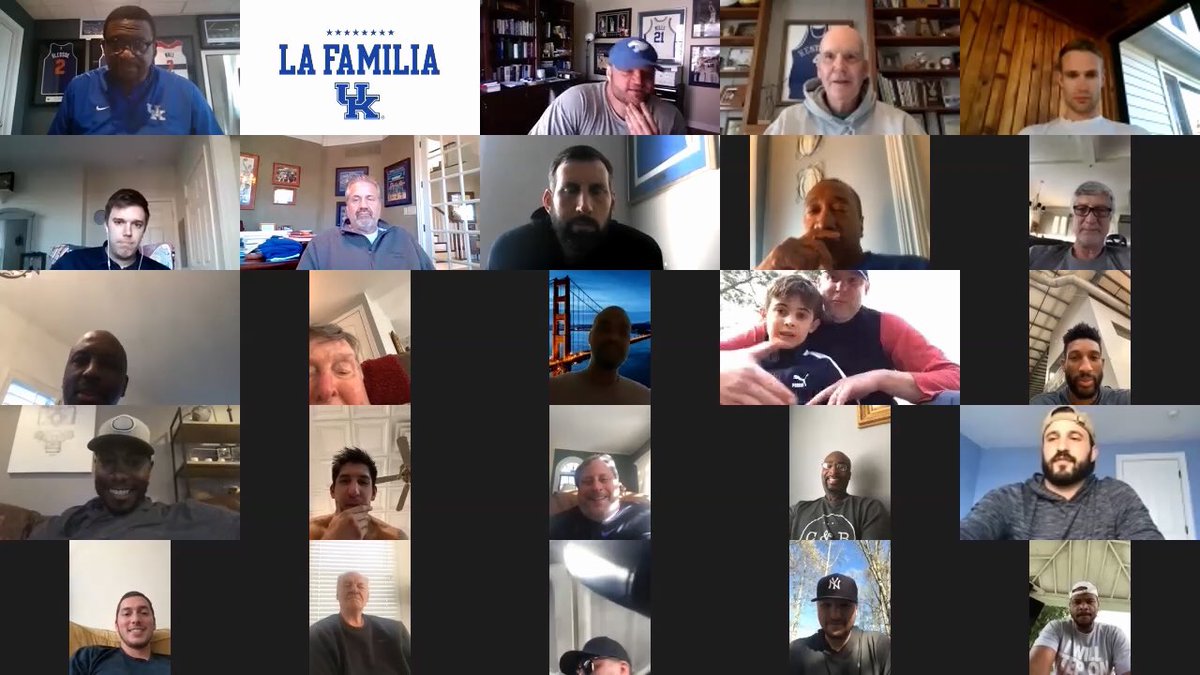 DeWayne Peevy hosted an impromptu gathering of "La Familia" on Zoom last night and 40 former players joined, including our man Lukasz Obrzut, Marcus Lee, Scott Padgett, Jon Hood, Goose Givens, Kyle Macy, Chuck Hayes, Ravi Moss, and, of course, John Calipari and his beard.
"I wasn't going to miss this," Calipari tweeted. "Really fun time catching up with everyone and seeing what they're doing. We might have to show the #BBN a little bit of it later. What do you think?"
I think bring on that content, Coach.
There's still time to reserve KSBar's Easter Special
Easter will be a little different this year, but you can still celebrate at home. Make things a little easier with KSBar's Easter Dinner Special. We'll only be open 11 a.m. to 4 p.m. tomorrow, but you can go ahead and call in your order in advance at (859) 554-6081. Meals can feed two, four, or six people and include ham, mashed potatoes and gravy, mac and cheese, green beans or baked beans and cornbread with honey butter. KSR Dog and Basement Garage/Basketball Court of the Day
With some extra time on their hands, the Johnson family in Gallatin, Tennessee turned their basement garage into a UK Basketball court for their sons and adorable yellow lab. I think they did a pretty awesome job.