Timeline: Shai Gilgeous-Alexander's rise to stardom
How did Shai Gilgeous-Alexander go from underrated high school prospect to projected NBA lottery pick?
Let's take a look back at his quick rise to stardom in this timeline of events:
Summer 2015: Move from Canada to Tennessee
After attending Sir Allan MacNab Secondary School in Hamilton, Ontario, Canada for two years, the Canadian-born Gilgeous-Alexander left his home country and his family behind to pursue a career in basketball. He transferred to Hamilton Heights in Chattanooga, Tn. for his final two years of high school, where he hoped the better competition would make him a better college prospect.
November 27, 2015: Commitment to Florida
Gilgeous-Alexander committed to Florida in November of his junior year of high school as an unrated prospect out of Tennessee.
July 13, 2016: 2016 FIBA Americas U18 Championship
Gilgeous-Alexander was a member of the 2016 Canadian Men's U18 National Team, which took home the silver medal at the 2016 FIBA Americas U18 Championship. He averaged 7.8 points, a tournament-best 5.4 assists and 3.0 steals per game.
October 17, 2016: De-commitment from Florida
After exceeding his own expectations early into his senior season, Gilgeous-Alexander reevaluated his long-term goals and reopened his recruitment to include other schools, including Kentucky.
October 2016: Reached out to Kentucky
As the story goes, Gilgeous-Alexander contacted Kentucky before Kentucky contacted him. He enjoyed watching John Calipar's UK teams over the years, so he expressed interest in becoming a Wildcat himself.
October 31, 2016: UK offer
Kentucky offered a scholarship to Gilgeous-Alexander on Halloween of his senior season.
November 4, 2016: Official visit
Gilgeous-Alexander took his official visit to Lexington shortly after receiving the offer.
November 14, 2016: Commitment to Kentucky
Gilgeous-Alexander committed to and signed with Kentucky during the early signing period. He tweeted this message to announce the news:
"I'd like to first thank God for opening so many doors for me. I'm thankful for the support received from my family, friends, teammates and coach that have shaped me to be the person I am today. Much thanks to the coaching staff and fans at Florida for being patient with me through this process and wishing you nothing but success. I would like to also thank the other coaches and programs that recruited me. Special thanks to my Uplay family and my family at Hamilton Heights! I am pleased to announce that I will pursue my collegiate education and athletics at the University of Kentucky next year. #BBN
He was considered the No. 43 prospect in his class at the time of his commitment.
Senior Season at Hamilton Heights
Gilgeous-Alexander averaged 18.4 points, 4.4 rebounds and 4.0 assists per game his senior season.
April 7, 2017: Nike Hoop Summit
Gilgeous-Alexander scored 11 points for the World Select Team in the Nike Hoop Summit, playing against future teammates Kevin Knox, Quade Green and Jarred Vanderbilt.
April 15, 2017: Kentucky Derby Festival Classic
Gilgeous-Alexander participated in the Kentucky Derby Festival Classic in Louisville. The only UK commit in the game, he earned MVP honors with 29 points, nine rebounds and six assists, while also winning the weekend's three-point contest.
April 19, 2017: Final rankings released
Here's how the major recruiting services ranked him in their final rankings:
ESPN: 33rd
Top247: 19th
Rivals: 31st
Scout: 39th
June 1, 2017: College begins
Gilgeous-Alexander enrolled at the University of Kentucky on June 1, 2017.
October 19, 2017: "He could start."
At UK Basketball Media Day, John Calipari first suggested that UK's starting point guard spot wasn't necessarily a lock to go to Quade Green.
When asked about Gilgeous-Alexander for the first time since the team got together, Cal said, "He could start. Quade's doing fine too, but they're competing for the job. I would say they're both going to play."
October 20, 2017: Blue-White Game
Gilgeous-Alexander scored a total of 14 points in UK's Blue-White scrimmage.
December 29, 2017: The Louisville game
Debuting a new haircut, Gilgeous-Alexander scored a career-high 24 points in Kentucky's blowout of rival Louisville. John Calipari said after the game, "Shai was ridiculous."
January 3, 2018: Lottery talk begins
Days after Gilgeous-Alexander's breakout performance against Louisville and another 20+ point game against Georgia, 247Sports.com's Jerry Meyer started the lottery conversation by saying Gilgeous-Alexander could play his way into a lottery pick by the end of the season.
January 13, 2018: The Vanderbilt game
Gilgeous-Alexander put his team on his back in Kentucky's close call on the road at Vanderbilt. He scored 22 points to lead the Wildcats.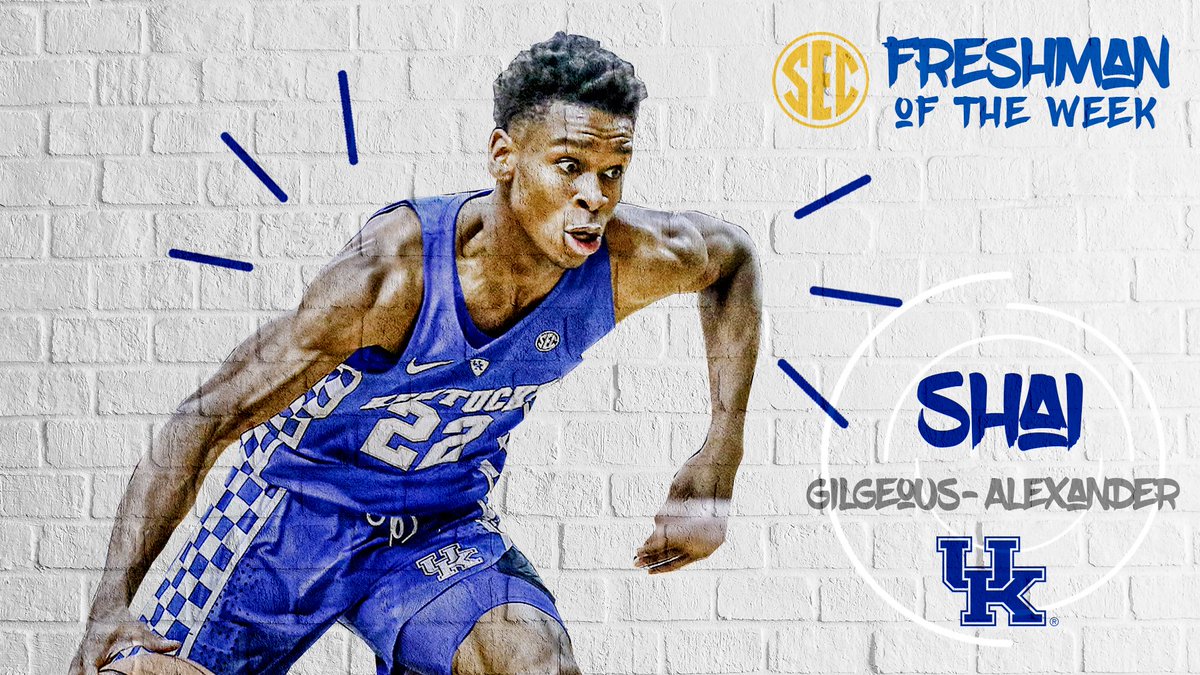 January 15, 2018: Gilgeous-Alexander named SEC Freshman of the Week.
Gilgeous-Alexander earned SEC Freshman of the Week honors after leading Kentucky with 19.0 points per game in wins over Texas A&M and Vanderbilt.
February 4, 2018: First lottery projection
NBADraft.net moved Gilgeous-Alexander into the lottery in its mock draft update, projecting him to go 11th overall to the Philadelphia 76ers.
Other mock drafts would soon follow.
March 6, 2018: All-SEC selection
Gilgeous-Alexander was named Second Team All-SEC and to the SEC All-Freshman Team.
March 11, 2018: SEC Champion, SEC Tournament MVP
Gilgeous-Alexander set an SEC Tournament freshman record by scoring 29 points to go with his seven rebounds, three assists and two steals in Kentucky's SEC Championship win over Tennessee. His play helped the Cats clinch a fourth straight SEC Tournament crown and give him the SEC Tournament MVP award.
March 15-22, 2018: NCAA Tournament
Gilgeous-Alexander averaged 20.3 points per game in Kentucky's three-game NCAA Tournament run, which was cut short in a disappointing loss to Kansas State, unfortunately. He went 2-for-10 from the field in 39 minutes of action in the game that ended UK's season.
April 9, 2018: NBA Decision
Shai told SportsCenter he is off today the NBA and will hire an agent.