Thursday's Top 10: The Crown, Hamidou Diallo announcement set, SNOW!!!
I'll be honest, the majority of things I watch on Netflix are forgettable — looking at you, Fuller House — but over Christmas break, I stumbled upon their original series The Crown. Several people have recommended the drama about Queen Elizabeth's ascent to the throne, so I took a chance on it, and man, I haven't enjoyed a show this thoroughly in a while. While shows like Westworld and Stranger Things make your head spin with theories, The Crown has me researching more about Queen Elizabeth II because her story is simply fascinating. Yes, the show tells the story about her becoming queen, but the most interesting part — and the part the show explores the best — is the impact it has on her family, specifically her marriage to Prince Philip; in fact, the show begins with their wedding in 1947. Netflix spent upwards of $100 million on the series, which they hope will span six seasons, each lasting a decade. There are ten episodes in season one; I'm only through six and am already dreading running out of them.
Now, let's run through today's agenda before I watch another one…
1. Hamidou Diallo will announce his decision on Saturday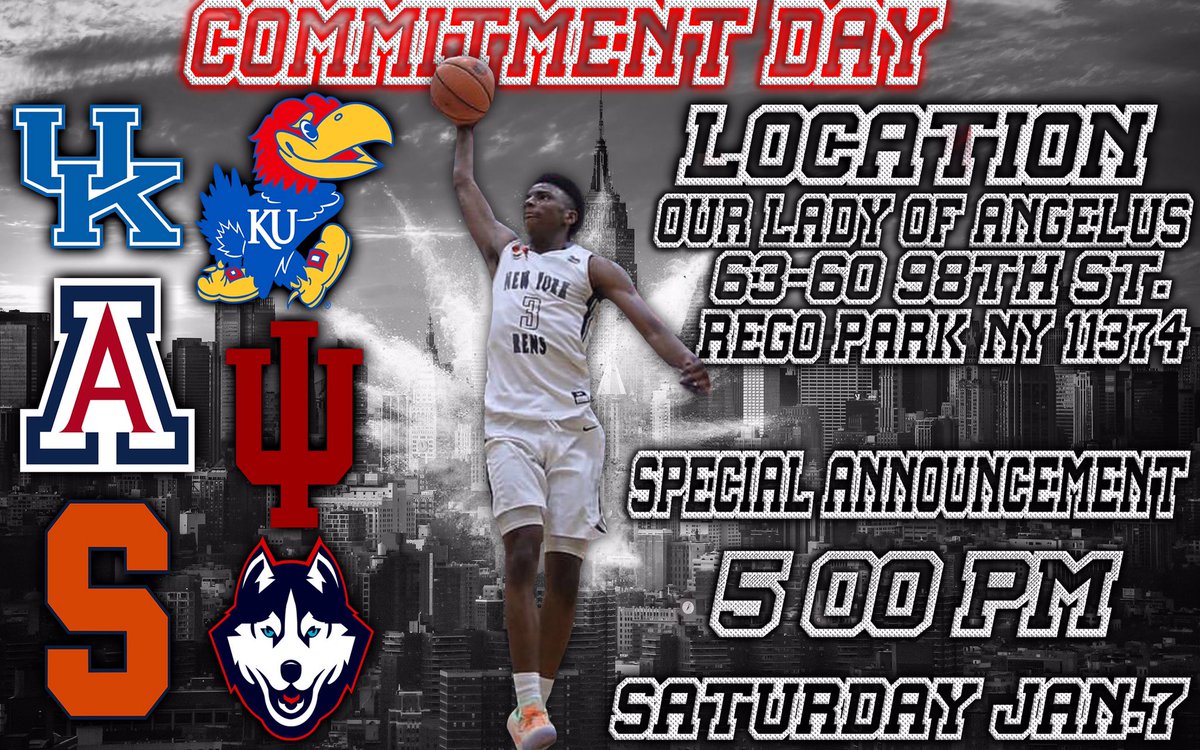 If you missed the news late last night, five-star shooting guard Hamidou Diallo tweeted that he will announce his decision Saturday at 5 p.m. Don't let that graphic fool you; at the most, Diallo is down to Kentucky, UConn, and Arizona, and even then, all signs point to Kentucky. Diallo was on campus last week for an official visit, which Calipari followed up on at the end of the week. Yesterday, recruiting gurus Evan Daniels and Jerry Meyer said they believe Diallo will end up in Lexington and will sit out this upcoming semester to focus on developing himself for next season. Adam Zagoria says Diallo was working on taking a visit to Arizona up until yesterday, but now that won't happen. If that's not a good sign for Kentucky, I don't know what is.
2. Turning our sights towards Arkansas
As we wait on Diallo's decision, we can start preparing for Saturday's showdown with Arkansas, aka the Malik Monk Bowl. Monk, of course, grew up in Lepanto, Arkansas and played high school ball in Bentonville, which is close to Fayetteville, and his brother Marcus played football and basketball for the Razorbacks. Malik ruffled a lot of feathers when he chose Kentucky over Arkansas, and while this game would be A LOT more dramatic if it was in Fayetteville, you know it will hold special meaning for the freshmen phenom.
3. Calipari watched Shai Alexander last night
John Calipari was in my neck of the woods last night to see his future point guard Shai Alexander's Hamilton Heights play Brentwood Academy in Nashville. Alexander scored 13 points in Hamilton Height's win, and Calipari also got a look at Brentwood's Darius Garland, the number one point guard in the 2018 class according to 247 Sports Composite. He doesn't have an offer from UK yet, but he does have offers from Duke, Louisville, and Indiana, so one is probably on the way.
4. Much more importantly, it's supposed to SNOW! FREAK OUT!
The Central Kentucky area is supposed to pick up 1-3 inches through tomorrow, which is just enough to send the entire Bluegrass into a panic. Here's the latest estimate from LEX18: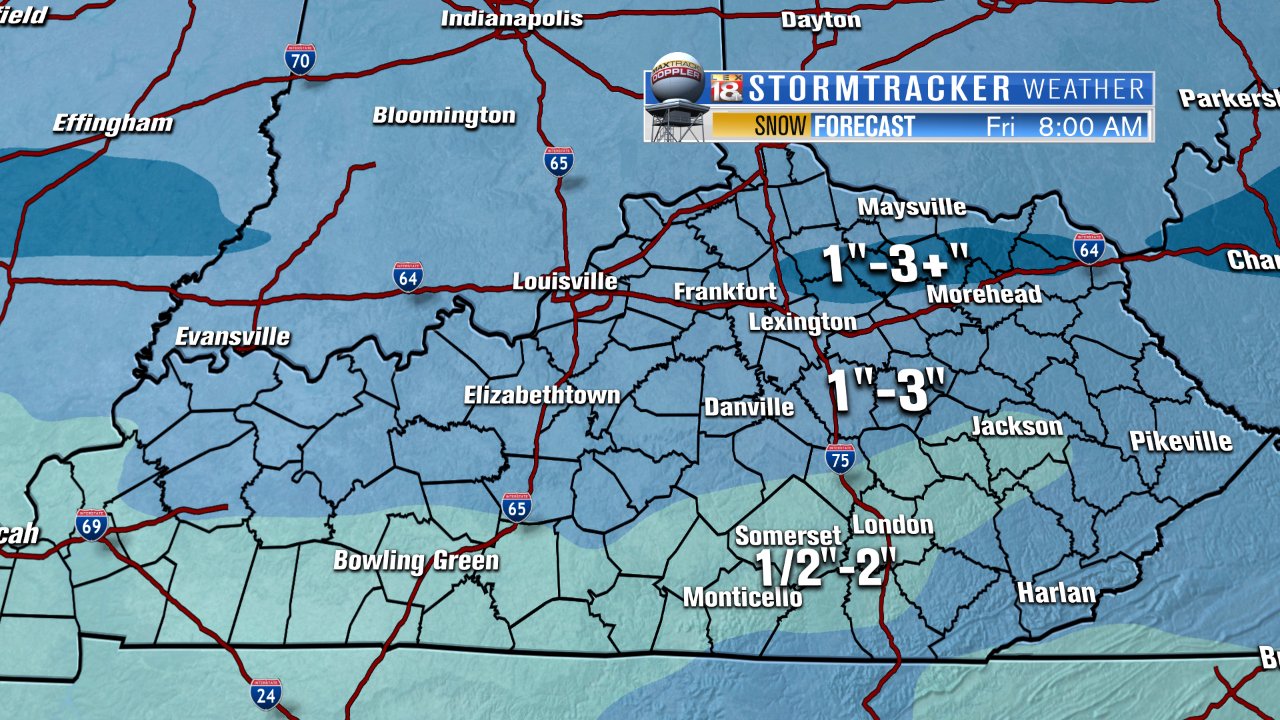 Of course, down here in the Snow Dome, we'll probably just get flurries…MAYBE a dusting. Regardless, I'm sure the store is already out of eggs, bread, and milk.
5. UK Hoops hosts Missouri at 7 p.m.
After two tough road losses to Duke and Tennessee last week, your #24 ranked UK Hoops team returns to Memorial Coliseum to host Missouri tonight at 7 p.m. Tickets are still available, or you can watch the game on the SEC Network.
6. It was a wild night in college basketball
If you didn't spend your Wednesday night watching college basketball, you missed a classic as #18 Butler took down #1 Villanova at Hinkle Fieldhouse. As you can see in that picture up there, up five in the closing minute, the Bulldogs used a play called "Kentucky" to seal the deal. That's gotta be a good sign, right?
Meanwhile, Grayson Allen returned to action for Duke after an "indefinite" one-game suspension, which should shock no one. Louisville lost at Notre Dame, Pittsburgh beat #11 Virginia, and the SEC was a hot mess. Vandy, who's been horrible this year, beat Auburn by almost 20 points, and Missouri lost their fifth straight at LSU.
7. But if you ask Missouri AD Jim Sterk, EVERYTHING IS FINE HERE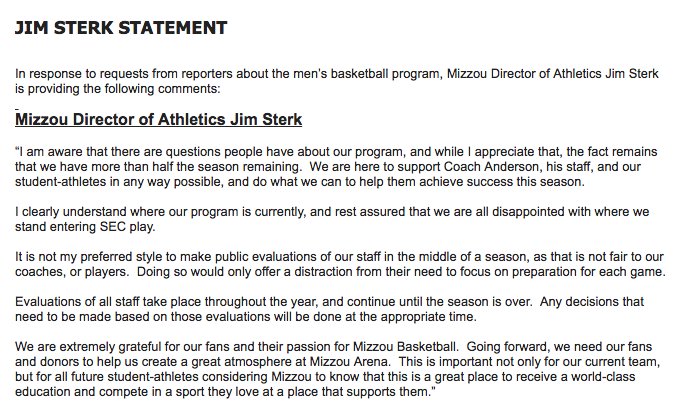 Of course, as many have pointed out on Twitter, the fact that he felt the need to issue a statement of support probably means he's not that supportive at all.
8. College basketball on TV tonight:
7:00 PM: #20 Purdue vs. Ohio State
9:00 PM: California at #4 UCLA
9:00 PM: #5 Gonzaga vs. San Francisco
10:00 PM: Utah vs. #17 Arizona
11:00 PM: Stanford vs. #25 USC
11:00 PM: BYU vs. #19 Saint Mary's
9. Did you see the buzzer beater at the WMYT Mountain Classic?
Cameron Carmical's (@CameronC4_) game-winner to beat Cordia in the first round of the Mountain Classic.

What a moment. pic.twitter.com/fBaFoGDOxF

– Jamie McCracken (@JamieWYMT) January 5, 2017
Turns out it might have been a hair too late, but what a shot.
10. A new Calipari podcast will drop today
Will it be the one with Rick Pitino? Or will it be feature one of Calipari's other scheduled guests like Karl Towns, Dan Patrick, and Geno Auriemma? We'll find out at some point today.
BONUS: Have you downloaded the KSR app yet?
You definitely should. We even fixed that bug where it crashes when you open a story. Do yourself a favor and get it on iTunes or Android.
Radio in an hour…