The NCAA Tournament Selection Process Needs a Makeover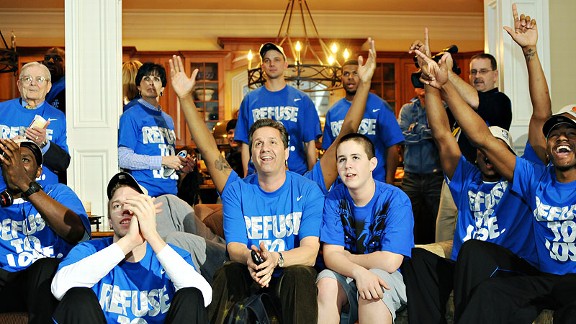 We are in the dog days of the NCAA men's basketball regular season but with a little over a month until the start of the NCAA tournament, it is nearly impossible not to be day dreaming about March. I love the buzz of "tournament time." Who doesn't? Recently, the NCAA tournament selection committee announced they would be releasing a mock selection of the top sixteen seeds for this year's tournament. The NCAA Bracket Preview is set to air on Feb 11th on CBS.
I originally planned on this post being how useless I think the idea of a NCAA Bracket Preview show is but after some research I found something I have a much bigger problem with. The sport of college basketball has rapidly grown into a multi-billion dollar business (don't tell the players that though) and over the years has invested its resources in science and technology to provide its customers with an optimum viewing experience. Yet, its main attraction, its life's blood, the NCAA Tournament, is still approached virtually the same way it always has been, a way that is inefficient and anything but scientific.
Nearly every year there is something that leaves us scratching our heads after the 64 – recently 68 – teams have been selected. Teams have to get left out, I get that, but after learning more about the committee that makes the selections it seems to me the process has a ton of room for improvement. The NCAA selection committee is comprised of ten members:
Mitch Barnhart-Kentucky, director of athletics
Paul Krebs- New Mexico, director of athletics
Janet Cone-UNC-Asheville, director of athletics
Tom Holmoe-BYU, director of athletics
Mark Hollis-Michigan State, director of athletics
Bernard Muir-Stanford, director of athletics
Bruce Rasmussen-Creighton, director of athletics
Peter Roby-Northeastern, director of athletics
Jim Schaus-Ohio, director of athletics
Kevin White-Duke, director of athletics
I took some time to do a little bit of research on each of these people. A majority of them have little to no basketball backgrounds which seems alarming but isn't significant when considering their role in the selection process. To better understand where my concern arises from, it helps to know what a committee member's job actually is.
There is a very detailed breakdown of the selection process on the NCAA's website but for reading purposes I'll just provide the short-hand version. In a nutshell, each committee member monitors roughly seven conferences. They meet throughout the season to review and discuss what they have seen up to that point. Come March, it is the committee's responsibility to choose the 36 teams most deserving of an at large bid. This is accomplished through ballot submission until the 36 at-large berths are filled. Then they are seeded accordingly. Committee members use a wide variety of observation and data resources to aid them in the process of evaluating teams in their conference. These resources include watching games, conference monitoring calls, box scores, overall and conference strength of schedule, computer metrics, etc.
Basically, it's an extremely tedious and cumbersome process. Again, every member of the current committee is an athletic director. Copious amounts of game footage and raw data from hundreds of games are put in the hands of just ten individuals entrusted to choose the most worthy tournament field. I am not saying these men and women are not capable of doing such a task, however, the way this process is currently approached strikes me as terribly inefficient.
As I stated earlier, a majority of these committee members have little to no backgrounds in basketball which, again, I don't think is necessarily a big deal because it doesn't take a basketball savant to compare wins and losses. However, the "eye test" is taken into consideration in the selection process, although it is seldom used, a committee member with little basketball experience using the "eye test" is anything but credible. Additionally, very little of the committee has any background in data analysis, yet they must also consider various computer metrics in their evaluations. Now, I know for a fact that there are people with a much deeper understanding of the game of basketball and data analysis than the ten people who comprise the committee. It makes very little sense to me why people who are better equipped to analyze the various resources used in the selection process, aren't given a role on the committee.
The current NCAA tournament selection process is the scientific equivalent of NASA trying to build a rocket with only mechanical engineers. You wouldn't trust mechanical engineers with the aerodynamics of a rocket, that's what aerospace engineers are for. You wouldn't have mechanical engineers try to develop a new form of rocket fuel, that's what chemical engineers are for. Yet the NCAA is still trying to build a rocket with nothing but mechanical engineers. This is not to say athletic directors shouldn't be on the committee, as they have delegating skills that are very important to the selection process, I am just suggesting more diversity be added to the process.
Also, why is the committee limited to just 10 members? Why not have multiple committees, each with its own area of expertise in team evaluation. This way, each bit of evaluation criteria would be focused on individually by multiple people, rather than a single person trying to analyze all the criteria at once. For example, Jay Bilas, Seth Greenberg, Jalen Rose, etc would be on the "eye test committee" while stat dorks like Jeff Sagarin, Ken Pomeroy, etc would make up the "computer metrics committee." Each committee could assign, one or two spokespeople, and those spokespeople could present the conclusions of their respective committee when it's time to select the teams.
Making the committee more specialized, however, would not make the process perfect, just to be clear. Mistakes would still be made, teams and fans would still get slighted and left out. The limited berths available make it virtually impossible for it not to happen. This is simply just a way to make the process much more thorough, so in the event a team gets left out, the committee is in a much better position to justify its decision. Over the years, it has seemed the NCAA's inability to justify its reasoning has been the root cause of fan resentment. I would be much cooler with Jay Bilas explaining to me, on TV, that my team wasn't selected because they didn't pass the "eye test" rather than former football coach, Farts McGillyCuddy AD of Knucklehead Tech explaining the same thing. There would just be more comfort in the credibility I know Bilas has.
I think it is time the NCAA starts approaching things more like a multi-billion dollar organization, like itself, would, with more critical thought and analysis. Doing things a certain way because "that's the way they've always been done" leaves no possibility for improvement and the NCAA has the money and resources necessary to making the selection process much more efficient. I mean, why not? The NCAA would have a lot to gain in trying to make sense for once.
This'll be my only hot take for a while. I'll go back to jokes next week, I promise.