The NBA Draft Aftermath's Friday Morning Wakeup
There are big nights and then there was last night. Six Cats were drafted, tying the record for the most by any school, set by the 2012 UK squad. As everyone expected, Karl Towns went first to the Timberwolves, becoming not only the third number one pick in UK history, but the third in John Calipari's six-year-tenure, an astounding feat. Kentucky now has the most number one picks of any school in the modern draft era. FOUR Cats went in the lottery, tying North Carolina's record from 2005. Here's where everyone ended up:
1. Karl Towns, Minnesota Timberwolves
6. Willie Cauley-Stein, Sacramento Kings
12. Trey Lyles, Utah Jazz
13. Devin Booker, Phoenix Suns
44. Andrew Harrison, Phoenix Suns, traded to the Memphis Grizzlies
48. Dakari Johnson, Oklahoma City Thunder
No wonder Cal was grinning like a proud papa: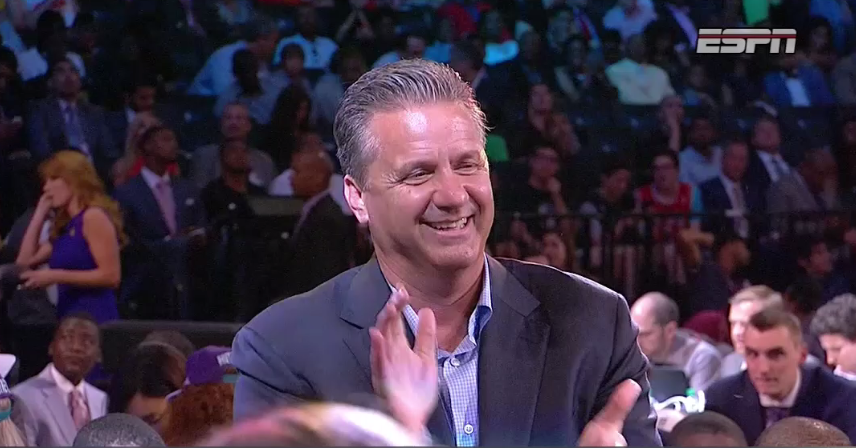 Here's a mind-numbing stat: the four Cats who were drafted in the lottery will make a combined $61,441,724 over the next four years. Whoa. Kentucky Effect, indeed. Here's the player-by-player breakdown from Jason Belzer:
Karl Towns: $25,720,035
Willie Cauley-Stein: $15,350,475
Trey Lyles: $10,386,049
Devin Booker: $9,985,165
That's a lot of video games. Or in Karl's family's case, a lot of lobster and shrimp.
Here's what you can expect today…
What will happen with Aaron?
Unfortunately, Aaron Harrison was the one Cat who didn't hear his name called, a sickening feeling for his teammates, family, and fans. The BBN stayed up past midnight to see if Aaron would be drafted, and when he wasn't, the outpouring of support was a testament to the great and unique nature of the fan base. While Aaron not being drafted is a major bummer, the odds are very, very good he'll sign with a team as an undrafted free agent. From there, it's up to him. Wouldn't it be wild if he ended up in Memphis?
The Cats will settle into their new homes
John Calipari likes to say that his season ends with the NBA Draft, and I imagine today is a happy, relaxing day for all parties involved. No more stressing, waiting, and worrying about the future. Over the next few days, the Cats will head to their new homes and do the rounds with the local media. And hopefully take a break to appreciate what just happened, because it is the very definition of life-changing.
Will the Kings get themselves together?
Sacramento's front office is pretty much a dumpster fire right now. Head coach George Karl's mission to trade DeMarcus Cousins has gotten so out of hand that owner Vivek Ranadive is now threatening to fire him. Cousins' cryptic tweets about the situation continue to entertain all of us:
What's done in the dark comes to the light …💯

— DeMarcus Cousins (@boogiecousins) June 25, 2015
The Kings made their first good move in weeks by drafting Willie Cauley-Stein. Now, let's fire George Karl and get the Boogie and Willie show on the road.
All eyes turn back to Lexington
…Also, the 574-mile route from Toronto to Lexington. Yesterday, Jamal Murray said he didn't know exactly when he'd be headed to Lexington, just that it would be soon (his dad chimed in with an extra "soon" for emphasis). Tyler Ulis and Isaiah Briscoe arrived on campus this week, and on Wednesday's show, both Matt and Evan Daniels said they're hearing great things about Ulis, who went out west with Devin Booker to train a few weeks back.
"I've heard that he's really developed, my understand is he's playing great," Daniels said. "And that's no surprise. I expected him to take a little jump. You have to think he's going to be their leader. He already has such a good feel for the game. He just sees plays, man, and it's my understanding that he's playing tremendous right now."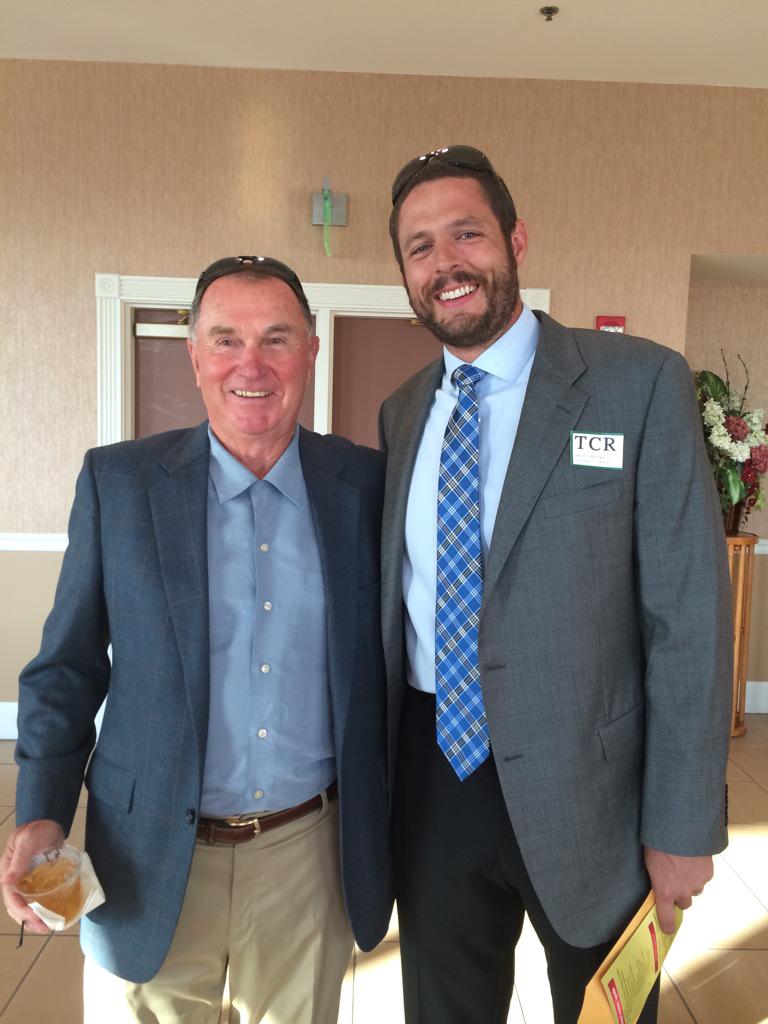 Jacob Tamme gets inducted into the Kentucky Pro Football Hall of Fame
The former UK tight end is now with the Atlanta Falcons after being drafted by the Indianapolis Colts in 2008 and reuniting with Peyton Manning in Denver in 2012. In seven years as a pro, Tamme has 178 receptions for 1,703 yards and 10 touchdowns in 107 career games. Tonight, he'll be inducted into the Kentucky Pro Football Hall of Fame in Louisville, a huge accomplishment for the former Boyle County Rebel, one big enough to draw congrats from a rival Danville Admiral.
🎉🎂🎈
Finally, today is my birthday, so in the grand KSR tradition, I'm going to (attempt to) spend it as far away from a computer as possible. Before I go, Mother Nature, if you're reading, I'd really appreciate if you'd hold off on the rain until the overnight hours. I've got a baseball game to attend, and there's supposed to be fireworks and partying and stuff, and rain just won't do. Thanks!