The Most Anticipated Match-ups In 2014
In just 1 month and ten days Kentucky will kick off the fall sports season against UT-Martin and bring abound an end to this never ending summer. Anticipation for football and basketball are at a recent high as we wait to see the new recruits play and finish what was started last season. To do that the Cats are going to face down some top tier opponents and in order to win they will likely need to win these match-ups. Here are my most anticipated match-ups to watch in 2014:
Dak Prescott Vs Bud Dupree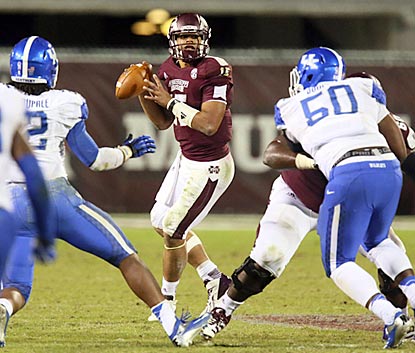 Mississippi State, October 25th
The two members of the preseason All-SEC second team will meet on October 25th with much on the line. Kentucky will need to take down Mississippi State at home if they are going to win 5 or 6 games. The Bulldogs are looking to climb the ranks of the SEC West and can't afford a loss to UK if they are going to do so. Kentucky got close on the road in Starkville last season but Prescott's 268 yards with 2 touchdowns and another caught TD was too much to overcome. Bud and Za'darius will need to keep Prescott out of rhythm on offense to put the Cats in position to win. It should be a fun game of Cat and mouse to watch in late December.
Myles Turner Vs Karl-Anthony Towns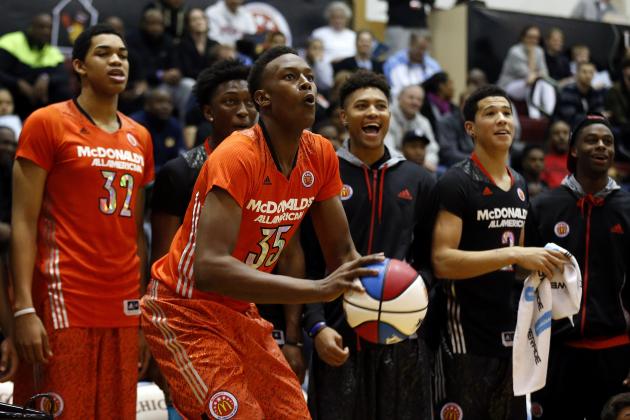 Texas, December 5th
Kentucky hosts the Longhorns on December 5th as a part of the Big 12-SEC challenge and the match-up on everyone's mind will be the battle between Myles Turner and Karl-Anthony Towns. In just a few short weeks we will all get to see exactly what KAT will bring to the college game and what sort of force he will be alongside two more seven footers. Myles Turner ranked just behind Karl in 7th according to 247sports.com's composite rankings so you know he'll be wanting to showcase his ability in this game. Kentucky won't play many centers that will be able to hold their own in the frontcourt but Myles certainly looks to be one of the few.
Montrezl Harrell Vs Trey Lyles
Louisville, December 27th
Last season Montrezl Harrell was held to 10.5 ppg in two games against the Cats which was a below his season average of 14. A big reason for that was the play of Julius Randle and his ability to get Harrell into foul trouble. Harrell's five fouls in the sweet sixteen helped spur the Cats on to the 5 point win.  Now though there is no Julius Randle in blue and it'll be up to Trey Lyles to contain Louisville's star player. Can he match the physicality of Motrezl? That's a question that will need to be answered in the early games of the season before we move on to top competition. Perhaps the stronger Marcus Lee will be able to hold his own. Time will tell.
What match-ups are you most excited about seeing this year?