The ESPNU Practice's Monday Morning Wakeup
Everyone enjoy the bye weekend? Me too. I hope you're well rested, because we've got one hell of a week coming up. It actually started last night with UK's practice on ESPNU. Matt gave you his takeaways last night, but I had a few thoughts I wanted to share before we shift back to football.
Compared to some of the new guys, Alex looks 35 years old
It was really good to see Alex Poythress back on the court and he looked like a grown ass man among boys. Between the influx of young talent and Alex's work in the gym during his rehab, he looked like a monster. Even though the ESPNU crew kept saying Alex is at 100% right now, he's not there quite yet, but it was very comforting to see him moving easily up and down the floor. Alex did not go through the lane agility drills, but told Andy Katz his lateral quickness is "pretty good." You know what was also "pretty good"? Seeing Alex dunk again.
Skal's got a mid-range jumper
Seeing Skal Labissiere's mid-range jumper during the spot shooting drills was like an unexpected rainbow on a gray day. Admit it, you sat up a bit when you saw it; I know I did. After the sting of last season's ending, that pumped some major excitement back in my veins.
Speaking of Skal, Andy Katz confirmed that the reason the NCAA hasn't cleared him yet is "an amateurism issue, not an academic issue," but it's not abnormal. We continue to hear UK is not worried about it, so relax. You too, Louisville trolls. You've been pretty riled up the past week.
Tyler Ulis has got this
UK has had some great point guards during the Calipari era, but few have inspired as much confidence as Tyler Ulis. Ulis was in excellent form last night, and it's clear this is HIS team. During the 3-on-3 scrimmaging, we got our first glimpse of the Ulis/Skal combo, with Ulis lobbing them up for Skal to dunk down. Get ready to see a LOT of that this year.
Yep, that Wisconsin footage hurt
Could have done without that, ESPN. Still stings. That being said…
Doris Burke was awesome
ESPN, can we get her on more games this season?
I felt a twinge of excitement
I'll be honest: I'm still not ready for basketball. Come at me with pitchforks if you want, but the basketball part of me has been pretty dead since The Loss, especially with football going so well. Even the first few minutes of last night's practice were strange. Where is Willie? No Twins? Which walk-on is that again? Ugh, I miss Karl. Fortunately, Skal's jumpers and Ulis' waterbuggin' helped me move past that pretty quickly. This team will be messy to start, but there's a lot to be excited about: talent, athleticism, and a really FUN style of play. I'm good going back to football, but all the upside makes the horizon pretty appealing.
On that note…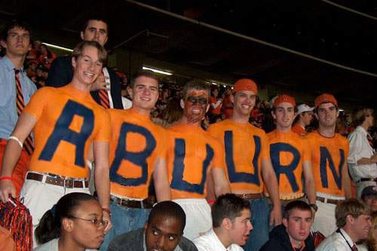 IT'S AUBURN WEEK
Football junkies, sorry for the intro, but don't worry, we're switching back to the oblong ball until Thursday. Auburn opened as a 2.5-point favorite, but that was bet down to 1.5 by Sunday night. With three quarterbacks potentially in the mix and the top wide receiver kicked off the team, I don't think even Auburn knows what to expect from Auburn on Thursday. Yesterday, defensive coordinator Will Muschamp met with reporters and gave plenty of praise to the Cats.
"Kentucky has a good football team," Muschamp said, praising the running game in particular. "[UK's running backs] can take it to the distance at any time…this offense fits those guys extremely well."
Thankfully, Boom is back this week, giving UK all of its weapons on offense; however, the real key to the game may be how well UK's defense contains Auburn's rushing attack. With uncertainty at quarterback, UK's best shot at an upset is to take away the running game and make the Tigers throw it.
Mark Stoops will speak at noon
After a bye week, there will be a lot of catching up to do during Mark Stoops' weekly press conference at noon. I'm most looking forward to hearing the injury report. After the first five games, Regie Meant, Jordan Swindle, Garrett Johnson, and Austin MacGinnis are among the players banged up, and hopefully a week of rest will have them ready for one of the biggest games of the season.
A quick rundown of this week's schedule
…because it's a doozy:
Monday: Mark Stoops press conference
Wednesday: UK basketball media day
Thursday: UK vs. Auburn
Friday: Big Blue Madness
Saturday: Kings/Pelicans exhibition game
Phew. Add some Keeneland into that mix for me on Saturday and that's a pretty fantastic, if exhausting, week. Bring on the caffeine.
I finally saw "The Martian"
…and it lived up to the hype. I feel like I should be on Fox's payroll after all the free publicity I've given the book and movie the past few weeks, but you should definitely go see it. Two thumbs up.
KSR starts in an hour
Which means you should be ready near your radio or streaming device in fifty-nine minutes. Got it?