The Best Quotes From John Calipari's Preseason Q&A
Back in early September, John Calipari held a roundtable discussion with a select few members of the Lexington media in a conference room outside his office. The preseason interview lasted about an hour and was embargoed until October 1.
Well, today is October 1 and we are free to release Calipari's comments to Big Blue Nation. And rather than boring you with the entire transcript, I hand-picked the most interesting and newsworthy quotes and pieces of information.
*****
"We will probably be slow early."
It's a brand new team for John Calipari, per usual; but unlike last year, this group does not have six competitive preseason games in the Bahamas to get an early start on basketball. This year's team will likely come out of the gate a little slower, as they find their footing and most productive style of play.
"We will probably be slow early," warned Calipari. "That November and probably early December schedule, we'll probably struggle some."
Calipari wishes the NCAA would allow summer trips every year — or at the very least, more practice time in the summer.
"If you want to bring a team in or go (on a trip), I don't understand why we wouldn't do it every year. You have 10 days with your team. Bring teams to you and play. Bring foreign teams in. If you want to take a foreign trip, take one. But then there's no advantage. We had an advantage last year, a big advantage."
The Cats have only two exhibitions and two non-conference games before meeting Duke in mid-November. Knowing how bad Cal wants to win that game, it's crucial to avoid too slow of a start this upcoming season. Gotta win that game and regain some of the momentum Duke has captured in the last year.
"We play positionless."
The word of the summer returns!
"We play positionless," Cal said, for like the billionth time this offseason. "We can play with three point guards. We can play with three centers, as long as you can play basketball. And guys like Tyler (Ulis) and Isaiah (Briscoe) and Jamal (Murray) and those kids who are comfortable in their own skin, they're not in competition with the guy on their team. They are, but they're not. So, good kids like that, they're not worried about the other guy. They're comfortable in how good they are."
"I just want them ready for October."
There is truth to the cliche "peaking too soon." Calipari knows that and he wants his players to improve over time, not too early in the year. That gradual progression is why he believes his former teams play so well late in the year, when it matters most.
"I just want them ready for October," he explained. "I don't want them to be in December shape in October because the season is too long. I've always done this and, hopefully, that is why my teams have historically played well down the stretch."
Calipari did very little work with his players over the summer, relegating the individual coaching to his staff, who he trusts.
He said, "I've got a great staff of people. We've got everybody we need for conditioning to weight strength. They can do all this stuff. I don't need to be on top of everything — even though I know everything that is going on; I'm just not there."
Cal will take over today when the Cats begin practicing for the season as a team.
"It will center around Alex."
Despite having two projected NBA lottery picks and one of the two or three best point guards in college basketball, Kentucky will go as Alex Poythress goes. He is the centerpiece of this year's team, according to Calipari.
"What we do, it will center around Alex, I believe. Tyler and the guards are going to be what they are. Charles (Matthews) and Mychal (Mulder), Derek (Willis) — one of those guys will step up and break through a little bit. You've got: Marcus Lee's way better, way more confident. Skal (Labissiere), seven-foot, and Isaac (Humphries), seven feet. But you don't have a beast, and that's Alex. So a lot of what will happen for us and our team is how quickly he can–you know–start being who he is."
"You don't have anybody like him. You have no one that is that physical, that tough; that–you know–the ability to just go get balls and make plays. We have no one like that on the team. So if he does what he can do, the rest of the guys will fall into what they are."
The key to Poythress' success will be getting him comfortable with his role. When he was recruited three years ago, Calipari knew he would have to mold him into a small forward, because he lacked the skill set. But now, the game is evolving and going smaller. Poythress can be a power forward in the NBA, and a very good power forward at Kentucky next season.
"That's exactly what he can play and play well, and be a skilled four. And be a beast four."
"He will lead this team in his own way."
Continuing his analysis of a senior Alex Poythress, Calipari said, "I just want this to work for him. He's a great kid. He will lead this team in his own way. But he's got to get completely where he's comfortable just letting it go. Right now, he goes but you know he's still — there's going to be tentativeness. But the mental part of that, for awhile, it will be there."
Roar, Alex.
"Skal's not there yet."
Calipari is hesitant to name Skal Labissiere the No. 1 pick in next year's draft, as he's projected by several services. The freshman big man still has a lot of work to do, much like Karl-Anthony Towns, this year's No. 1 pick, did when he arrived on campus last summer.
"Skal's not there yet. The coaches tell me Skal is further along than Karl. I don't believe so, but I can't remember. But he's got a ways to go."
Labissiere has drawn early comparisons to Anthony Davis, and though it's good to hear, it is extremely farfetched.
"He's not that, believe me," said Cal, emphatically. "Anthony Davis is a freak of nature. Anthony Davis, I'm guessing within the next few years, will be the best player in the universe. Like, the universe. Okay? All these kids are different. They have different mental makeups; they have different work capacities; they have a different toughness about them because how they were brought up. They're all different. All I want him to do is be the best he can be and I'm not comparing him to anybody. I'm telling you, he's got a ways to go. He knows it, though. He'll be the first to tell you."
That being said, Labissiere's development is critical to Kentucky's success. He may not be Anthony Davis, but he will need to be great in his own right.
"For us to be what we can be as a team, he's gotta have a presence. Like, people gotta know: 'Oh man, look at this kid.' He's got a jump shot; he's really skilled — that you start saying this kid is for real."
"I want everybody to eat, but this is not communism."
Playing time will be earned, whether that be a rotation of five, six, seven, eight or nine players. Things will not be distributed equally in a communistic system.
"This is not communism. I'm not sitting here telling you 10 guys play. We may play six guys. If six guys are way better than the others, then I'll play six guys. I've done it before. I'll play seven. I'll play eight, but they have to find their way."
If someone wants to see the court, they will need to ask themselves, 'What does this team need me to do?' If their value is to make shots, they'll need to make shots. If they're a lockdown defender, they'll need to lock down defensively.
"When someone deserves to play more, they play more," Cal explained. "If someone deserves to get the most shots, they do. I want everybody to eat, but this is not communism. This isn't the eighth grade league."
"I did what I did last year because I had no choice."
When asked why the platoon system is not an option in 2015-16 — by Jerry Tipton, of course — Calipari was quick to say last year was the exception and it won't be done again.
"I did what I did last year because I had no choice," he said. "Everybody deserved to play; there was not a whole lot of difference between guys and that's what I did. I did that for the players. But some of my best teams, I've played five guys, six guys — some of my best teams. Last year was a good team."
"Some of my best teams have been where you're playing less guys," he continued. "Last year's team was an anomaly… That may never happen again, where someone has that many good players on a good team. And they're all good kids and selfless and make it work."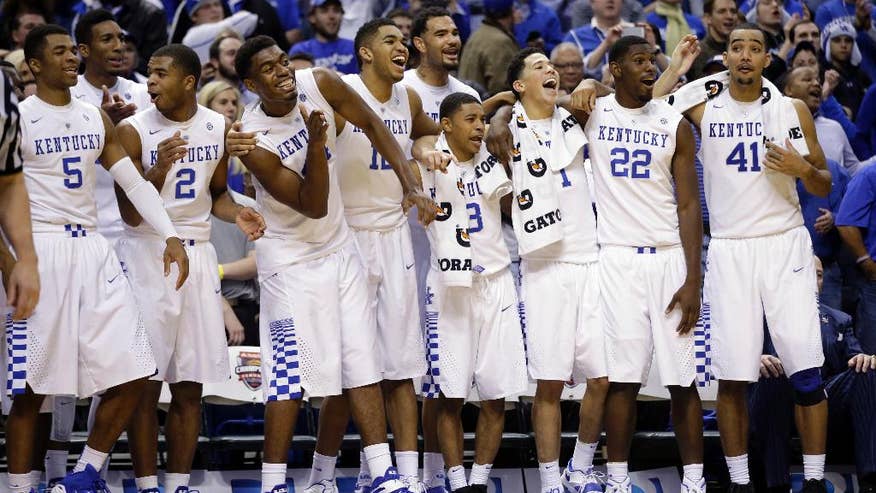 "Wish we would've won all 40, it would've been nice."
You didn't think he could talk for an hour and not mention the Wisconsin loss, did you?
Unlike us, Cal moved on from the heartbreaking exit in the semifinals, one game shy of a title shot against Duke. However, he does wish the 40-0 pipe dream had become a reality.
"Wish we would've won all 40," he said. "It would've been nice. But we did something that, in all likelihood, will never be done again."
"That team did stuff that — the reason it can't be done is because, if you're in a bad league and you get in the tournament, you're going to get banged somewhere. Or if you're in a bad league and you're playing other really good teams, one of those teams is going to get you. You're just not doing it. And then to do what we did, in the league we were in, with the schedule we played; to get that close and every game, every team played out of their minds."
"Think about how well Notre Dame played. Notre Dame should've beat us. They played one out of five games like that, but that one was us. Wisconsin — we get somebody down and they go away — they were fighting for their (lives). It was every game we played. I can remember the Georgia game. I can remember the Texas A&M game. How in the world did they do what they did? You come up a little bit short. But that team, what they accomplished, and individual players got better? You look at each guy; they all benefited. Every one of them benefitted by it."
"Isaac is a seven-foot Josh Harrellson."
Isaac Humphries is the second coming of Jorts, according to Cal's early observations of the seven-footer.
"I'm not talking Josh Harrellson my first year, I'm talking Josh Harrellson my second year."
Humphries is only seventeen, and his body reflects that, so he'll need to bulk up before he is a major contributor. But he already has the touch around the rim and his late addition to the roster filled a major hole in the front court.
"The biggest thing is it gives you some depth," said Cal of Humphries reclassifying and committing to UK. "God forbid Alex doesn't come back the way he needs to, we didn't have enough guys. We just didn't. But Jamal played with him and told me what he was. Then I see him and the kid is really skilled, like, he can make 15-footers and he'll make his free throws. Anything around the goal, he makes. If he shoots it, you're thinking it's going in."
"You want a general out there that you want to follow, and you want to follow him."
Speaking of his point guard, Tyler Ulis, Calipari said, "He's got a toughness about him. He wants to win and he makes everybody better. You want a general out there that you want to follow, and you want to follow him."
But you knew that already.
"Derek and Dom, I hope look at this and say: 'This is the best opportunity since I've been here to play.'"
He hopes they take advantage of their best shot at minutes since they've been in Lexington. It's what they do and how they play that will decide if they create opportunities.
"You want to break through? You've got a chance."
Regarding Willis' prospects for playing time, Cal said, "He could break through as a three or a four; he's just gotta have confidence and want to do it. Do you really want to do this? Then just go do it. There's nothing holding him back — go for it. I'm going to play the best people. If you're one of the best people, go do it, go show it."
"What he's going through, normal kids go through," Cal reminded us. "They don't play the first couple years and then they get their opportunity. It's just normal. But at some point, there is no excuse. Either you want to do this or you don't. And that's with all these kids. At some point you break through and do it."
"Now it's his time. Let's go. You want to break through? You've got a chance."
"Let's figure out who we have."
It's way too early to label this team. With so many new pieces and very little time together, there are several unknowns heading into fall practice.
Cal will figure that out in time.
"I still don't know how we're going to play pick-and-rolls. I don't know exactly what we're going to do in transition, what we're going to flow into. I don't know how much zone we play, if we play zone and how we'll play against zone. Don't know yet. I mean, will we press? This could be a good pressing team, and would it be a good pressing team because the guards can just pick up and play? Or do you press with one of those big guys on the ball, like a Marcus Lee? Or Skal? Do you put Alex on the ball? Or do you just say let's all pick up our guards and we'll look to run and jump and run and trap. That's why a summer trip with this team would've been good, but–you know–you can only do that every fifteen years or whatever they do."
Though the style has yet to be determined, this may be the Year of the Dribble-Drive in Lexington. With Kentucky's skilled and trustworthy guards, it may be time to give them the ball and let them do their thing.
"Now you're talking playing the dribble-drive stuff I did in Memphis, where you really let go of some of the ropes as a coach and let them make some of the decisions."
More from Calipari throughout your Thursday. If you can't wait, here is the entire audio from the preseason Q&A: