The 10 Things You Need To Know About Cam Johnson Tomorrow, shooting guard Cameron Johnson will arrive on Kentucky's campus for a two-day official visit. Johnson is a grad transfer from Pitt in search of a new home and Kentucky is one of six schools he's considering. Given Johnson's skills as a shooter, his three years of college experience, and two remaining years of eligibility, he is a hot commodity on the transfer market for programs in search of experience, like the Cats. With that in mind, let's get to know Cameron Johnson, aka "Cam."
1. The Basics
Shooting Guard
6-8, 210 lbs.
Birthdate: March 3, 1996
Hometown: Moon Township, Pennsylvania
Class: Redshirt sophomore
As a high schooler, Johnson was considered the 60th best shooting guard in the 2014 class by 247 Sports. He picked Pitt over Columbia, Penn, Boston College, Stanford, Rice, Richmond, and Virginia. If those Ivy League offers aren't indication enough, Johnson is one smart cookie, a two-time all-ACC academic team selection with a 3.9 GPA. After three years at Pitt, he will graduate this spring and have two years of eligibility at the school of his choice. His final list: Kentucky, Arizona, Ohio State, Oregon, UCLA, and TCU.
2. He averaged 11.9 points off 44.7% shooting last season
Kentucky is in dire need of shooters for next season, and Johnson's a pretty good one. Last year, he averaged 11.9 points off 44.7% shooting, 41.5% from behind the three-point line. He also averaged 4.5 rebounds and 2.3 assists per game.
Here are his season averages:
| | | | | | | | | | | |
| --- | --- | --- | --- | --- | --- | --- | --- | --- | --- | --- |
| SEASON | MIN | FG% | 3PT% | FT% | REB | AST | BLK | STL | TO | PTS |
| 2016-17 | 33.3 | 0.447 | 0.415 | 0.811 | 4.5 | 2.3 | 0.3 | 0.9 | 1.2 | 11.9 |
| 2015-16 | 11.7 | 0.397 | 0.375 | 0.808 | 1.8 | 0.5 | 0.2 | 0.3 | 0.5 | 4.8 |
| 2014-15 | 14.4 | 0.394 | 0.348 | 0.500 | 1.1 | 0.5 | 0.4 | 0.1 | 0.5 | 4.5 |
Here's how Johnson's 41.5% three-point shooting average compares to past Kentucky shooters:
Malik Monk: 39.7%
Jamal Murray: 40.8%
Devin Booker: 41.1%
Doron Lamb: 47.5%
Man, who would have guessed Doron Lamb had the highest three-point percentage of that bunch?
3. He injured his shoulder his freshman year
Johnson played in the first eight games of his freshman season before injuring his shoulder and receiving a medical redshirt. That's why as a graduate transfer, he'll have two years of eligibility remaining, which is pretty rare. Yet another reason Calipari wants him, despite his disdain for the grad transfer process (which I'll get to in a bit).
4. His father played for Pitt around the time Calipari was an assistant there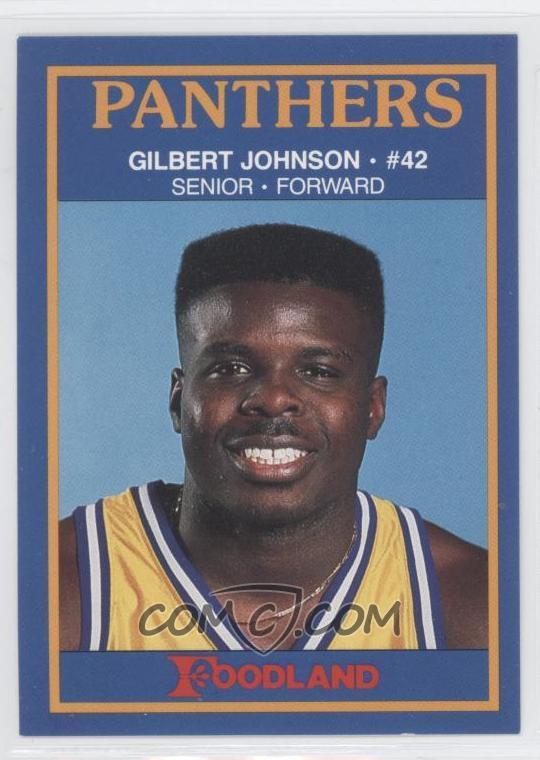 Not only was Cam Johnson born in Calipari's hometown of Moon Township, Pennsylvania, his dad was a player at Pitt around the time that Calipari was an assistant on the Pitt staff. Cal left Pitt to take the head coaching job at UMass in 1988, which is also the year that Gilbert Johnson, Cam's dad, joined the program as a junior college transfer. Calipari's years at Pitt were the time in which he was cutting his teeth as a recruiter, so odds are he had a hand in bringing Johnson on board. If that's not enough, Johnson Sr. has known Kenny Payne for over 30 years, according to the Herald-Leader.
In a hilarious aside, check out "Tips from the Panthers" on the back of Gilbert Johnson's playing card: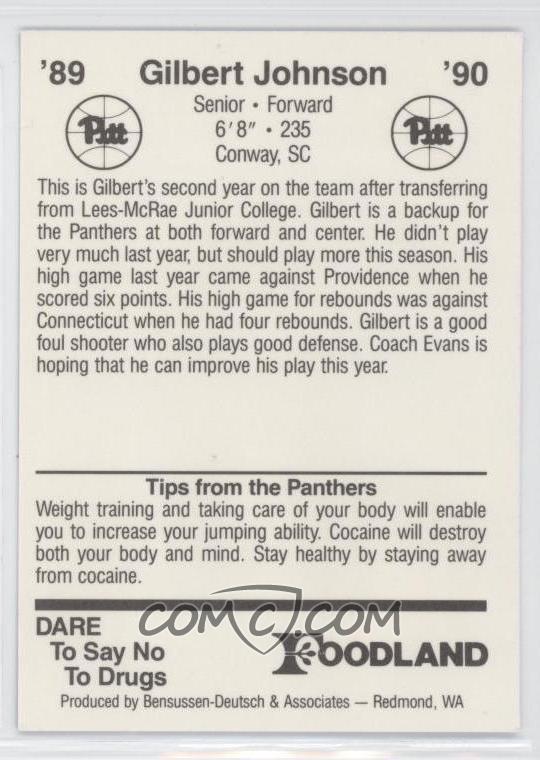 True then and true now.
5. His brother played for Calipari's alma mater
Need another Calipari connection? After transferring from Princeton, Cam's brother Aaron played for Clarion, just like Calipari. Not only that, Aaron was a recipient of the John Calipari Endowment Scholarship. When it comes to this grad transfer, it really is a small world.
6. His breakout performance came against Syracuse in the 2016 ACC Tournament
Johnson came into his own in the opening round of the 2016 ACC Tournament, when he scored 24 points including four threes to help Pitt beat Syracuse:
7. He carried that performance into next season
Johnson finished fifth in the ACC in three-point percentage (.415) and eighth in three-point field goals (2.36 3pg.) last season. Not too shabby in a conference that also included Luke Kennard, Joel Berry II, and Kyle Guy.
8. Why is he leaving Pitt?
Aside from the fact that he's finishing up his degree and can go to a higher profile program, is the fact that Kevin Stallings is now his coach good enough reason? It would be for me. Stallings took over at Pitt after Jamie Dixon left for TCU last year, which also explains why TCU is on Johnson's list.
9. Why Calipari would make an exception for this grad transfer
During the tournament, Calipari went on a rant about grad transfers during one of his media opportunities, complaining that they leave mid-major programs in a lurch. This was in response to Drexel firing Cal's friend Bruiser Flint after the program struggled to recover from Damion Lee transferring to Louisville. While Calipari pursuing a grad transfer a month after going on that rant seems hypocritical, here are three reasons why it's not:
Pitt is in the ACC, arguably the best conference in the sport
Stallings is just in his second year there and a player wanting out after a coaching change is pretty common (especially when it's Stallings…it's worth mentioning that Johnson is one of four Pitt players to leave the program since the season ended)
Johnson has two years of eligibility remaining. That's a lot of time to reshape your future, and considering Pitt's in rebuilding mode, this is the perfect opportunity
10. He's more than a consolation prize for Kevin Knox
Most recruiting pundits don't think Kentucky is among the favorites for five-star small forward Kevin Knox and consider Johnson as an excellent consolation prize. I think he's more than that. On what will essentially be a brand-new roster, Johnson can provide some much needed experience in the backcourt, along with reliable shooting. His off the court success in the classroom doesn't hurt either. For all of those reasons, while we would love to have Knox, I think Johnson's a more important addition. Fortunately, we're hearing if this visit goes well, the chances are high he'll be a Cat.
So, come on down and enjoy yourself, Cam.