Terrence Williams says he's Elvis Presley of Louisville basketball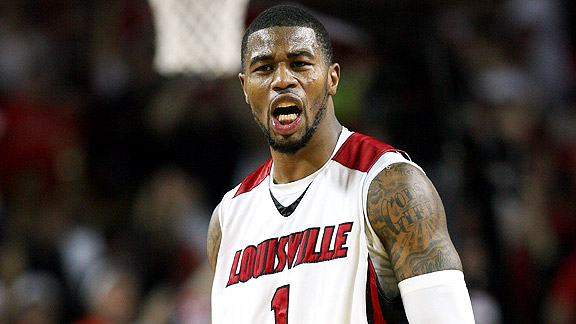 Former Louisville player Terrence Williams, aka "T-Will" to "Breaking Cardinal Rules" readers, had some very strong words about the scandal facing his alma mater. TMZ caught up with Williams, who vehemently denied that he paid for sex with Katina Powell's escorts. 
"I am not a part of that. To Louisville I am f**king Elvis Presley. So why would I pay anybody for anything?"
Elvis Presley, eh?
"Motherf**kers pay me for pictures and handshakes. And that's not being cocky, 'cause I don't play around with my blessing. I'm very honored to be in that position in Louisville. Louisville is the greatest city, the fans are great, Rick Pitino is great."
In the book, Powell alleges T-Will paid $500 for an encounter with two girls on one occasion and $1,000 for two girls on another. Powell says T-Will was also interested in her daughter, Rod-Ni, and once asked Powell to massage his butt. (You may remember this as the passage Tomlin read in our dramatic reading.) T-Will was not happy to have his name linked to these allegations.
"Nobody's gonna pay attention to a b*tch searching for money. So you make up stuff, and you put out all these allegations. If my name's on anything, provide proof."
As for Andre McGee and Rick Pitino…
"Andre's the most kind hearted person ever. And Rick Pitino, he's Rick Pitino! A Hall of Famer, a legend … he don't need to buy any kid p*ssy to get him to commit to the University of Louisville. It's a privilege to play there."
I'm still not over T-Will comparing himself to Elvis Presley.