Takeaways from the comeback win in College Station
Kentucky won its final game of the 2016-17 regular season on Saturday, 71-63, in come-from-behind fashion over a Texas A&M team that was supposed to be one of the three best teams in the Southeastern Conference. The victory had its highs and its low, its pros and its cons, and its hot and cold versions of this UK basketball team. Why don't we discuss those below?
That was a great SEC road win.
Slow Start U had fans worried early in the game until they bounced back, came back, and pulled away to earn the win in the end. A&M led by as much as 15 points in the first half (and I for sure thought UK was going to lose) but we're sitting here celebrating another Cats' win now that it's all said and done.
As you well know, any road conference win is a big win and it feels even better that they did it in comeback fashion after the sluggish first 10 minutes. The sluggish start is a little concerning, though, considering it has been the same story in three straight games. Gotta come out better and play all 40 to make any run in the coming weeks.
Isaiah Briscoe played ideal Isaiah Briscoe basketball again.
Seven points, eight assists, six rebounds and one turnover for Briscoe for yet another ideal line on the stats sheet. That's what we want to read after each game, especially in the turnover column.
It is time we finally accept that the shot isn't there and will never be there. He was 0-for-2 from outside in this one; every other shot was taken in the paint where he belongs.
Monk failed to reach double figures for the first time all season.
Texas A&M did a good job of taking Malik Monk out of the picture offensively. It was clear Billy Kennedy made that a priority going into this game, and his team succeeded in making someone else beat them.
In the end, Monk scored only six points for his lowest total of the season and it was the first time he failed to reach double figures. However, he still hustled and contributed in other ways, which isn't always the case when the shot isn't falling.
De'Aaron Fox was making jumpers in his homecoming game.
If you had Fox hitting two more threes than Monk, you're a winner. The Houston native hit two — TWO! — three-pointers and another long two, all from the left corner, for eight of his team-high 19 points. Throw those shots in with the long two he hit against Vanderbilt and maybe, just maybe, Fox is finding his shot at the right time.
He did a good job of getting to the rim too and he was a big component in Kentucky's comeback and that 29-point swing. It was one of the rare cases when a player plays well in his homecoming game.
Today's Screen Grab of the Day:
And that was today's Screen Grab of the Day.
Old Reliable continued his streak of great play.
Does Dominique Hawkins have to go? He has been so good over the last few weeks and he is playing the best basketball of his career. Without him, Kentucky likely loses this game today. In fact, John Calipari said just that in this postgame radio interview: "Dom is the reason we were in the game."
The bigs played well against A&M's Tyler Davis and Robert Williams.
The Aggies have one of the better frontcourts in the conference with Davis and a projected lottery pick in Williams, and Kentucky's guys hung in there with them. Williams got his 20 and 13, but Bam Adebayo and Derek Willis played solid inside as well. Those two have turned a corner and they're going to have to keep bringing it for the next nine games.
It was good to see Johnny Manziel is still alive.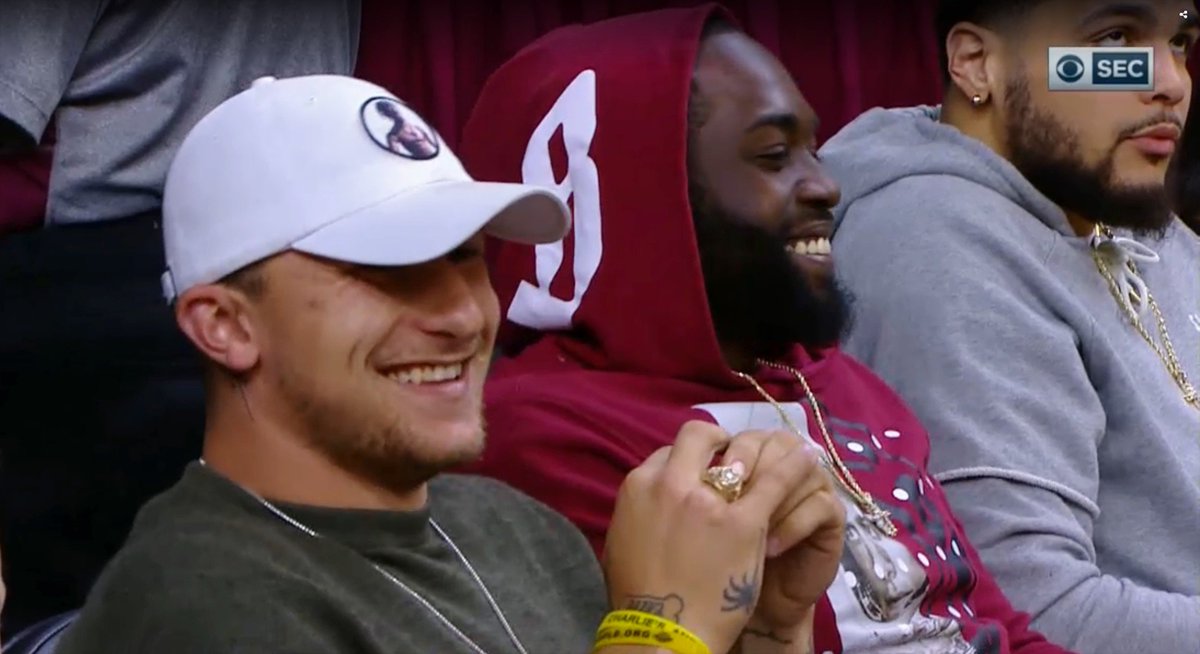 I wonder if someone ever told him tattoos are permanent?
The win was the 600th conference win as a top 10 team.
Not only did the Cats lock down sole possession of the SEC's regular season crown, the win was the 600th conference win for the program while ranked inside the top 10.
Duke and North Carolina are second and third, some 98 and 99 wins behind.
Kentucky enters the postseason on an eight-game win streak.
What's the key to a successful March? Come in hot. And not many teams are coming in hotter than Kentucky with eight straight wins.
Point being, I like my team.