Takeaways From The Cats' SEC Semifinal Win
Kentucky is on to the championship game here in St. Louis after putting an end to Alabama's run in the SEC Tournament. The Cats beat the Fighting Collin Sextons to advance to the 'ship and I have a few things to say about it in today's edition of the postgame takeaways.
Wenyen Gabriel was awesome.
Whatever device you're reading this on — phone, tablet, laptop, desktop, WebTV, homing pigeon — put it down for a moment and give Wenyen Gabriel your best round of applause. Gabriel was outstanding today as Kentucky's leading scorer with 23 points, matching his career high in that category. He went 7-for-7 from three-point land and set a new school record for threes made in the SEC tournament. After the game, John Vincent Calipari said, "Wenyen was unbelievable today."
Collin Sexton finally cooled off.
After averaging 29 points per game in Alabama's first two here in St. Louis, Kentucky held him to 21 (that's good, right?) and sent him home from the tournament. Sexton's the type of guy who can beat you all by himself, and though he still got plenty of points, it wasn't nearly enough to keep the Crimson Tide's dreams alive.
Point guard by committee.
Big shout-out to Quade Green and Shai Gilgeous-Alexander, who had eight points apiece in the win. Assists were a problem in Kentucky's struggles last month, so it's encouraging to see each of the two point guards share the rock for a combined 16 assists in the game. They were aware of who was hot (Wenyen) and got them the ball. Solid point guard play from the UK backcourt.
Kentucky was HOT.
The Cats shot 64 percent from the field and 66.7 from outside in the game. That is stupid hot. Did you see this shot chart from the second half?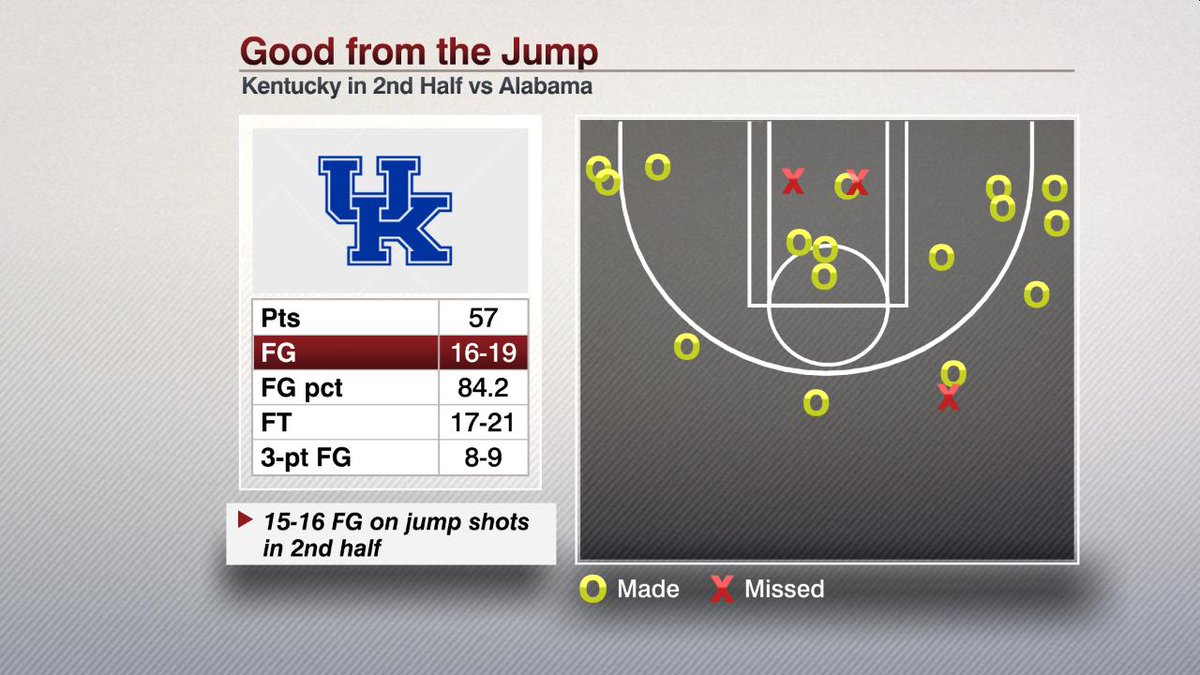 That'll do.
PJ Washington is the man.
Once again, Washington played extremely well when Kentucky needed help carrying the load inside. We do a lot of talking about Kevin Knox and Shai Gilgeous-Alexander as UK's two best players, but Washington's name should be in that conversation with the way he has played lately.
Point of concern: Rebounding
For all of the good we saw in the win, we also saw the Cats give up 13 offensive rebounds. That's way too many, and a little concerning because they gave up 16 to Georgia on Friday. Let's get that under control.
Kentucky looks really good right now.
I don't want to get ahead of myself and start making some outlandish predictions, so I'll just say I like my team right now. The Cats are looking good going into the title game and even better if they can get Jarred Vanderbilt back before next week. It won't be easy, but maybe this team has some magic in it?
Go Cats.