Sweet 16 History: Cats Unbeaten Under John Calipari

John Calipari is perfect in Sweet 16 games at Kentucky. In his six Sweet 16 appearances in seven NCAA tournaments with the Wildcats, Calipari is 6-0 with an average margin of victory of 14 points per game. His teams have won twice as the lower seed in those six games, and won by double digits in all four games as the higher seed. Needless to say, Calipari's Kentucky teams have done very well in the first game of the second weekend of the tournament.
This coming Thursday, Calipari and Kentucky will look to make it a perfect 7-0 in the Sweet 16 when they take on Kansas State in the South Region semifinal. The Cats are the higher seed once again, so history suggests a double-digit victory. But until they tip it off to find out, why don't we reminisce on the past perfection in this spot?
2010: (1) Kentucky 62, (12) Cornell 45
In the "Brains vs. Brawn" match-up of 2010 that drew so much attention from reporters hoping to write "Revenge of the Nerds" after the game, Kentucky steamrolled through Cornell, a 12-seed that upset Temple and Wisconsin just to be there.
DeMarcus Cousins led the Cats with 16 points and seven rebounds, after famously saying before the game, "We're here to play basketball. It's not a spelling bee."
2011: (4) Kentucky 62, (1) Ohio State 60
Brandon Knight's 15-footer with six seconds left sent the Cats to a second straight Elite Eight with a win over top-seeded Ohio State. Knight's shot should be remembered as one of the biggest plays in Kentucky's tournament history, but it's not even the most memorable moment of that game, for some.
When many fans think back to that classic, they remember Josh Harrellson spiking the ball off Jared Sullinger, the Buckeyes' consensus All-American big man. It was a message early in the game, to say Kentucky was not intimidated by the tournament's No. 1 overall seed.
2012: (1) Kentucky 102, (4) Indiana 90
Kentucky got revenge on Indiana for the Christian Watford shot by returning the favor in the 2012 NCAA tournament.
Michael Kidd-Gilchrist scored a career-high 24 points while Doron Lamb added 21 more in the victory. Three other Wildcats joined them in double figures; Anthony Davis not included, although he did have three emphatic blocks on the Hoosiers.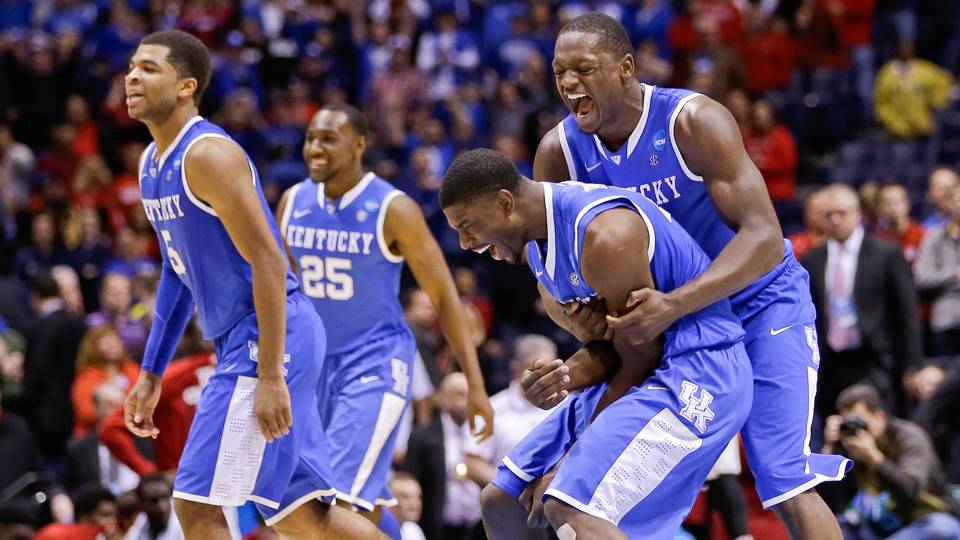 2014: (8) Kentucky 74, (4) Louisville 69
The 2012 national champion met the 2013 national champion (so we thought at the time) in the Sweet 16 in 2014.
Louisville led for most of the game, and by seven with a little over four minutes to go. But Kentucky clawed back and eventually took the final lead on an Aaron Harrison three-pointer, the first of his three magical shots that postseason.
Harrison's shot was big, but John Calipari said afterward, "Alex Poythress won the game for us." Poythress, a sophomore, played great defense and grabbed two key offensive rebounds off the bench in the win.
2015: (1) Kentucky 78, (5) West Virginia 39
Once the 36-0 Wildcats caught wind of West Virginia's pregame trash talk, it was night-night for the Mountaineers. West Virginia almost had as many fouls (14) as it did points (18) in the first half as Kentucky took a 26-point lead into the break, and went on to win by almost 40.
Daxter Miles Jr., who guaranteed a West Virginia win earlier in the week, finished with zero points in the game.
2017: (2) Kentucky 86, (3) UCLA 75
With NBA eyes all over college basketball's biggest point guard matchup, De'Aaron Fox abused UCLA's Lonzo Ball for a career-high 39 points in a Kentucky revenge win. Calipari told his team at halftime, "The rest of you take a back seat and play off of him."
Across the way, Ball had 10 points, eight assists and four turnovers in the loss.