Shannon the Dude was behind the Sister Jean Twitter account
Remember that Sister Jean Twitter account that trolled everyone this week, including our own Drew Franklin? As we all expected, it was a fake, but did you know that our own Shannon the Dude was behind it?
On this morning's show, Shannon revealed that he started the @SisJeanLoyola account last week to troll Drew, but due to Sister Jean's incredible popularity, it took off. News outlets did stories about her tweets, fans embraced her social media swagger, and the account got so popular that Twitter suspended it yesterday morning once someone at Loyola finally realized it was a fake.
Somehow, tweets like this — presumably from a 98-year-old nun — didn't tip them off earlier:
In less than a week, @SisJeanLoyola accumulated 14,500 followers, including NCAA's official March Madness account, the Loyola-Chicago basketball team account, Loyola-Chicago's account, and almost every branch of the university. The tweet about giving up losing for Lent had over three million views/impressions: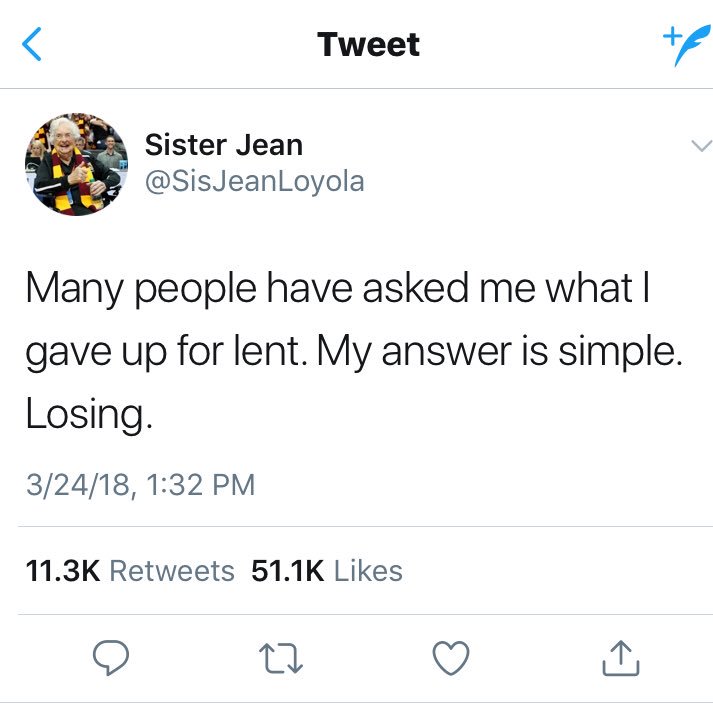 Well done, Shannon. Well done.
[mobile_ad]